Calvary Cemetery of South Portland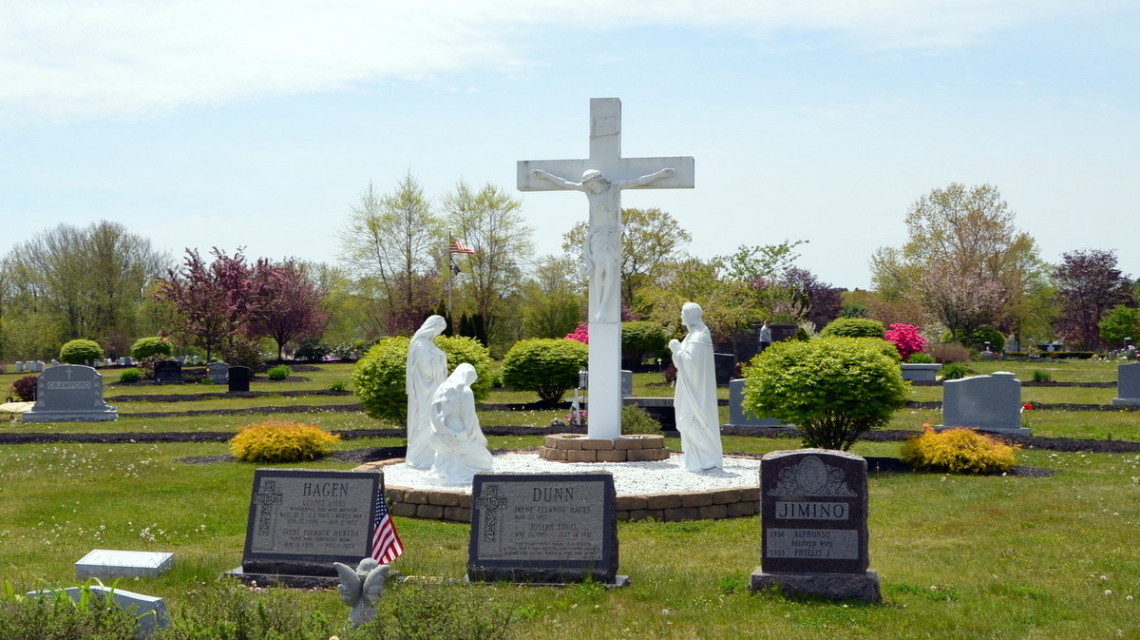 Calvary Cemetery is a special place for families. We encourage you to visit often -- to pray, and to talk to those who have gone on. This isn't just about duty. It's about demystifying death, for ourselves and for our children, making it a part of life by absorbing it into our daily lives. It's about emphasizing our belief in the continuity of life and of love, and that the love of a close family is stronger than death.
Latest Cemetery News
Vigil Lights:
Due to diocesan policy, effective September 1, 2008, lights or candles of any kind are no longer allowed in Calvary Cemetery. Please see below for a link to a letter from the diocese on this subject.
Armed Forces section:
Memorial bricks to honor a veteran you care about are now available for purchase through Calvary Cemetery. They are being installed in a two-tone pattern forming a cross in front of the main monument. The benches to be installed around the circle can also be dedicated in honor of a veteran of the Armed Forces. For pricing and information on burial lots, please contact a Family Service Advisor.
Thoughts on Buying a Cemetery Lot
In

the spirit of demystifying death and of keeping the family together, it's never too early to think about how you would like things to be in the future, when some have passed on and others remain. The earlier you think about it, in fact, the more flexibility you have; you can wait for a certain area to become available or for enough spaces to be available in one spot to accommodate the entire family. And the price of a lot, of course, never goes down; so the sooner you invest in one, the less you'll spend on it.
Of course it's difficult to think about grave spaces when your family is young and healthy. But sometimes, the unthinkable does happen; and when it does, it is so much easier on the members of the family who remain if the question of "where?" has already been settled. It's like insurance: you hope you won't need it; but if you do, it's such a relief to have it in place.
Taking care of grave spaces in advance also provides an opportunity for family members to hear and understand each others' feelings and preferences about the closing rituals of life. Then when the time comes, you don't have to guess; you know.
In addition, here is information about niches at the Central Pieta Statue at New Calvary Cemetery.
Meditation

"Nowhere, outside of the Church, are we put into such close converse with God and the other world as we are in the Cemetery. Oft should we go thither to recreate in ourselves the thoughts of God and of eternity, to pay the tribute of love and reverence to the dead whom we mourn, to pray for the eternal repose of their souls. And because of the sacredness of the Cemetery and of the blessed memories it invokes we should be anxious to bestow upon it the care of love and see the graves holding the mortal remains of our loved ones bespeak our enduring remembrance for them. Why should we forget our loved ones once the graves are open to receive them? Why not often kneel where they lie, speak with them as of old, hearken to their counsels, offer in their behalf our tribute of prayer?"
Archbishop John Ireland, Diocese of St. Paul, on the occasion of the solemn blessing of the graves in St. Mary's Cemetery, Minneapolis; as quoted in Catholic Cemetery, July 1999
Cremation
Nowadays, cremation is mentioned as an option more and more often. We have brochures available at the cemetery office and on the bottom of this page, that talk about cremation and the Catholic faith.
To help you in planning how much space you want to set aside for your family, we use the concept of "Lot Plan." Each individual grave space accommodates one full casket burial, or two cremation burials. Additional burials (normally cremations) are allowed, but are subject to a "re-use fee". The re-use fee is equal to half the cost of a single space. You can pre-pay a re-use fee to lock in the price if you know you will be using it.
We try to make it as easy as possible for you to take care of this planning in advance by allowing you to make payments on your lot purchase at 0% interest. We set up payment plans so that you can pay off the full amount in about 18-24 months.
All lot prices include perpetual care (mowing and trimming of grass). You cannot put a stone on a lot until it is paid in full, and you cannot have a burial until at least that space is paid.
Genealogy
Ever since the phenomenal miniseries "Roots" in the mid 1970s, interest in family trees has soared. This treasure hunt eventually leads to cemeteries, where questions are answered and often new ones are raised.
The cemeteries of the Diocese of Portland are working on a project to make burial records available online.  The system is set up to search by individual cemetery. We suggest searching for last name only; if you search for first names, the system will find a match only if the first name you search for is spelled EXACTLY as we have it in our database - including middle name or initial..
Calvary's records are available to the extent that they have been entered in our database and then uploaded to the diocesan server. We rely on volunteers for this transcription, so it's a long and continuing process. We have worked backwards from newest sections to oldest, to transcribe the information that is on our lot cards. In the spring of 2009, we completed data entry for every name that was on a paper lot card. Keep in mind that this still does not account for people who, for one reason or another, are not listed on lot cards. "Phase 2" of our data entry project will fill in those gaps in the database.
Connect with us
Calvary Cemetery
1461 Broadway
South Portland, ME 04106
Phone: 207-773-5796
Resources
Calvary Map
Color-coded sketch of all cemetery sections, showing areas where lots are available and pricing in each area.
Niches at the Central Pieta Statue
New Calvary Cemetery
Vigil Light Letter
Letter from the diocese on the decision to disallow lights and candles in the cemetery.
Angel of Hope
Our custom granite statue and non-denominational memorial to lost loved ones, inspired by the nationwide series of bronze Angel of Hope memorials.
Authorization Form
Families fill out this form to give us authorization to prepare a grave for burial.
Cemetery Rules & Regulations
Updated in January 2022
Cremation Guidelines
Information and answers to frequently asked questions for families planning the burial of the ashes of a loved one.
---