St. Ignatius Cemetery of Sanford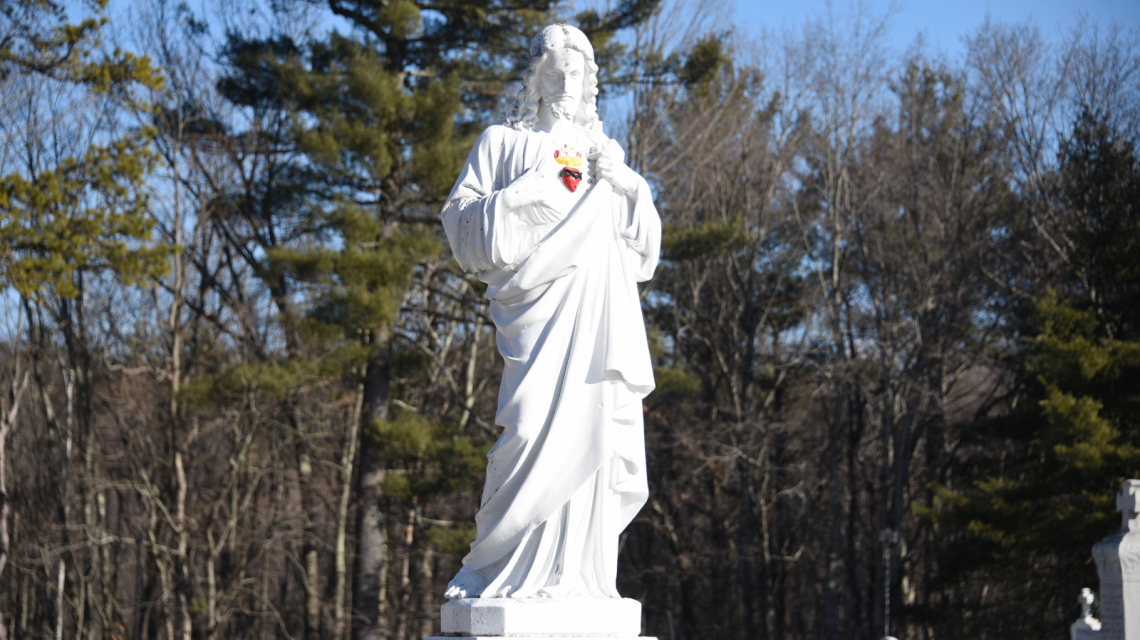 St. Ignatius Cemetery opened in 1902 with 18 acres of land. Prior to that, the Catholic deceased from Sanford were buried in Notre Dame Cemetery in Springvale. In June of that year, a delegation of three men from St. Ignatius Parish -- Telesphore Demers, Delphis Lebrun, and Adolphe Ducharme -- met with the Goodall family to acquire a parcel of land for a Catholic cemetery. On June 16, Sanford Mills donated 18 acres of land on Berwick Road in Sanford to St. Ignatius Parish. The cemetery was consecrated by Bishop John Gregory Murray on May 30, 1931.
In 1943, St. Ignatius Parish celebrated its golden jubilee. A parade was held from the church to the cemetery, where a solemn Mass was celebrated to honor the deceased. Homilies in French and English were said.
A plaque on to honor the war veterans interred here is located at the base of the flagpole. It reads as follows: "Dedicated to the memory of all United States War Veterans who rest in these hollowed soil." It was erected by the Sanford Veteran Memorial Committee in June 1962.
Between 1963-1972, more land was acquired to expand the cemetery. The cemetery now covers 33 acres.
The year 1976 was a memorable one in the history of St. Ignatius Cemetery. Emile Levasseur donated the sum of $100,000 for the construction of a vault/foyer and a 346-foot polished granite and brick wall in memory of his parents, Albert and Melvina Levasseur. The groundbreaking ceremony was held on Sept. 13 of that year, and the project was completed that fall. The new vault was dedicated on Memorial Day the following year by Bishop Amadee Proulx, a native son, with many priests and more than 800 parishioners in attendance. Our thanks to this philanthropist and his family.
A Way of the Cross was erected at the entrance of the cemetery in memory of Emile Levasseur and Albert Lavallee to commemorate the centennial year of the parish 1892-1992. On the back of the cross in the center of the cemetery, the names of previous pastors are inscribed.
This cemetery now serves members of St. Thérèse of Lisieux Parish, formed by the 2007 merger of the Sanford parishes.
Five wooden crosses are planted in the cemetery, one in the center and the others at the four points of the compass.
At the foot of the cross rests the bodies of Fr. John McGinnis 1865-1924, beloved pastor of St. Ignatius Parish; Fr. Joseph H. Kalen 1873-1947, founder of Holy Family Parish; and Fr. Conrad W. L'Heureux 1924-1995, a native son who chose to be buried at this site.
The parishes in this community were founded as Franco-American parishes. Therefore, we find many tombstones with French inscriptions, especially in the older section.
Please contact a family service Advisor at 207-324-6040 to learn more.  We are open Monday through Friday 8 a.m. to 4 p.m.
Contact Us
St. Ignatius Cemetery (Physical location)
Berwick Road
Sanford, Maine 04073
St. Ignatius Cemetery (Office)
St. Thérèse of Lisieux Parish
66 North Ave.
Sanford, ME 04073
207-324-6040
Click here or scan the QR code to update your contact information with one of our cemeteries.
Resources
Cemetery Rules and Regulations
Genealogy - Official St. Ignatius burial database. This information is updated yearly and is a record of all known burials.
Find a Grave (external link) - Information on burial locations and pictures of headstones and markers at St. Ignatius Cemetery which have been uploaded by volunteers. This is an independent website and is not affiliated with the cemetery.