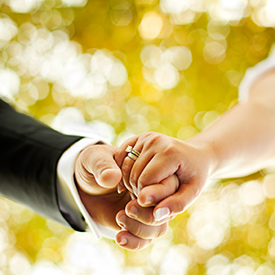 What is Marriage?
Marriage establishes a holy covenant among three: one man, one woman, and God himself.
Through God the Father, marriage irrevocably joins the man and woman as one flesh, thereby making them stewards of God's unitive and creative power.
Through the Son of the Father, marriage receives the dignity of a sacrament, becoming a reflection of the ever-faithful bridegroom, who loves, forgives, and lays down his life for his bride, the Church.
Through the Holy Spirit, marriage unites man and woman in an indissoluble communion of life and love.
Please click here for the 2018 Parish Marriage Preparation Calendar.
National Marriage Week - February 7 - 14, 2018
We once again are approaching National Marriage Week, celebrated each year from February 7 to February 14. Within this week is World Marriage Day, always observed on the second Sunday in February. This year, World Marriage Sunday is Sunday, February 11
Marriage Resources
1. Facts: What you should know about Catholic marriage.
2. Stages: All healthy marriages experience changes and transitions.
3. Prep: Marriage preparation is offered around the diocese. Find a schedule here.
4. NFP: Natural Family Planning is a safe and effective approach for couples.
5. Tips & Advice:for a happy & healthy marriage.
6. Planning a Catholic wedding requires careful consideration.