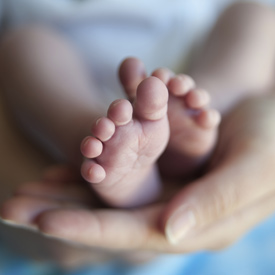 Natural Family Planning (NFP) is a safe, effective way to help a couple determine when sexual intercourse can and cannot result in pregnancy. It is not contraception. Modern methods of NFP are safe and clinically proven, when used properly, to be highly effective at avoiding pregnancy. These methods are not the old "rhythm method". Modern methods of NFP are based on the readily observable signs of fertility and infertility present in each menstrual cycle. So any woman, regardless of the regularity or irregularity of her cycles, can use NFP effectively.
NFP has no harmful physical side effects. It fosters authentic marital love, respect, honesty, and couple communication. It also fosters trust in God and an authentic marital spirituality that deepens the couple's relationship with Christ and his Church. NFP, when used properly, is "marriage insurance." Surveys indicate couples who practice NFP have a practically non-existent divorce rate. This is because practicing NFP fosters those very same virtues that are necessary for a healthy marriage. It allows intercourse to be a true expression, renewal, and deepening of the couple's commitment to their marriage vows.
Informational sessions for groups of couples, parishes and clusters, as well as individual sessions are available.
Learn more about using natural family planning methods by contacting the following resources:
---
Creighton Model Ovulation Method
Sarah Chamberlain MS, CFCP
Gianna FertilityCare Center
St. Mary's Regional Medical Center
Lewiston, ME 04243
I teach the Creighton Model FertilityCare System. I meet with single women and couples to help monitor fertility, as well as to teach how to best achieve or avoid pregnancy in marriage.
I meet in person and on Skype for long distances.
(207) 754-3823
sarah.chamberlain35@gmail.com
Dr. Michael Czerkes, OB/GYN
St. Mary's Regional Medical Center
330 Sabattus St.
Lewiston, ME 04243
(207) 777-4300
---
Couple to Couple League Sympto-Thermal Method
Andrew & Jessica Ciszewski
Houlton, Maine
Jessica.ciszewski@gmail.com
(207) 694-6045
Dan and Stella Perreault
Springvale, ME 04083
dspplus7@metrocast.net
(207) 608-6317
John & Allison Eddyblouin
Brunswick area
edblouin@tidewater.net
(207) 563-7737
Will travel for minimum of six couples
---
Marquette Method with Clear Blue Monitor
www.marquette.edu/nursing/NFP/
Nancy Malo, CFCS
Catholic Medical Center
Manchester, NH
nmalo@cmc-nh.org
(603) 663-8706
www.catholicmedicalcenter.org/communitysvc/fertility.php
---
General Natural Family Planning Information
United States Conference of Catholic Bishops
http://www.usccb.org/issues-and-action/marriage-and-family/natural-family-planning/
On-line Introduction to the Billings MethodTM
Sponsored by the Archdiocese of Chicago this on-line course provides an introduction to the science of NFP and the Billings MethodTM in particular. A special feature is a video of the NFP couple who teach and witness to living the NFP lifestyle. Supplemental materials such as PDF documents for further reading are also included. For more information contact: Maria Garcia, NFP Coordinator, Archdiocese of Chicago, (312) 534-8273; e-mail: mgarcia@archchicago.org.