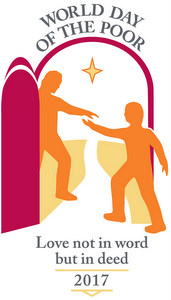 "I invite the whole Church, and men and women of good will everywhere, to turn their gaze on this day to all those who stretch out their hands and plead for our help and solidarity." - Pope Francis
Sunday, November 19, 2017, is the first World Day of the Poor, a day established by Pope Francis for Catholics to "reflect on how poverty is at the very heart of the Gospel."
After the Year of Mercy, the pope said he wanted to set aside a day so that, throughout the world, Christian communities could become even greater signs of Christ's charity for those in need. We are called, Pope Francis wrote in his first World Day of the Poor message, "to draw near to the poor, to encounter them, to meet their gaze, to embrace them, and to let them feel the warmth of love that breaks through their solitude. Their outstretched hand is also an invitation to step out of our certainties and comforts, and to acknowledge the value of poverty in itself."
The pope said that for Christ's disciples, "poverty is, above all, a call to follow Jesus in his own poverty," and he asked Catholics to take as their example Saint Francis of Assisi, who kept his gaze fixed on Christ, allowing him to see and serve the poor.
World Day of the Poor Resources
• Bishop Robert P. Deeley's Letter
• Pope Francis' World Day of the Poor message
• Prayer & Liturgy Resources from Catholic Relief Services, including intercessions (English/Spanish)
• Spiritual and Corporal Works of Mercy
• Ways to Put your Faith into Action - Catholic Charities Maine
• Working on the Margins - Catholic Campaign for Human Development (CCHD)
• World Day of the Poor Pastoral Aid
• World Day of the Poor Prayer (CRS)