The Week of Prayer for Christian Unity is a response to Christ's prayer "that they all may be one" (John 17:21). It is an eight-day period of prayer in which all Christians are invited to participate. The week is celebrated each year from January 18-25, beginning on the Feast of St. Peter's Chair and concluding on the Feast of the Conversion of St. Paul.
Bishop Deeley's Week of Prayer for Christian Unity Message
Theme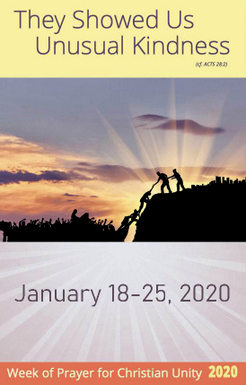 Each year, a different theme is chosen for the Week of Prayer for Christian Unity. This year, the theme is "They Showed Us Unusual Kindness" (Acts 17:18-28:10). It refers to the kindness shown to St. Paul and others when their ship ran aground on the island of Malta.
Acts 17 begins with Paul and other prisoners being taken to Rome. Their ship, however, encounters a severe storm, leading soldiers and prisoners alike afraid that they will be lost at sea. Paul, however, remains calm, telling them that their fate is in God's hands and that he has been assured that he will stand before the Roman emperor to make his case. The ship ran aground on rocky ground, but those on board were able to make it safely to shore. They discovered they were on Malta where "the natives showed us extraordinary hospitality; they lit a fire and welcomed all of us" (Acts 28:1-2).
The materials for the 2020 Week of Prayer for Christian Unity were prepared by the Christian churches in Malta and Gozo. They explain, "Hospitality is a much needed virtue in our search for Christian unity. It is a practice that calls us to a greater generosity to those in need. The people who showed unusual kindness to Paul and his companions 'did not yet know' Christ, and yet, it is through their unusual kindness that a divided people were drawn closer together."
On February 10, many Christians in Malta celebrate the Feast of the Shipwreck of St. Paul.
Prayer
Loving God, we ask that you grant us the spirit of wisdom and unity, so that we may be one, even as you are one with our Lord Jesus Christ - and he with you.
Enable all the members of the body of Christ to live together in unity and fellowship with one another, and lead us into the paths of peace and righteousness so that we may be well pleasing in your sight.
We ask you to teach us how to love one another as Christ loved us and help us to show one another the unusual kindness that can only come from knowing your Son, Jesus. May the Spirit stir up in our hearts a desire to be united as one, in the bond of peace and fellowship. This we ask in Jesus' name. Amen.
Local Celebration
Christian churches from Cape Elizabeth, Scarborough, and South Portland are sponsoring an ecumenical prayer service on January 23 at 6:30 p.m. at St. Maximilian Kolbe Church, 150 Black Point Road in Scarborough.
History
The history of the week dates back to late 1800s and early 1900s. In 1894, Pope Leo XIII encouraged the practice of a Prayer Octave for Unity and encouraged Catholics to recite the rosary for the intention of Christian unity.
A little more than a decade later, two Americans, Father Paul James Wattson and Sister Lurana White, co-founders of the Franciscan Friars and Sisters of the Atonement, started a prayer movement to pray for the return of non-Catholic Christians to the Holy See. The two were Episcopalians who converted to Catholicism. In 1907, a conversation between Father Wattson and an English clergyman, Reverend Spencer Jones, led Reverend Jones to suggest that a day be set aside for prayer for Christian unity. Father Wattson agreed but proposed an octave of prayer between the Feast of St. Peter's Chair on January 18 and the Feast of the Conversion of St. Paul on January 25. The first "Church Unity Octave" was observed in 1908.
After Father Wattson and Sister Lurana became Catholic, Pope Pius X gave his blessing to the Church Unity Octave, and in 1916, Pope Benedict XV extended its observance to the universal Church.
While the Catholic Church adopted the Week of Prayer for Christian Unity, it was Abbé Paul Couturier, a priest of the Archdiocese of Lyons in France, who, in 1935, helped extend its reach to other Christian faiths. He promoted a "Universal Week of Prayer for Christian Unity" on the basis that it was the Lord's will - "Our Lord would grant to his Church on earth that peace and unity which were in his mind and purpose, when, on the eve of his Passion, he prayed that all might be one." It was a successful way of uniting all Christians in the same prayer.
Resources
► International Booklet for Week of Prayer for Christian Unity - English
► International Booklet for Week of Prayer for Christian Unity - French
► International Booklet for Week of Prayer for Christian Unity - Spanish
► Pontifical Council for Promoting Christian Unity
► Suggestions for Observing the week of Prayer from the Graymoor Ecumenical & Interreligious Institute