Week of Prayer for Christian Unity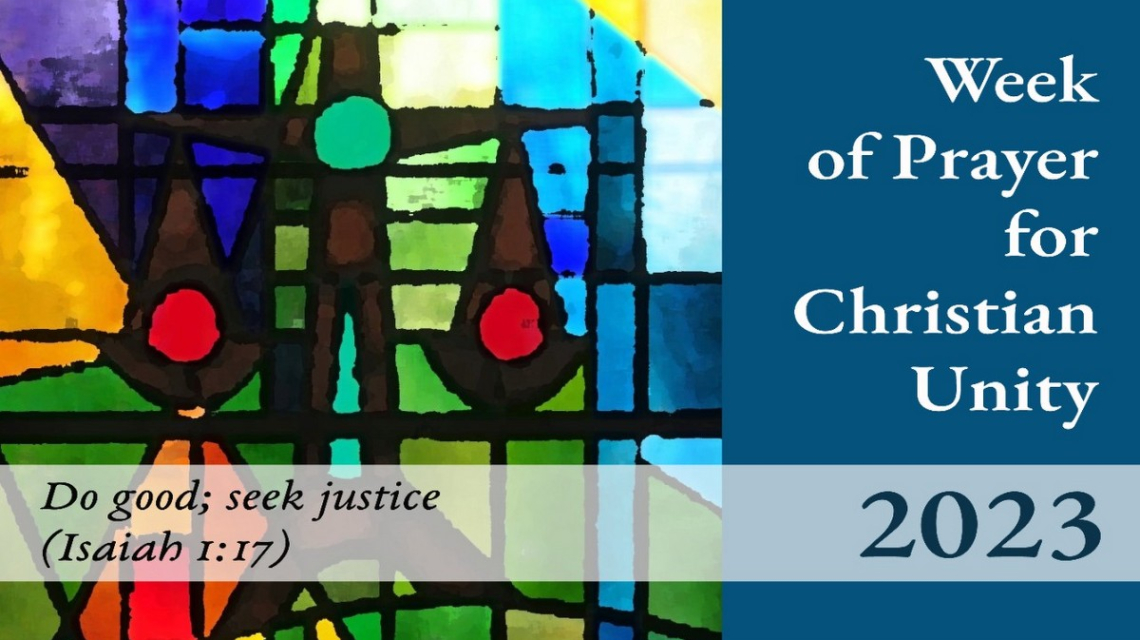 January 18-25, 2023
The Week of Prayer for Christian Unity is a response to Christ's prayer "that they all may be one" (John 17:21). It is an eight-day period of prayer in which all Christians are invited to participate. The week is celebrated each year from January 18-25, concluding on the Feast of the Conversion of St. Paul.
Theme
Each year, a different theme is chosen for the Week of Prayer for Christian Unity. The theme for 2023 is "Do good; seek justice" (Isiaah 1:17). It was chosen by a working group from the Minnesota Council of Churches, which chose the verse from the first chapter of the prophet Isaiah, which reads "learn to do good; seek justice, rescue the oppressed, defend the orphan, plead for the widow" (1:17).
In choosing the theme, the group reflected:
Isaiah taught that God requires righteousness and from all of us, all the time in all spheres of life. Our world today in many ways mirrors the challenges of division that Isaiah confronted in his preaching. Justice, righteousness and unity originate from God's profound love for each of us and are the heart of who God is and how God expects us to be with one another. God's commitment to create a new humanity "from every nation, from all tribes and peoples and languages" (Rev 7:9) calls us to the peace and unity God has always wanted for creation
The group spoke of the sin of racism, saying that separation and oppression continue to be manifest when any single group or class is given privileges above others. It said all division has its roots in sin and said that God expects us to unite in a "shared responsibility for equality for all God's children." The Week of Prayer for Christian Unity, the group said, is an ideal time to reflect on that responsibility.
Learning to do right requires the decision to engage in self-reflection. The Week of Prayer is the perfect time for Christians to recognize that the divisions between our churches and confessions cannot be separated from the divisions within the wider human family. Praying together for Christian unity allows us to reflect on what unites us and commit ourselves to confront oppression and division amongst humanity.
A Message from Bishop Deeley
The Week of Prayer for Christian Unity is an opportunity to ask God to help Christian Churches seek common ground and appreciation for each other. Prayer is the key which opens our hearts to Christ's desire for unity. In opening ourselves to prayer we remember that we share a common baptism and faith in the Trinity. Our practice of faith begins in our shared appreciation for Scripture as the Word of God where we encounter the saving truth of Jesus.
In this, we are reminded of an important teaching of Pope Benedict XVI: "Being Christian is not the result of an ethical choice or a lofty idea, but the encounter with an event, a Person, which gives life a new horizon and a decisive direction." That person is, of course, Jesus. Our common witness to our faith in Him calls us to work together on those issues which unite us: caring for the sick, the needy, migrants, and refugees, and confronting religious persecution. Through these shared experiences, the discovery of further common ground can come to pass. This week, remember the truth that as disciples of Jesus, we seek to follow him in doing the will of the Father. Together.
History
The history of the week dates back to late 1800s and early 1900s.  In 1894, Pope Leo XIII encouraged the practice of a Prayer Octave for Unity and encouraged Catholics to recite the rosary for the intention of Christian unity. A little more than a decade later, two Americans, Father Paul James Wattson and Sister Lurana White, co-founders of the Franciscan Friars and Sisters of the Atonement, started a prayer movement to pray for the return of non-Catholic Christians to the Holy See.  The two were Episcopalians who converted to Catholicism.  In 1907, a conversation between Father Wattson and an English clergyman, Reverend Spencer Jones, led Reverend Jones to suggest that a day be set aside for prayer for Christian unity. Father Wattson agreed but proposed an octave of prayer between the Feast of St. Peter's Chair on January 18 and the Feast of the Conversion of St. Paul on January 25.  The first "Church Unity Octave" was observed in 1908. After Father Wattson and Sister Lurana became Catholic, Pope Pius X gave his blessing to the Church Unity Octave, and in 1916, Pope Benedict XV extended its observance to the universal Church.
While the Catholic Church adopted the Week of Prayer for Christian Unity, it was Abbé Paul Couturier, a priest of the Archdiocese of Lyons in France, who, in 1935, helped extend its reach to other Christian faiths. He promoted a "Universal Week of Prayer for Christian Unity" on the basis that it was the Lord's will - "Our Lord would grant to his Church on earth that peace and unity which were in his mind and purpose, when, on the eve of his Passion, he prayed that all might be one." It was a successful way of uniting all Christians in the same prayer.
Prayer
Loving God, we ask that you grant us the spirit of wisdom and unity, so that we may be one, even as you are one with our Lord Jesus Christ - and he with you.
Enable all the members of the body of Christ to live together in unity and fellowship with one another and lead us into the paths of peace and righteousness so that we may be well pleasing in your sight.
We ask you to teach us how to love one another as Christ loved us and help us to show one another the unusual kindness that can only come from knowing your Son, Jesus. May the Spirit stir up in our hearts a desire to be united as one, in the bond of peace and fellowship. This we ask in Jesus' name. Amen.
Resources
2023 Week of Prayer for Christian Unity Materials in:
Pontifical Council for Promoting Christian Unity