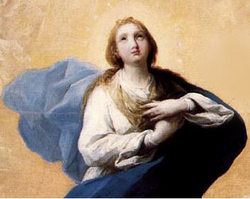 "Hail Mary, full of grace..."
The Solemnity of the Immaculate Conception, celebrated on December 8, commemorates the day that Mary was conceived without the stain of original sin.
It is the patronal feast of the United States and of the Diocese of Portland.
Although it was long believed by many Christians that Mary, who was to be the Mother of God, was conceived without sin, it wasn't until 1854 that Pope Pius IX declared it to be dogma of the Catholic Church. In Ineffabilis Deus, he wrote that "the Blessed Virgin Mary, from the first moment of her conception, by a singular grace and privilege of almighty God, and in view of the merits of Jesus Christ, Saviour of the human race, was preserved free from every stain of original sin is a doctrine revealed by God and, for this reason, must be firmly and constantly believed by all the faithful."
The Solemnity of the Immaculate Conception is a holy day of obligation. However, since December 8, 2019, is the Second Sunday of Advent, the celebration of the solemnity this year will be commemorated on Monday, December 9. While the celebration to attend Mass does not also transfer, it is still a wonderful day to go to daily Mass to give thanks to the Blessed Mother.