'My faith influences everything I do'
Image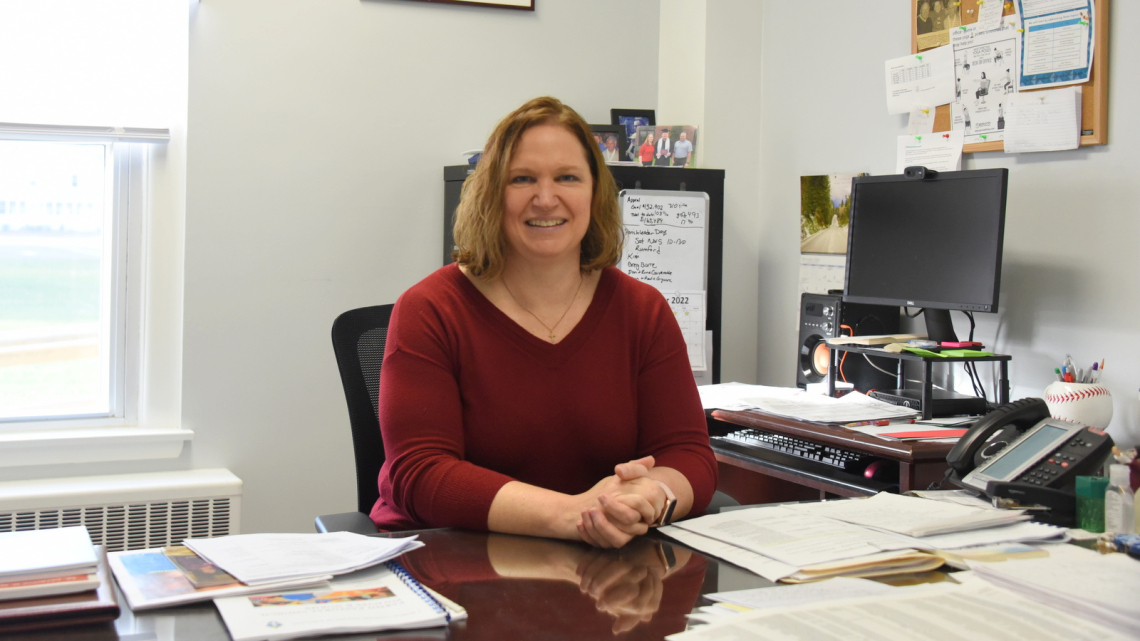 For the past 30 years, Kim Suttie has been doing something she loves — sharing her faith with others.
"I love teaching at all levels. I love just sharing the faith, helping people to understand it," she says. "I think if you understand what you're doing, it just opens up your relationship with God so much more."
Since graduating from college, Kim has served the Catholic Church as a high school theology teacher, a faith formation director, a pastoral associate, and for the past 15 years, she has been the pastoral life coordinator at Corpus Christi Parish in Waterville. She says it's a job she enjoys because it is ever evolving and allows her to interact with people at all stages of their faith journeys.
"I do faith formation from womb to tomb. I do sacrament prep. I do baptism prep. I just met with a couple preparing for marriage, so everything is different. I've taken on some of the parish communications roles, which I enjoy. I like doing the bulletin. I like doing the website. I like doing new things," she says. "It's the same goal of helping people to explore their faith more, but every day is different."
Kim says her favorite part of her job is interacting with people, especially the children.
"I love their energy and their openness. Sometimes, I think, as adults, we don't get it. They just have that wonder and awe, that gift from the Holy Spirit. They're just fun to be around. The things that they say are incredibly profound if you just take the time to listen, so I love being with them," she says. "I think that anytime you are truly teaching, whether you are teaching kids or adults, I think you learn more and grow more from it."
Kim has been actively learning and growing in the faith since around the seventh grade, which was when she became Catholic. She was baptized in the Episcopal Church but doesn't remember going to services often. Then, around the fourth grade, she started going with a friend to the Baptist church that was just down the street from her home.
"I would just say, 'Mom, I am going to church,' and I would walk down and go to church," Kim recalls.
A couple years later, her mother started accompanying a friend to Mass at Immaculate Heart of Mary Church in Fairfield, leading her mother to join the Catholic Church and leading Kim to go on a journey of discovery of her own.
"I had started going to Mass and said, 'I want to do this,' so towards the end of the summer and through the fall, I would ride my bike over and meet with the priest, Father [Arthur] St. Pierre, and kind of do classes," Kim says.
Classes were held individually at that time because it was prior to the implementation of the Rite of Christian Initiation of Adults (RCIA).
Kim says while Father St. Pierre and her mother were both positive influences in her journey, she pursued Catholicism because it just felt right.
"It was home. It just felt good to be there," she says. "I really treasured those things I learned."
Her faith grew even more when she attended the College of the Holy Cross in Worcester, Mass.
"We had seven or eight Masses on the weekend and three or four every day, so it was easy to be Catholic at Holy Cross. I really enjoyed it. They had an 11 p.m. weekday Mass, and you would stop studying for a little bit to go to Mass," she recalls. "It was in the lower chapel, and there were just benches around the altar, right in the sanctuary, and we would have Mass."
Kim says she went to Holy Cross without an idea of her future career. Liking her economics classes, she decided to become an economics major, but as time went on, she realized that it was her theology classes that most resonated with her.
"I love the history of the Catholic Church. I love studying Church history. I love studying Bible history and reading the Old Testament and the New Testament. I really enjoyed the social justice classes, which were the complete opposite mentality of the economics classes I was taking," she says.
By her senior year, she knew she wanted to work for the Church. She completed a year at Boston College towards her master's in religious education and then got a job teaching at St. Thomas Aquinas High School in Dover, N.H.
Marriage brought her back to Fairfield, where a faith formation position opened up right after her honeymoon. She has been serving in that area ever since, first at Immaculate Heart of Mary Parish, and then, when parishes in the area merged and Immaculate Heart of Mary closed, at Corpus Christi Parish.
She says while it was hard to say goodbye to the place that had become her spiritual home, it never diminished her love for her faith.
"That was hard. [Immaculate Heart of Mary] was my home. That was where I worked all those years, but it's not my faith," she says. "I've had a sense from the beginning that the Spirit is leading us somewhere. I don't know where it's going to be, and it's not going to look like it did 30 years ago when I started my work, but I'm OK with the change because I know we're being led somewhere. I don't know why I feel that way, because I'm not good with change, but for some reason, it's OK. We're going to be OK. God is leading us somewhere, and we will get there."
She says while the parish community is larger now, she still finds it warm and welcoming.
"It's not the same small community that we were at Immaculate Heart of Mary, but there is community everywhere, and there are good people who are welcoming and who are glad you are there everywhere you go. It changes. It's not good or bad. It's just different, and we have to be OK with the difference," she says. "That is the beauty of Catholicism. Catholic is universal. Wherever you go, it is still the Catholic Church."
As a pastoral life coordinator, Kim holds one of the key positions in a parish. Working with the parish priests, pastoral life coordinators are responsible for fostering the faith life of the parish community, for promoting evangelization and spiritual renewal, and for guiding other office staff, such as faith formation directors and youth ministers, in those efforts. Kim, who was one of the first three pastoral life coordinators in the Diocese of Portland, says she sees the position as a wonderful opportunity for women who wish to be in parish leadership.
"Our priests are asked to do just incredible things. They're asked to do way more than they could do, so in a lot of cases, I can be that bridge," she says. "With our number of priests dwindling, they can't do it all, so I would assume, for the priests, it's nice to have someone with whom they can bounce ideas back and forth."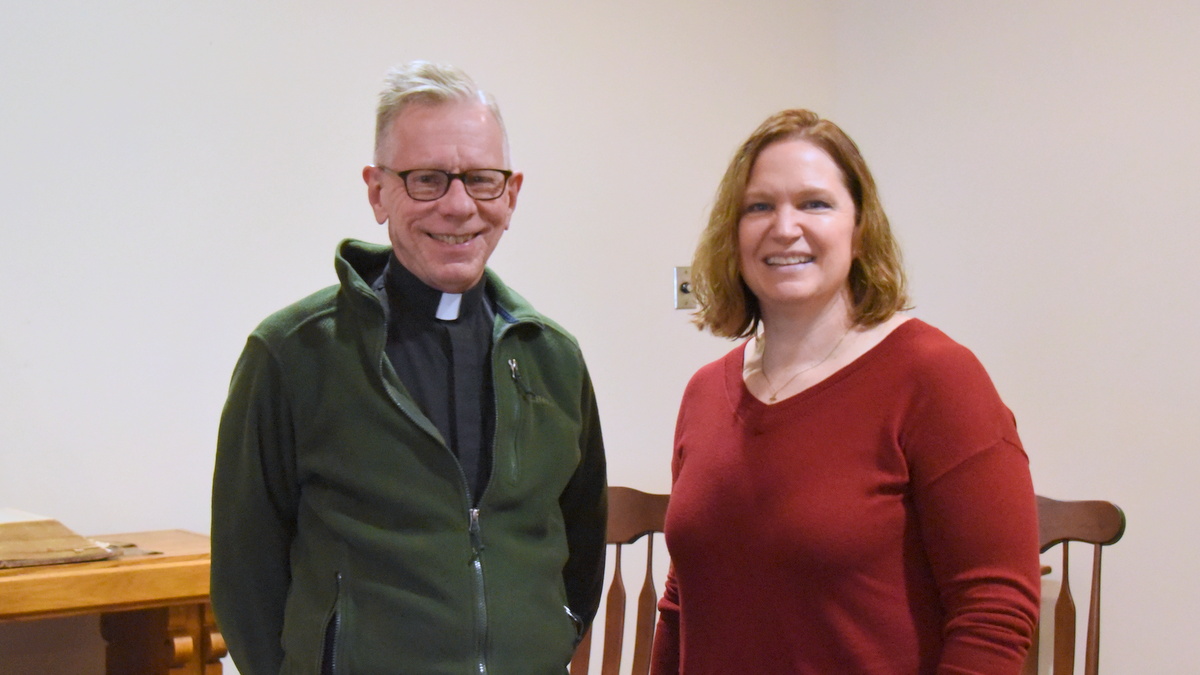 Kim and Father Daniel Baillargeon, pastor of Corpus Christi, say that has been the case for them for 12 of the past 15 years, which is the time they have worked together.
"We know each other extremely well, so basically, I let her do what she wants to do, and she lets me do what I want to do, but most of the time, we do it together. So, neither of us in pastoral ministry is a lone ranger. We always know what the other is doing, and we're most probably involved in it," says Father Baillargeon.
"I think it is so important that we're on the same page. We don't always 100 percent agree, but we have open communication, so we can support each other. I don't know how you do this job if you don't have a good relationship with your pastor. I really appreciate the trust he puts in me to do my job," says Kim.
Father Dan says there are a lot of qualities he sees in Kim that have led to their good working relationship.
"Her passion for faith formation, her love of kids, her love of sharing her faith, the way that she lives her faith, the way that she sticks with her faith and the Church through thick and thin," he says. "Both of us like thinking outside the box, even in our spirituality and in our relationship with God, so there is a commonality there, too."
"We'll just start talking about God or our faith or how current events fit into our faith. 'What do you think about this?' or, 'I read this,' or, 'I saw this,'" she says.
"Which helps each of us to grow in our faith as well," Father Dan adds.
Kim says there is not a separation between what she does at work or on the weekends with the rest of her everyday life.
"I like to think about what is going on in the world through the lens of my faith. A lot of people try to separate them, but for me, I can't separate what I do here on Sunday or because it's my job with when I go home and I'm with my family or when I'm watching the news at night. My faith influences everything I do. It grounds me," she says. "It helps you to not get distracted. I know where I'm going or where I should be going or where I'm trying to go, so I don't have to get all crazy. It is, without question, a comfort in difficult times. It's a challenge in good times."
Kim says she's challenged by her faith a lot, but she doesn't perceive that as something negative.
"I think that if I ever get too comfortable in my faith, then that is a problem. Jesus challenges you," she says.
While Kim regularly attends Mass, including on weekdays when she can, and she has regular prayer time, she says she converses with God throughout the day.
          "I talk to God all the time. 'Help me with this. I'm not sure about this. I'm a little confused about this.' I've come to be better at this as I've gotten older. Instead of sort of hitting against a wall, I now, more often, say, 'OK, I can't do this without you. I need your help,'" she says. "I joke that a lot of the time, my prayer is, 'Send me one more sign. I've missed all of them that you've sent me, so send me just one more. I swear that I'll be paying attention this time.' I learned quite a few years ago that when life starts to get crazy and physically you can feel the tension, you really just need to, at that point, just stop and say, 'Help,' or 'I give this to you. I need you today,' and it immediately calms me down."
Kim says she also draws strength from the Eucharist.
"It's God being with me every day. Every time I receive Communion, Jesus is part of me. It nourishes me. I can use all the faith formation language, but I really believe that," she says. "Sitting at church with this tabernacle right underneath this beautiful cross, it grounds me. It calms me.
During the height of the pandemic, Kim says she was fortunate to be one of the few who could still attend Mass because she ran the livestreaming equipment. She says, while livestreaming is a gift for those unable to attend Mass, something is lost when you're not physically present.
"You're missing that community of faith, that coming together, where two or more are gathered in His name, and the next step of that is receiving Jesus within the community, in the midst of that community," says Kim. "I want that connection. For me, coming to Mass with other people who are struggling with the same things I am, celebrating the same things I am with their faith, it really stood out to me during COVID that I was missing that. And now, we have that back, and that is important."
Kim and Father Baillargeon have worked closely together to continually build community and provide faith and social justice opportunities for Corpus Christi parishioners. During Lent in 2020, the first year of the pandemic, they created a Tree of Hope, on which they hung circles of paper with prayer intentions on them. Last Lent, a giant thermometer tracked acts of kindness done by parishioners.
"We asked people, when they came to church, to fill out a little slip with how many acts of kindness you did this week or acts of service," Kim explains.
One of the projects of which Kim says she is most proud is the September sneaker fest, a calendar raffle that raised enough money to buy 160 pairs of sneakers or boots for teenagers.
"A middle school guidance counselor in Fairfield said she bought a pair of sneakers, and she gave them to a boy, and he came in and said, 'This is the greatest day of my life,'" Kim shares. "He took his old sneakers off, threw them away, and put the new ones right on. Isn't that why we do what we do?"
Kim says when Father Baillargeon first became pastor, one of their goals was to increase community involvement, something they continually strive to do.
"We said we would like to have the parish be such that if Corpus Christi Parish ceased to exist, that the community would really feel a loss, not just the Catholics in the community but the community as a whole," she says.
One of the projects in which the parish participated this Advent was Jolly Gifts, a toy collection project to benefit clients of Catholic Charities Maine. Kim has served on the Catholic Charities Board of Directors for the past six years and is a strong advocate for the agency.
"It's amazing the work that Catholic Charities does, but I don't think the average person has an idea that they run a dental center or that they're doing opioid addiction work or how many people they feed in the County," she says.
Kim says she loves volunteering for Catholic Charities, as well as her work in the parish, describing herself as much more of a Martha than a Mary (Lk 10:39-42).
"I wish I could be more of a Mary, but God created me a Martha," she says. "That's where I get my energy. That's where I get my joy, so why be something that I'm not?"
While Kim says anyone serving as a pastoral life coordinator would say they have a pretty full plate, she says what makes the difference for her is the people with whom she works and serves and those whom she encounters each day.
"We've got amazing catechists, so I can rely on them. We have good people who take care of liturgy in both churches. We've got good sacristans. We've got people who will step up and do the different ministries," she says. "Just being around people and admiring their faith, that kind of thing. Everyday people are amazing."