Welcome Home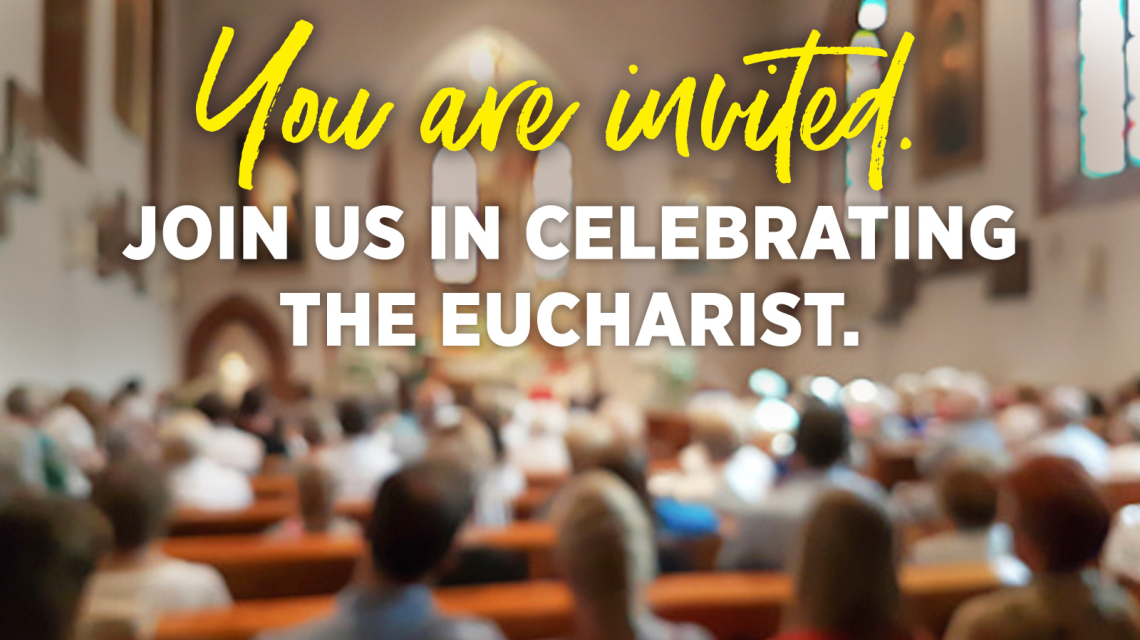 I want to personally invite you to return to Mass in our Maine churches! 
The celebration of Mass as a community, and the special nature of Sunday as a day on which we give thanks to God for his goodness to us, is central to who we are as Christians and Catholics. It is an ancient practice which is at the heart of our faith. In our gathering for Mass, together, we give thanks to God for the gift of salvation and life.
We sometimes hear people say that "I am spiritual, but I don't need to go to church to connect with God." An isolated faith is not what Jesus intended for his followers. We come to know him through our being together, and together, we bring him with us when we depart from the church to share our faith in him with others.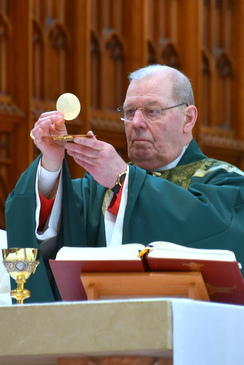 Our gathering provides the venue where we encounter Jesus Christ in ways that bring true meaning to our lives. Celebrating the Eucharist is the primary place in which we are community. It is the source and summit of our faith. Here, Jesus unites us in himself as we receive his body and his blood, and we experience ourselves as Church gathered in Christ. He speaks to us, feeds us, and assures us of his eternal presence. We can only experience his real presence fully when gathered together in the Eucharist.
It has been a long 15 months. We have missed the company of one another. More importantly, I hope we have realized that the loss was not just a case of missing one another; it was the loss of our sense of being Church, of the way in which our gathering as God's people at Mass is not just a nice way to be together, but it is a sacred duty we have to each other and God. Together, we form the Church, and when we worship together at Eucharist, we believe that we will find Jesus in our community.
The diocese has been guided by experts and science in making decisions throughout the pandemic. We have acted with caution and continue to do so. Our use of vaccinations has grown sufficiently to allow us to safely reopen and gratefully welcome people back in our places of worship. There is no substitution to experiencing Christ in person in the Mass.
Please take this invitation to heart. Help those in your life who are hesitant to return to understand why they should come back.  In the words of Pope Francis, when we joyfully gather, exchanging smiles and sharing in our faith, the Church becomes "a large and welcoming room where everyone can enter and meet the Lord."
I look forward to seeing you soon!
Bishop Robert P. Deeley, JCD
The Celebration of the Eucharist
"Do this in memory of me." - Bishop Robert Deeley's pastoral letter on the Eucharist
Find a church and Mass times near you
Letter from Bishop Robert P. Deeley
Bishop Robert Barron: This is the Moment: Go back to Mass
Celebrating the Lord's Day - USCCB
Echoing God's Word - Reflections on the Sunday readings
How do I convince my friends to come back to church? (Harvest magazine - In the know with Fr. Joe)
Is Christ really and truly present in the Eucharist? (Harvest magazine - In the know with Fr. Joe)
Pondering the Gift of the Eucharist - (Harvest magazine / The Last Word)
Pope Francis: Explaining the Mass
Pope Francis: The Power of the Eucharist
Pope Francis: Why Catholics Need Mass Each Sunday
Rediscovering the Joy of the Eucharist (Harvest magazine - September 2021)
Saint John Paul II: Ecclesia de Eucharistia - The Eucharist in its relationship to the Church
Together, We form the Church (Harvest magazine - From the Bishop)
What the saints say about the Eucharist and the importance of Mass.
Why it's important to participate in the Mass
Vaccine Information
Pope Francis: Getting Vaccinated is an "Act of Love"
Catholic Cares: Answering Vaccine Concerns (Video)
Conscience and Vaccine Acceptance (Report)
COVID-19 Vaccines and Faith Communities (Podcast)
Vaccine Technologies: The Science and Moral Impact (Video)
Vaccinations: Partnering with Communities (Webinar)
Vatican COVID-19 Commission and the Pontical Academy for Life (Report)
Vatican COVID-19 Vaccination Resources (Website)
Vaccinations: Principles for the Common Good (Report)
COVID-19 Communications Toolkit (Resources)
Johns Hopkins: Understanding Vaccination Progress (Data)
Johns Hopkins: COVID-19 Vaccination Dashboard (Data)