Walking and serving among the poor of Brazil
Image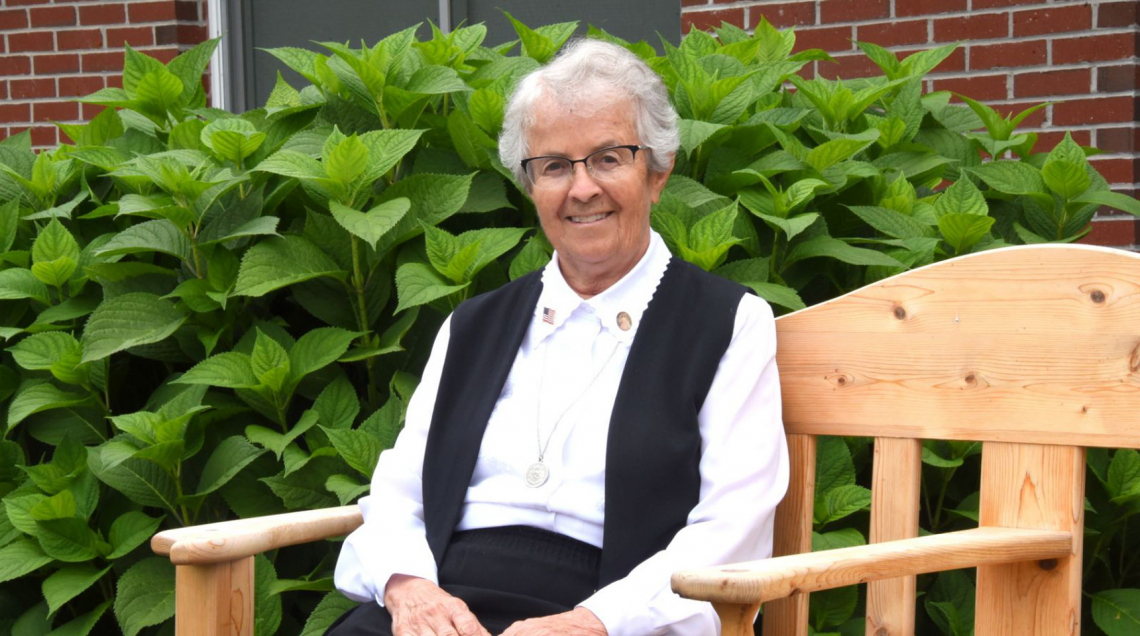 In 1973, responding to a call from the Second Vatican Council, the Servants of the Immaculate Heart of Mary, also known as the Good Shepherd Sisters of Quebec, approached Bishop Joseph Gerry, OSB, the 10th bishop of Portland, about establishing a mission in Brazil. Nearly 50 years later, the ties they forged remain strong.
"Jesus is there for me. His presence is there," says Sister Aline St. James, SCIM, who served in Brazil for 36 years, before being elected to the sisters' leadership team in Quebec in November 2021.
"It is just the whole spirit of the place. The people were very friendly," says Sister Pauline Demers, who served there from 1988 to 2015. "For 27 years, I was very, very happy."
The Good Shepherd Sisters' ministry in Brazil began with a request for help from the bishop of the Diocese of Caico, who didn't have enough priests to serve the diocese's rural parishes. The sisters answered the bishop's plea, and the rural mission of Jardim de Piranhas was put in their care. Five years later, the sisters expanded their ministry and also began serving in the city of Natal in northeastern Brazil.
"When we came to Natal, we were involved in the parish there, and we are still involved in that parish. It's called Nossa Senhora de Esperança, Our Lady of Hope," says Sister Aline, who continues to serve as the congregation's liaison to Brazil. "In 1984, we started a literacy project for children who were working in the dumps, and now, that is a preschool for poor children in the area, which is still an area of poverty."
The preschool is just one aspect of a broader education program run by the sisters that is aimed at improving the quality of life for the people there.
"The education program doesn't just pay to help keep the school going, it also helps other persons to be educated, so they can arrive at a dignified state of life," says Sister Aline. "Over the years, we've helped at least 3,000 students with their schooling, giving them scholarships. Some people started with preschool and went all the way to college and then specializations in college. We've also helped seminarians in the dioceses of Caico and Natal. The education program also helps with the religious formation of our sisters in Brazil, and there are some housing projects that have helped people get on their feet, so they have a decent place to live. It's been a lot of work over all these years."
Currently, the sisters offer classes to teach women professional skills so they can become financially independent.
"We started having groups of women come, and we have all kinds of different courses: nail care, hair care, sewing, cooking. It's an integrated center for women," explains Sister Pauline.
While she was in Brazil, Sister Pauline says her primary responsibility was handling the finances, work with which she is still involved today, although she now lives at St. Joseph Convent in Biddeford. She takes care of the bookkeeping for the education program and does the accounting of money raised in Maine for the program. Sister Priscille Roy, SCIM, who served in Brazil for 30 years before returning to the United States, continues to find sponsors here to support the Brazil mission.
"Many of the sponsors are retired people. They don't necessarily have to give big amounts, but they have been faithful for years for their sponsored children. Besides that, there are a number of schools and parishes and institutions here in the state of Maine, and other people who are connected with the congregation, who are helping with the Brazil mission," says Sister Aline.
That includes a benefactor who has supported the program since 1984, a year before Sister Aline began her ministry there.
Although Sister Aline says she had no intention of serving in Brazil when she first traveled there in 1983, accompanying a Brazilian sister who had done her novitiate in the United States, she says she was struck by what she saw when she arrived.
"Inside of me, I kept saying, 'My God, Jesus walks the streets here. I can see Him.' And that's what attracted me in a special way," she says. "I really felt the call inside my heart. At that point, there was a realization to me that became so strong that the future of the congregation was there, and I had to be a part of that."
Sister Pauline says after 11 years of service at St. André Health Care in Biddeford, she went to Brazil for a three-month trial period and also felt called to return there.
"I just liked what I had seen. I don't know. It just attracted me," she says. "The people were really poor. They really didn't have much, but they were hard workers and very religious people. It was a very nice atmosphere. I loved it."
Sister Pauline says because the people didn't have many material goods, it was God to whom they turned.
"The fact that they had so little made them so dependent on God. Here, we have so much that we can take it for granted, and we kind of forget the One who gives us all these things. We forget the important things in life and that we don't really need all the things we have to be happy. We can live very simply and still be happy believing in God," she says.
"The poor have a way, in their simplicity, of teaching us the truth, of making us sensitive to other values," says Sister Aline. "They are a sign of God with us. When Jesus walked the earth, the people whom He especially looked upon and the people who responded to Him were the poor. They have always been God's chosen people. The problem is that the rich don't know how poor they are."
Sister Aline was the only remaining sister from the U.S. serving in Brazil before she left in November. Now the ministry is run by five Brazilian sisters. Sister Aline says although their numbers aren't large, they benefit from the wonderful collaborative spirit that exists among the various religious communities present in Natal.
"We're very much inter-congregationally minded and very open to working with other congregations," she says. "I say, 'We're small. We need one another.' It's really a blessing."
Sister Aline says the pandemic has made life more difficult in Brazil, but the sisters and the people have carried on.
"It's called for a lot of creativity. We discovered many new ways of being able to reach our goals and objectives," she says.
That has included finding ways to safely distribute food and basic supplies to families, as well as ensuring students still can get an education by providing materials so they can study at home. While remote learning remains an option here, Sister Aline says many of the children the sisters in Brazil serve don't have computers or Internet access, so it is not a possibility there.
Sister of St. Joseph recalls her service in Brazil
Members of the Good Shepherd Sisters of Quebec aren't the only sisters from Maine drawn to the country of Brazil. In the early 1970s, Sister Dorine Moreau, CSJ, a Jay native and member of the Sisters of St. Joseph of Lyon, served in the Diocese of Mossoró in the northern part of the country.
Sister Dorine says she was drawn to mission work ever since grade school, when she read about St. Isaac Jogues, a 17th-century Jesuit missionary who served among the Native American people of North America.
"I think that stuck with me," she says. "I continued thinking about the missions."
A nurse, Sister Dorine helped to provide health care to the people. She accompanied priests during hospital visits and also traveled to see people who were ill.
"My favorite time was when I was in the village and was able to work directly with the people," she says.
Sister Dorine says a priest, usually from a foreign mission, would travel to the area once a month for the celebration of Mass. In between, they would hold prayer services with the people.
"Their faith, it was strong, but it was elemental," she says.
Although Sister Dorine left Brazil decades ago, she still has fond memories of her time there and still keeps in contact with some of the people she met.
"I still correspond with several of the people I encountered while I was there," she says. "It's maybe once a year that we get in contact, always with a Christmas card, anyway."