St. Brigid students thank frontline workers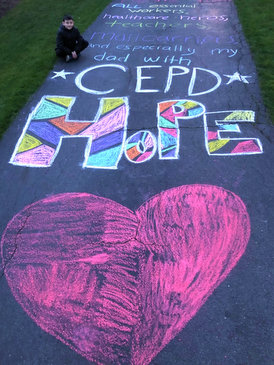 From drawings on driveways to posters in doorways, students from St. Brigid School in Portland used their creativity to express thanks to those who serve on the frontlines and continue to perform essential jobs during the COVID-19 pandemic.
"We wrote 'hope' because we have to have hope and think about others," says Sammy, a first grader, describing his stained-glass-style chalk drawing. "My mom made the outline, and then, I colored it in with my sister and mom."
"I chose to send cards to my friends who are both firefighters and one is a nurse. They work really hard, and I wanted them to know they were special to me.  I wanted them to know that I was hoping they would stay safe during this hard time," says Emma, a fourth grader.
The "Thank You Project" was inspired by Ellen Couture, executive assistant at St. Brigid. Couture's husband, brother, brother-in-law, and many close friends are firefighter/paramedics. She says while they have always known the risks of the job and faced them courageously, responding to COVID-19 has been different.
"There were and still are so many unknowns," she says. "Normal protocols and procedures didn't quite fit the nature of the pandemic. The daily stress they exhibited was more like that which I have seen after a particularly tragic or disturbing call."
It is anxiety Couture has experienced as well.
"It is taking every ounce of my being and a new found discipline in daily prayer to get through this challenging time," Couture says. "It is only with an extreme faith in God and the angels that I am able to find courage not to worry every time they go on shift. (It's) that and knowing in the regular circumstances of their job, they have the equipment and training to do their job as safely as they possibly can."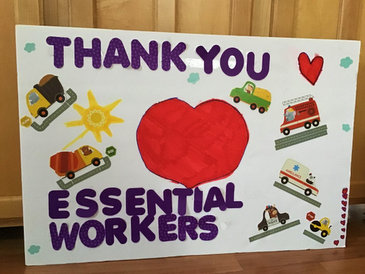 In addition to her prayer life, Couture says she draws strength from her "faith friends" in the St. Brigid community, so she turned to them, asking for prayers for the safety of the first responders, then sharing some ways to show support. They included donating masks, ordering them takeout meals, and having students and families write letters or make posters.
"I can tell you that these people need a lot right now," she wrote to faculty members and staff. "I thank you in advance for choosing kindness, love, and prayer, and encouraging others to put it into an activity if you feel worthy of that."
The response was quick and heartfelt, with teachers weaving the service project into their lesson plans.
"Our mission is all about helping others and those in need.  These essential workers are doing the most difficult job. They are walking right towards the danger the rest of us are walking away from. There is not much physically I could do, but hopefully, they found peace and comfort knowing that others are thinking about them. My students were all active participants in this project," says Stacy Webster, a fourth-grade teacher.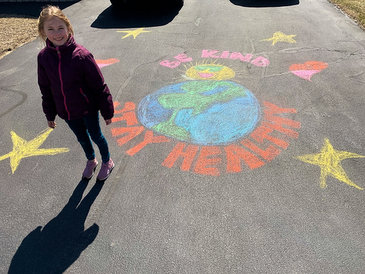 "I gave all the students a 'thank you' lesson which asked students to create posters, banners, chalk messages, cards, or letters to fire/rescue workers, hospitals, grocers, the police department, and any other person they thought was in a frontline position. The response was phenomenal and indeed representative of our compassionate and caring community," says Tracy Ginn, the art teacher.  "Cutout sayings were posted in windows, posters attached to mailboxes, fire engine drawings with compassionate words sent to their fire department. The students did this with great motivation and love in their hearts."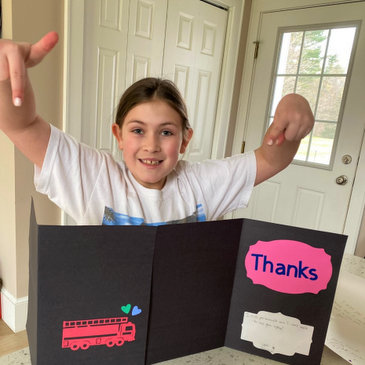 While the project started early in the pandemic, Couture says it was heartwarming to see that the students continued to create artwork and send messages even as the end of the school year approached.
Chase, a fourth grader whose father is a firefighter, says it is because they are grateful.
"Because, while we are all staying home to be safe, these people are going out every day and are risking their lives for us. A lot of workers didn't sign up to risk their lives like my dad did, but they are," he says. "Policemen and firefighters do this every day, and now, other workers are doing the same, and we need to thank them."