Singer urges St. Brigid students to change the world.
Image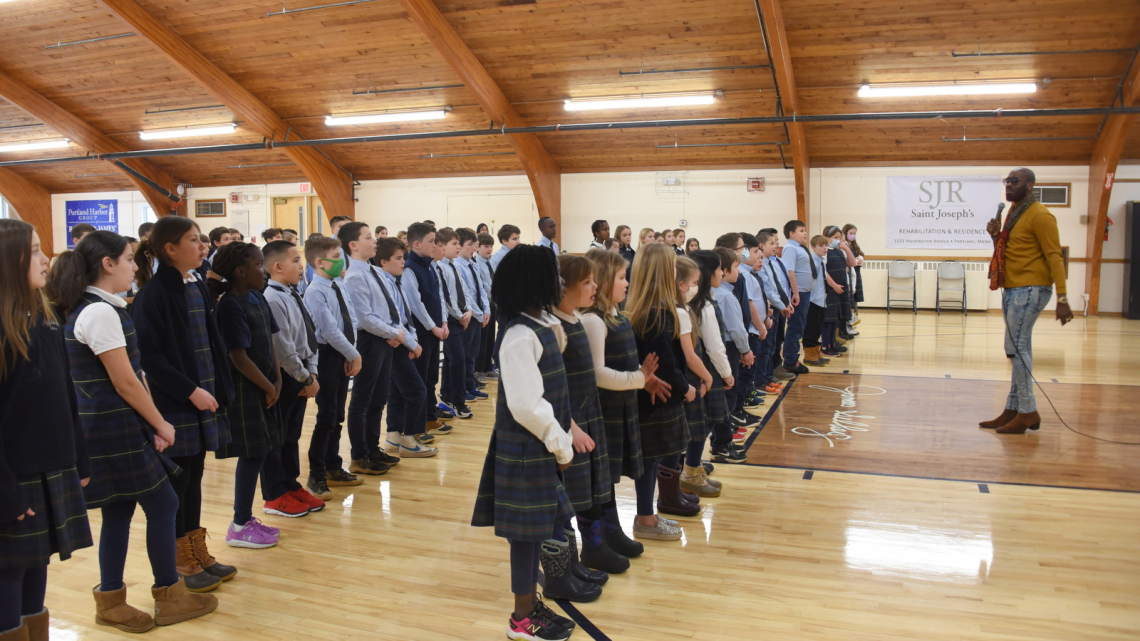 "Make it soft, airy, and hold onto it."
Delvin Choice offers advice to a group of singers at St. Brigid School in Portland.
"You sound beautiful, but I need to hear a little bit more of you," he tells one of them.
Choice, a professional Gospel singer from South Carolina who reached the quarterfinals of NBC's The Voice, traveled to Maine in January to lead a music residency at the school. Choice spent three days working with student vocalists and musicians, providing them guidance and encouragement.
"The main thing that I want them to walk away with is the courage to do something different," he says. "I want them to understand that God has given them the ability, and the gifts, and the tools to actually be world changers.…The goal I want them to achieve in life is to change the world."
"He really taught us to believe in ourselves, that we could accomplish anything we want to achieve," says Julia McCullough, a fifth grader.
Choice was invited to come to St. Brigid by Matthew Fogg, who co-owns the Midcoast School of Music in Portland and coordinates the music programs at both St. Brigid and at St. James School in Biddeford. Rather than having a single, full-time music teacher, the Catholic schools' contract with Fogg, who provides professional instructors from his school, each with their own specialty.
"We do a team-teaching kind of thing, so they get highly qualified people in there every day, people with different disciplines, so they can meet all the needs of the various student groups," he says. 
Fogg says he wants to introduce the students to different genres of music and to inspire them to be the best they can be by giving them the opportunity to experience what really good music sounds like. That is what led him to consider inviting Delvin Choice to visit the school.
Choice and Fogg met a few years ago when Choice was performing in the town of Lincolnville. Choice's keyboardist missed his flight to Maine, and looking for someone to sit in, a connection was made with Fogg, who is an accomplished keyboard player. 
 Although the two hadn't stayed in touch, Choice says when he got Fogg's message on Facebook, he instantly knew what his answer would be.
"He told me about this particular school. He said, 'Would you ever consider coming and doing something special for them?' And I was like, 'Yo, let's do a residency. Let's make it happen,'" Choice recalls.
Choice, a father of two, says he loves children and wants to sow seeds for the future, just as his parents did for him.
"I just think that it is very important for [children] to know how much they are loved and cared for and how talented and gifted they really are and that there is somebody out there who sees that potential and doesn't mind getting his fingers dirty to uncover it. I see that tip of a diamond, but I know something is bigger there. If you carefully take care of it, then, all of a sudden, you have this giant diamond in your hand."
Through Choice's coaching, similar to what you might see on The Voice, the students' talents began to shine.
"I learned I can move with my hands for singing and really add emotion in," says Julia.
"He's telling me to open up my mouth more to get my sound out, and he's telling me about posture and how to stand and what to do when you're singing, where to look," says Melody Hackleman, a seventh grader.
"He taught me to open up my mouth and not be afraid to sing," says Adrianna Smalley, a seventh grader.
"He told me to look at the crowd and to articulate," says Noemi Lourdeau, a fifth grader.
 Fogg says he couldn't be happier with the way the residency turned out.
"I feel like I've tapped into something way greater than what I originally imagined," he says.
"It was just an amazing thing to see these kids so engaged in what they were doing and, even more, for me, seeing how these children have found their voices and how they have grown and improved in such a short period of time," says William Burke, St. Brigid's principal.
"I think it's very special to work with a professional singer because I want to work towards that one day," says Julia. "I think he and Mr. Fogg worked very hard to do this, and I think it is very kind of them."
The music residency culminated in a sold-out concert at the 480-seat Stevens Square Community Center Auditorium in Portland. The students sang in ensembles of two to six members. Adrianna had the opportunity to be paired with Choice to sing "Summertime."
"It has been so amazing. I never dreamed I would be the one to meet a professional singer who is that good. I cannot believe it! He's been so kind to me. He's amazing," she says.
The performers received rousing standing ovations, including the third, fourth, and fifth graders who closed the night by singing "Change the World." Choice says the song, which encourages people to care for others, has special meaning for him because it was written by one of his mentors, Alphaeus Anderson.
"I feel like the song should be our new anthem for 2023. It is to find ways to positively change the world," says Choice.
 While the students say they took a lot away from the three-day experience, they were not alone. Choice says it was a gift for him as well.
"It's a blessing. It truly is," he says. "I have enjoyed every single minute that I have been here."
Although he has volunteered at schools before, this was the first time he led a residency. Now that he has done it, he expects it won't be his last, but he says he won't forget St. Brigid.
"I'll be back next year," he says. "I am their guy, absolutely."
Fogg has invited other performers as well. Mike Tucker, a saxophonist who performs with Grammy-Award winner Arturo Sandoval, is coming at the end of March. Jason Anick from the Rhythm Future Quartet will visit in May. Falu Shah, who won a Grammy Award for her children's album Falu's Bazaar, has agreed to come next year. And Opera Maine is expected in the fall.