A simple life of giving
Image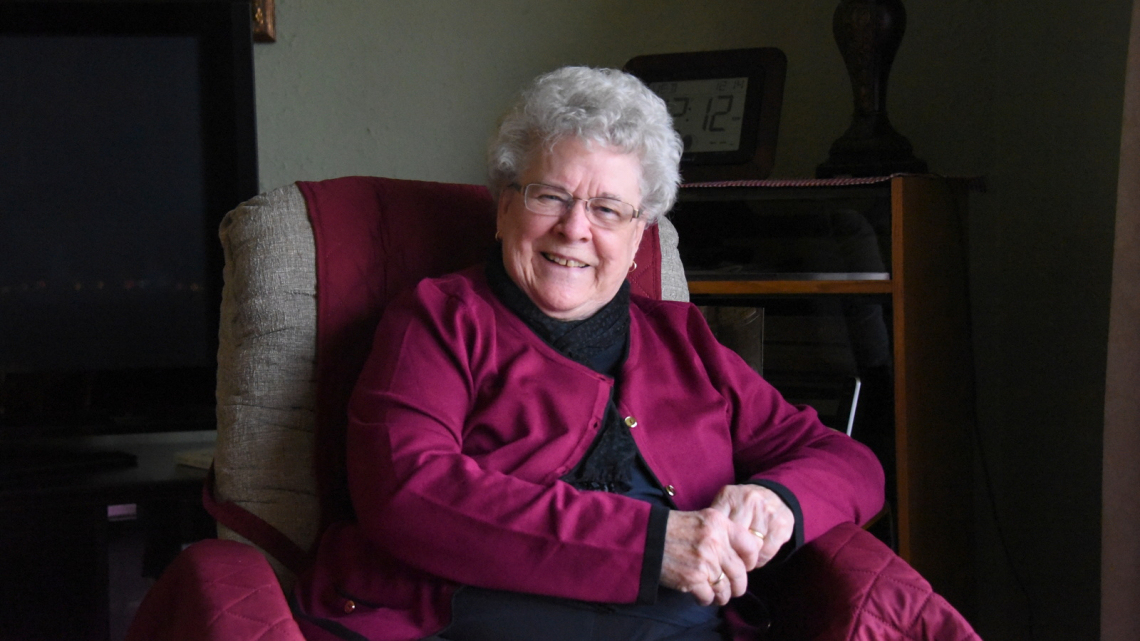 For more than a quarter century, Jeannine DeRosby has been someone parishes around Maine have been able to count on.
"That woman has so much energy," says Charleen Foley, business coordinator for All Saints Parish in Brunswick. "I know she has slowed down a bit, but even her slowed down blows me away."
Jeannine, now age 88, currently does bookkeeping for Our Lakes of the Lakes Parish in Oquossoc and payroll for All Saints Parish and St. John's Catholic School in Brunswick. She is known, however, by priests and parish staff from Down East Maine to Moosehead Lake.
"I went north, south, east, west. I went to Jackman. I went to Oquossoc, Bridgton, then I went to Ellsworth, Bar Harbor, Boothbay Harbor, South Portland," she says. "I can't forget Hallowell. I worked for Father [George] Hickey. I worked for him for ages."
Add to that Auburn, Bangor, Bucksport, Greenville, Oakland, Stonington, Vassalboro, Waterville, and Whitefield, among others.
"It's unbelievable all the places I've been in and had a hand in. Sometimes, I'll be talking to someone, and it's like, yes, I've been there, and I've been there, and yes, I've been there," she says. 
Jeannine has served as a bookkeeper for decades, and up until her travels were slowed by the pandemic, she would regularly head to parishes around the state, offering training and help where needed. 
"I couldn't have asked for, and God couldn't have put, a better mentor in my path — not just a mentor, a friend," says Dorothy Peters, current bookkeeper at All Saints Parish. "She is just a wonderful, incredible woman."
Jeannine says it is work she has thoroughly enjoyed.
"I really cherished each place that I went," she says.
Although her work may seem more practical than pastoral, Jeannine says she has never viewed it as just a job.
"It's a ministry. I wanted to make sure to tell you that. It's never been a job. It's my ministry for God," she says. "It gives me a chance to help a lot of people — a little word here, a little help there. I always offer it to God as my gift for what He has given me."
Jeannine says that is how she has tried to live her life since she was a young girl growing up in Waterville, just down the street from where she lives today.
"You don't do it for accolades. You do it because you are doing it for Christ. That is what He asks us to do," she says. "It's never, never been a thought in my mind to do anything but to love God, to try to do His will, to follow whatever He sends us."
Jeannine says her faith is deeply rooted in her upbringing.
"I've always had a deep, deep faith. When I was seven, even in the winter, I would say, 'Mama, I am going to church.' I would leave at six o'clock with my school bag and walk in the middle of the road in the snow to go to Mass. Mama would make me a sandwich, and then, I would stay at school afterwards."
At the time, Notre Dame Church and School were located about two miles from Jeannine's home.
Jeannine says her family attended Mass every Sunday and during the week if they could and prayed the Rosary every night.
"That was our life," she says.
She even remembers her father, who was a farmer, seeking the priest's permission to do work on a Sunday because it had rained and he needed to get the hay off the ground.
Jeannine's father died when she was just 12 years old and her brothers even younger, leading to some hard times for the family. Still, she says her mother's faith never faltered.
"She never deviated from her belief in God, her trust in God, that He would see us through," Jeannine says. "To me, that is where I got it because she was very strong."
While Jeannine knows hardship can lead people to doubt or turn away from God, she says that has never been the case for her, even though she has had her share of crosses to carry.
"To not believe in God or to leave God or to leave the Church is so foreign to me. It has never been in my thoughts. I have never questioned God," she says.
As with her faith, Jeannine says her strong work ethic also goes back to the example of her parents, especially her mother, who raised three children alone. 
"We were so poor. My mother had nothing. She took in washings, babysat. We had to sell our cow. She was too hard for us to milk. We had to sell our chickens because it was too hard for us to maintain them. It was hard, but again, we were brought up that you do whatever you can with whatever is handed to you," Jeannine recalls. "Mama would say, 'If you work hard, you're going to succeed.' I never forgot that."
Jeannine remembers the sacrifice her mother made for her when she was struggling to transition to public school in the ninth grade. Even though their family had little money, her mother found a way for her to attend Mount Merici, which had a high school at that time.
"She went to work in the laundry there, so I could go there for my ninth year," Jeannine says. "My mother had to work in the laundry and wash the floors to pay tuition. I so appreciated that she did that for me because it was so hard, and of course, our father had just died."
Jeannine, who fell in love with bookkeeping in high school, had aspirations of going to college, and a doctor for whom she babysat offered to help cover the cost, but it was not to be.
 "I was so thrilled. I came home and said to my mom, 'They will help me.' And she said, 'No, you can't go. You've got to go to work.' So, I went to work."
 She was among the high school seniors chosen to work for the Hollingsworth & Whitney Company, which operated paper mills on the Kennebec River. She was an office clerk in the shipping room, a position she held for 10 years.
At one time, Jeannine had considered joining the Ursuline nuns, whom she once had as teachers, but at age 19, she met her future husband, Louis Edmond DeRosby, whom she called Eddie, and a true love story began.
"That was it. That was my path," she says.
Although Eddie was raised Catholic, when they met, he was not regularly attending Mass. That would soon change.
"I said, 'We're going to church!' He said, 'Well, we'll sit in the last pew.' I said, 'No, we don't sit in the last pew,'" she recalls.
 Moved by Jeannine's passion and their participation in a three-day Cursillo weekend, intended to help Christians develop their spiritual lives, Jeannine says Eddie would later tell her that he had become convinced that her way was the right way. 
"It wasn't my way. It was the way of the Church. It was the way the Lord wanted. I have always tried to do what He wanted because I always knew I would have to answer for that one day. When I go in front of the Lord — and as more time goes by, the sooner I'm going to be there — He's going to ask: 'Did you do the best you could?' To me, that is what He is going to ask me. And I'm going to say, 'Yes.' I, bravely, will be able to say it."
Jeannine says that doesn't mean it has always been easy. 
"I've always nurtured, nurtured, tried, tried. I don't always succeed. I'm full of faults and failings and all kinds of things. It looks good on the front, but you're not inside of me. So, it's difficult, but it can be done. It really can be done," she says. "I watched my mother. She stayed the course."
Jeannine says she and Eddie always tried to live lives of service and generosity. Jeannine, who currently serves on the pastoral and finance councils for Corpus Christi Parish in Waterville, started volunteering for the Church when she was still in her teens. She taught religious education for 15 years, while also volunteering at the St. Paul Center in Augusta, which was run by the Oblate Fathers at the time. She recruited people to attend the center's retreats and Holy Hours and did bookkeeping there.
She and Eddie both became extraordinary ministers of holy Communion not long after laypeople were allowed to do so in the 1970s, and both were active in Worldwide Marriage Encounter, a program intended to strengthen marriages. The couple was also asked to give talks at parishes about sacrificial giving. Jeannine has tithed since before her marriage and helped Eddie understand its value.
"I am so grateful to God for everything He gave us; how could I not return a little bit back to Him? That is why, in our married life, we always tried to be so generous to anyone who needed it and generous with our time, generous with our money, and generous with our whole lives," she says. 
Jeannine describes it as "a very simple life of giving."
"It has not been easy at times, but we never ran out of money. We always had a few dollars to do the things we wanted to do and to pay our bills," she says. 
Jeannine and Eddie had five children, including two whom they adopted. She left her job at the paper company to raise them, but in the early 1970s, Msgr. Gilman Chaloult approached her about working for Notre Dame du Perpetual Secours Parish in Waterville. She accepted, going in at night so Eddie could watch the children while she worked.
"That's how it started, and I never stopped working for the Church, for priests, for nuns," she says. "It's so wonderful because I wanted to be a nun, and it always stayed in my heart."
Jeannine says she wore many hats through her 25 years working at Notre Dame.
"I did the bulletins. I was the secretary. I did the bookkeeping," she says. "Father Paul Paré would say, 'Jeannine, you can do seven things at a time. Remember, I can only do one.' I'll never forget that."
At age 62, she decided to leave her job at the parish to spend more time with Eddie, who was six years older than she was and already retired. Her break, however, would be short-lived. Within two weeks, she says the diocese approached her about traveling to parishes that either didn't have bookkeepers or needed help with training.
"I asked Eddie, 'Are you alright with this?' He said, 'Sure.' And he started traveling with me. That was 26 years ago."
The couple had their routine.
"He would bring his book, because he was a great reader, and they would find a place for him. We would get there around 8, 8:30 in the morning. At noon, he would stand in the door and look at me. I would say, 'Time for lunch.' We would go have lunch. At 3 o'clock, he would come again. It was time to go," she says. "He was glad to do it for me. We were so good to each other."
The trips, Jeannine says, gave the couple a chance to meet new people and see different places.
"We traveled all over the place, and it was interesting to him to see the places we went. We would meet wonderful people, either the people I was training or the priests who were there," she says.
Charleen and Dorothy were among those whom Jeannine helped get started.
"I wouldn't be able to do half the things I do without Jeannine's guidance. She was amazing from the moment I met her. She walked me through everything, from learning about the business coordinator position to what the expectations were with the school, and she has just continued, to this day, to guide me. I am forever grateful for her leadership," says Charleen.
Charleen and Dorothy say the lessons they learned from Jeannine went beyond facts and figures.
"For me, it was, whatever you do, do it with kindness," says Dorothy. "She never raised her voice, or very rarely. She didn't get angry. She was always patient. She just worked with kindness in service to God. She loves God. She loves the Church. It is 'What would Jesus do?'"
"She would say, 'Give it a moment; give it a pause; pray on it; think about it,'" says Charleen. "That is probably, for me, the most valuable lesson she taught me."
"She was always saying, 'Pray on it. You will know what to do. You'll know the right thing to do. Leave it in God's hands. He knows what He is doing,'" says Dorothy.
Jeannine says prayer is something that has always sustained her.
 "Prayer, deep prayer, I mean morning, noon, night, during the day. 'My Jesus, I love you.' That's how it has always been, and it's paid off. It pays off because you're at peace, deep peace, no matter what," she says.
She says it is important for people to be united in their prayers.
"That's where we are strong. If I'm saying my Rosary, and you're saying your Rosary, and my neighbor is saying her Rosary, that's quite a union. Union of prayer is so important," she says.
Eddie died eight years ago, leaving Jeannine with a deep sense of loss.
"When they say, I lost my better half, that is the truth. I had to make sure I did my grieving one step at a time," she says.
While it left a big hole in her life, she says she used the experience to try to help others who are widowed.
 "They say to me, 'How did you do it?' I tell them, 'I sit in my corner in my chair and rock.' I say, 'I don't know if you have to do that, too, but you've got to grieve properly.'"
 Jeannine continued bookkeeping after Eddie's death, still traveling to parishes up until the pandemic. Although her role is more limited now, she says she is still anxious to get up every morning and get started.
"I enjoy everything. I love to do payroll. I'm adding. I'm reviewing. I have it so well organized in [Microsoft] Teams," she says.
"She loves reading mystery novels, and she loves to be able to figure out what happened with the bookkeeping. She loves to untangle a mess. She loves a challenge," says Dorothy.
Dorothy and Charleen stress how important it is that parish finances are in order.
"We've got parishioners who give money from their pockets on a weekly basis because they love their church, and they support the mission. We are the gatekeepers of that. Are we doing the right thing with the money they have given us? We need to be good stewards," says Charleen.
Perhaps like a good mystery novel, Jeannine describes her life as constantly unfolding. But, as she turns the pages, there is one thing of which you can be sure: faith will continue to be the thread that ties the chapters together.
"It is joy that I feel to be close to God," she says. "I am so proud to be a Catholic. I am so proud that I love God. I am so proud that I can go to church. I am so proud that I am free to go, that I am 88 and I can still drive my car and go to church. If that isn't valuable, what is?"
Her advice to others: "Keep your faith, build it, work at it, accept whatever He sends you, because He will give you the courage."