Sharing Hymns from the Heart at St. Mary's d'Youville Pavilion
Image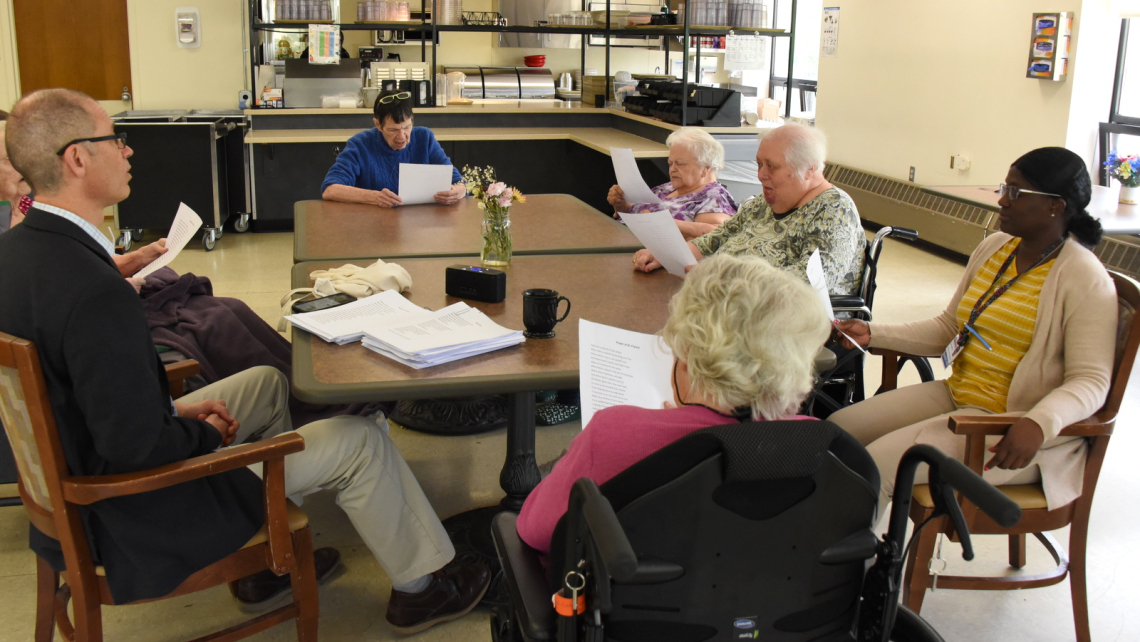 Anita Turgeon has always loved to sing, and for years, she shared her gift at St. Mary Church in Lewiston.
"I would say for 25 to 30 years, I was in the choir," she says.
Now age 103 and a resident of St. Mary's d'Youville Pavilion, a long-term care and rehabilitation facility in Lewiston, she is getting the opportunity to once again praise the Lord in song thanks to a program called Hymn Sings.
"I love to come here. This morning, there was nothing that was going to stop me," she says. "Someone came over and said, 'Do you want to go?' Of course, I want to go."
The program, started by chaplain John Eric Baugher, brings together residents once a month to sing some of their favorite hymns.
"'Let There Be Peace on Earth' is typically my beginning hymn, and 'Immaculate Mary,' and 'The Prayer of St. Francis.' We always sing those three songs. Those are big ones," says Baugher. "We typically close with the Our Father and a doxology."
Baugher uses hymns found on YouTube to lead the sessions. He plays them through his iPhone and a Bluetooth speaker, and the residents sing along. Baugher says he chose versions he thought would best work and then created sheets with the lyrics in large print, which are handed out to the residents.
"It means so much to me," says Turgeon. "These are the kind of songs I love."
"I think it's beautiful for them," says Roxann Belle, who works in recreational therapy and brings the residents to the dining hall for the program. "We're all one big family, and a lot of them are religious, very religious, so this group coming together helps them to praise God in a joyful way."
While most of the hymns chosen are Catholic ones, a reflection of the faith of the majority of the residents at d'Youville Pavilion, Baugher also includes some Protestant selections and even a few Gospel hymns. He will also often add a French hymn or two, since many of the residents have French-Canadian roots.
"I've tried to make sure there is something special for everyone who is there," he says.
Baugher is an enthusiastic group leader, one who joyously joins in singing all the hymns and who seeks to engage all who are present.
"I play the air piano. I play the air guitar. I play the air banjo, air violin, air bass. I am an accomplished air musician," he says, with a smile.
And the residents appreciate it.
"I have enjoyed these singing groups since I met John. He is a funny man, a religious man," says Betty Dutil.
"And he's got a glorious voice. I love his voice," adds Arlene Lavoie. "I love hearing him sing."
Baugher says he enjoys it, too.
"I woke up so happy, knowing we were singing together today. I look forward to it," he says.
Baugher says the hymn singing has multiple benefits. When he started serving at St. Mary's d'Youville Pavilion in spring 2022, he says he was looking to create a program that would allow him to connect with the residents in a group setting, realizing the difficulty of regularly meeting one-on-one with nearly 200 people.
"It was just a question of how am I going to be able to best use my time to give high-quality care to as many people as I can," he says.
 He also saw the program as a way to build community.
"We humans have always found meaning and connection in relationships and in community," he says. "So, I wanted to offer some kind of communal experience, especially in the long-term care units because those are people's homes."
Baugher says he thought of music because of his own love for it and because he says it brings people to life.
"For me, personally, music is important to my life. It's important to my spirituality. It's important to connect me with God," he says. "It's hard for me to imagine being human without music. Show me a person who doesn't like music. Everyone has a song in their heart."
Music, he says, also connects people with memories, something important for the residents, some of whom suffer from dementia.
"This is such a popular program, and why is it? It's because it's connecting them with their children. It's connecting them with their mom or their husband," says Baugher. "Sounds, smells, these bring out memories in all of us, and it's no different for folks with dementia. So, this was my original thinking, and it just turned out to be more beautiful than I could even imagine."
Baugher says when he visits residents in rooms, some don't recall his name, but they know that he's the man who sings with them.
"People light up when they see me, and what they're lighting up about is the experience of being together and celebrating and singing," he says.
While many of the residents enthusiastically join in singing the hymns, others, who may not be able to participate due to poor eyesight or other impairments, sit and enjoy the music, some with eyes closed, feet tapping, or arms swaying.
"It mellows people out. I like it. It mellows me out," says Polly Bressette.
"It makes me remember Sunday school a long, long time ago," says Barbara Freeman.
"It's relaxation for one thing, and it gets us out," says Lorraine Guay. "We get to be together. It's a really good group."
"I love being here because we're with people, and we share," says Lavoie.
"It makes it more precious that we sing all together. It brings us all together, and inside our hearts, it makes us happy," says Cecile Letourneau. "Everybody is happy."
Baugher holds two sessions, one for fourth-floor residents and one for those living on the third floor. During the program held at the end of May, nearly 20 residents attended the first session and another dozen the second. The time goes by quickly.
"There was one day that it was only scheduled for a half hour, and I said never again. We're just getting warmed up," says Baugher.
In addition to the hymn singing gatherings, Baugher also holds a memorial service on each of the floors once a month, giving residents another opportunity to sing hymns, as well as to remember fellow residents and loved ones who have passed.
He also often plays music when visiting residents' rooms.
"I have a little bag I carry with me. I have my Bible in there and rosaries, but I also make sure to have my iPhone with me and my speaker, not just for these hymn singing groups but throughout the day. I use it a lot on one-on-one visits," he says. "I sing a lot with people. Music is such a gift."