Serving up sustenance and smiles
Image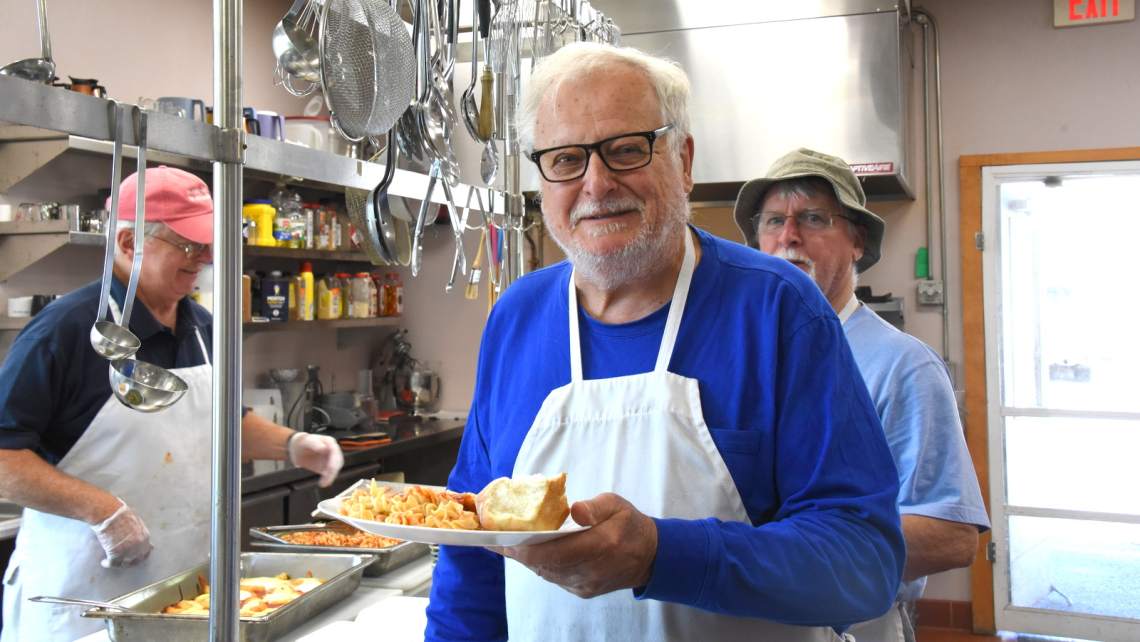 Although it is called the St. Bernard Soup Kitchen, when people gather for lunch in the hall of St. Bernard Church in Rockland, they'll more likely find themselves being served a meal of pork roast or chicken parmesan.
"We usually have really, really good meals. It's amazing," says Jeanie Gover, who has volunteered at the soup kitchen for about 17 years.
"We'll have beef or pork or chicken," says Richard Norman, who began volunteering 16 years ago and has been the director for 13. "The cooks almost try to outdo each other in preparing food."
Norman says it's been that way since the soup kitchen opened in 1984.
"It's been tried and true, and it works," he says.
The soup kitchen serves meals Monday through Friday from 11:30 a.m. to noon. Even during the worst days of the pandemic, it didn't shut its doors.
"We never missed a single day of serving a meal during COVID. We just transitioned into takeout meals, and today, we do a hybrid. We have people who come in and sit down. We also provide takeout meals, and we provide 12 meals to the senior citizen housing across the parking lot, Stella Maris. We walk them over," says Norman.
The soup kitchen serves between 50 and 65 people each day. They are welcomed with warm greetings, invited to select items to take with them from tables full of donated bread, pastries, and produce, and then either take out or sit down to enjoy a hot meal.
"I like coming here because the people are nice, and the food is good. It's hot. It's nutritious. It's balanced," says Bonnie, a resident of Rockland. "It helps me on my food bill, plus, I'm not a cook."
"It's good. I loved it," says Tracy Galloway, who also lives in Rockland. "The people are friendly, and I can get my mom some snacks."
Between 8 and 10 people volunteer each day to keep the soup kitchen going. Some cook or prepare the food. Others are greeters and servers. Still others, like Tom Wenckus of Rockport, wash the dishes.
"It takes up a little of our time, but it's worth it. I think we're doing a good thing here," he says. "This is a hot meal that they can sit down and have, and if they want to take it home with them, they can do that. That is one meal that they don't have to worry about, and there is another church in town that offers a meal on Saturday, so the only day they would have to worry about is Sunday."
"It means a lot for the people coming in here who really need it," says Anne McNally of Rockport, who has volunteered for eight years.
"I think it is essential," says Kate Hoyt, assistant to the director. "People rely on us. I went to get my car worked on, and the guy behind the counter brightened, and he said, 'I used to volunteer for Good Shepherd.' He said, 'My wife and I were down on our luck, and we relied on the soup kitchen five days a week for a long time. We'll never forget you guys.'"
"It's a good thing to do for people who need a helping hand, who need a nice meal," says Gover. "A lot of people who are coming in suffer from mental illness or homelessness, and they really need the companionship and a hot meal to go with it."
Norman agrees that it is not just finances that bring some of the guests together.
"For some, it's a social thing. It's more social than economic. There are a group of ladies who go to the back table there and sit down and just catch up each day," he says. "It's just a welcoming place."
While Mid-Coast Maine may not be seen as one of the more economically challenged areas of the state, Father Nathan March, pastor of St. Brendan the Navigator Parish, which includes St. Bernard Church, says poverty and hardship can often be hidden.
"In a state like Maine, poverty and food insecurity are everywhere. They just look different in urban versus rural areas. This area is more affluent than other places in the state. There is a lot of tourism in this area, but there are a lot of things you don't see. There are people who are living on their neighbor's couch. We have people who are served by the soup kitchen who, during the summer, live in a tent. But you don't see that because you have all these nice hotels and the ocean and all that," he says.
Father March says while a lot of businesses in the area are looking for workers, the challenge is the high cost of housing.
"Part of the problem is that you can't hire people who can't afford to live here," he says.
Although the soup kitchen draws dozens of people each day, Father March says he suspects there may be more people in the community who would benefit from it but are unaware that it is there. He says that is why he would like to strengthen community connections to further build up the already successful ministry.
"I think there is a real opportunity to raise awareness among other nonprofits as well as for-profit organizations in town. There are a number of restaurants and coffee shops, and there seems to be a sensitivity or a desire for community service in this area, giving back to the community. That is something I think we can build on," says Father March. "We have this stable ministry, but I want to see it thrive."
Norman says the soup kitchen is fortunate to already have several strong partnerships.
"The parish supports us. The City of Rockland provides us with some money. There is United Midcoast Charities in Camden, and they provide us with some money, and then, there are other organizations that make donations throughout the year," says Norman.
The soup kitchen also partners with the Good Shepherd Food Bank in Auburn, receives food from The Emergency Food Assistance Program (TEFAP), which is a U.S. Department of Agriculture program, and receives regular donations from Hannaford.  This year, thanks to leftovers from the Maine Lobster Festival, it was even able to add lobster bisque and clam chowder to the menu in August.
"People come in and they go, 'lobster bisque!' That's pretty good," Norman says.
Those who volunteer at the soup kitchen say it is a ministry they enjoy. Many choose a particular day of the week to serve. Others volunteer several days.
"I volunteered because the church was looking for people at the time, and I had retired, and I needed something to do. So I thought that would be a good opportunity to come in and help. It's turned out really nice. I like the people I work with," says McNally.
"I really enjoy it. I really do. We have a great crew here. We have a lot of fun. It makes the day go very quick, and it feels good," says John McKay, the chef on Wednesdays. "We are here to do the right thing and to help people."
"I'm a former nurse, so I love to help people, just to meet people and to be of service," says Ann Payson, a volunteer from Camden.
"You know you're doing the right thing," says Dennis Gurgul, a former Boston, Massachusetts, resident who now lives in St. George. "When I first got here, I was depressed because I really missed Boston, and people said go out and volunteer, and you'll get used to the place, and here I am."
"It's amazing. The fellowship and meeting the folks who come in — it's good. I enjoy it," says Karen Farley, from Rockland, who started volunteering a few months ago after hearing a neighbor speak highly of the experience. "The people who come in really depend on it. They're very appreciative, and I think it's important to help each other out."
The clients say they are grateful to the volunteers and the service they provide.
"I make a point of thanking them every time I come," says Bonnie. "I think they're angels. They're a godsend. They are wonderful, absolutely wonderful."