Serving with a smile at St. Sebastian Thrift Shop
Image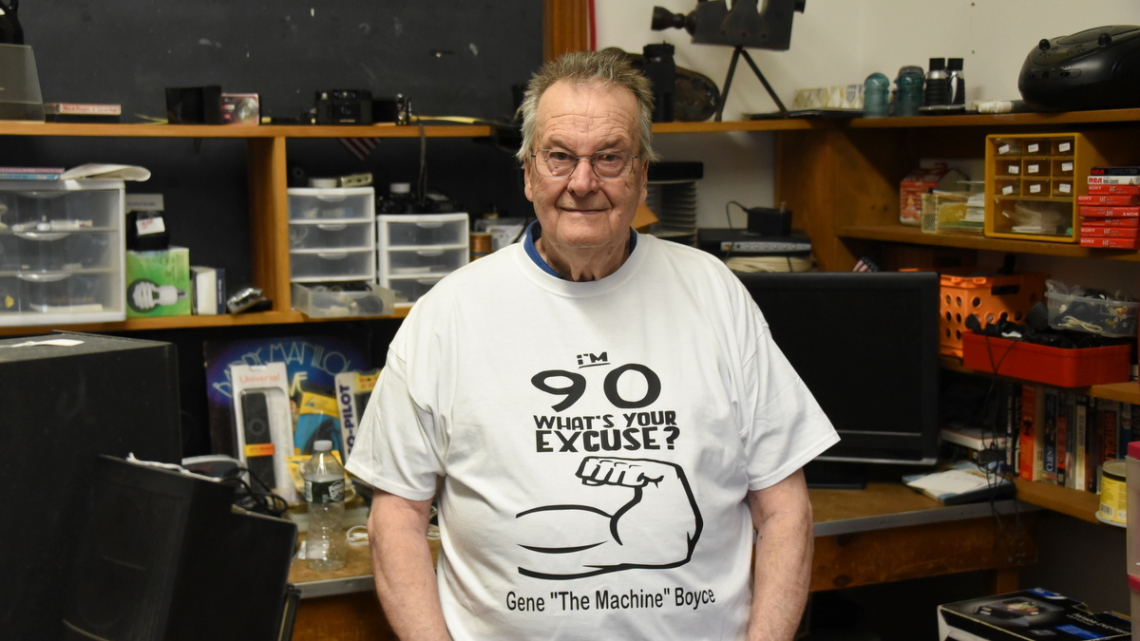 Since it opened in 2011, the St. Sebastian Thrift Shop in Madison, a ministry of Christ the King Parish, has been known for its great deals, its creative displays, and the amiability of its workers and volunteers.
"It's a happy place," says Carol Tiernan, the manager. "We're really a lot like a family here."
One of the most beloved members of the thrift store family is Gene Boyce, who has been volunteering there since the first customers walked through the door.
"He has always been so dedicated," says Elisabeth Crowley, a pastoral associate at the parish who formerly served in the store. "He is just a fun person to work with because he always has such a tremendous sense of camaraderie, of being pleasant, of being congenial, and just being a nice person — friendly and smiling."
"He is a very special man," says Fran Saultes, the store's former manager.  "If there is something that needs to be done, he is there. He is willing."
Gene's desire to help has never diminished through the years. Even though he recently celebrated his 90th birthday, he is as active as ever.
"He is one of those people who seems to be happiest when he is helping someone," says Jack Ducharme, the financial secretary for Knights of Columbus Council 2089, of which Gene is a member.
Gene says he started volunteering not long after retiring at age 75. He used to help out at St. Sebastian Church, doing mowing, shoveling, and other outdoor work. When the thrift store opened, he began volunteering there as well.
"I do what I can," he says. "It gets me out of the house."
Gene's specialty is electronics, something he mastered while serving as a radar technician in the U.S. Marine Corps. After the Marines, he worked in the local mill for 20 years before establishing his own electronics repair business. His skills made him the perfect fit for the thrift store's electronics room.
"Electronic equipment would come in. I would check it out to see if it worked or if it needed minor repair. I couldn't get into the heavy repairs because I didn't have a supplier and I didn't have the equipment, but if it was minor, I could make it work," he says.
His knowledge has allowed the store to offer items such as TVs, telephones, laptops, and cameras. Even a vintage record player could be seen sitting on a store shelf.
"I didn't realize it, but the old LPs are coming back," he says. "We had a lot of LP records, and we just heaved them, but now, they've come back."
Gene worked in the electronics room up until last year and still prices newly donated items, but now, much of his volunteer work has shifted to building upkeep.
"Whatever the building needs, I take care of," he says. "I do anything that comes up."
Both the thrift store and the church hall are located in the former Sebastian Rale School. Gene keeps the building clean, washes and waxes the floors, does minor repairs, and sets up for events.
"It's simple things that I can do, and then, when it gets to a point where it's out of what I can do, then Father has to hire someone," he says.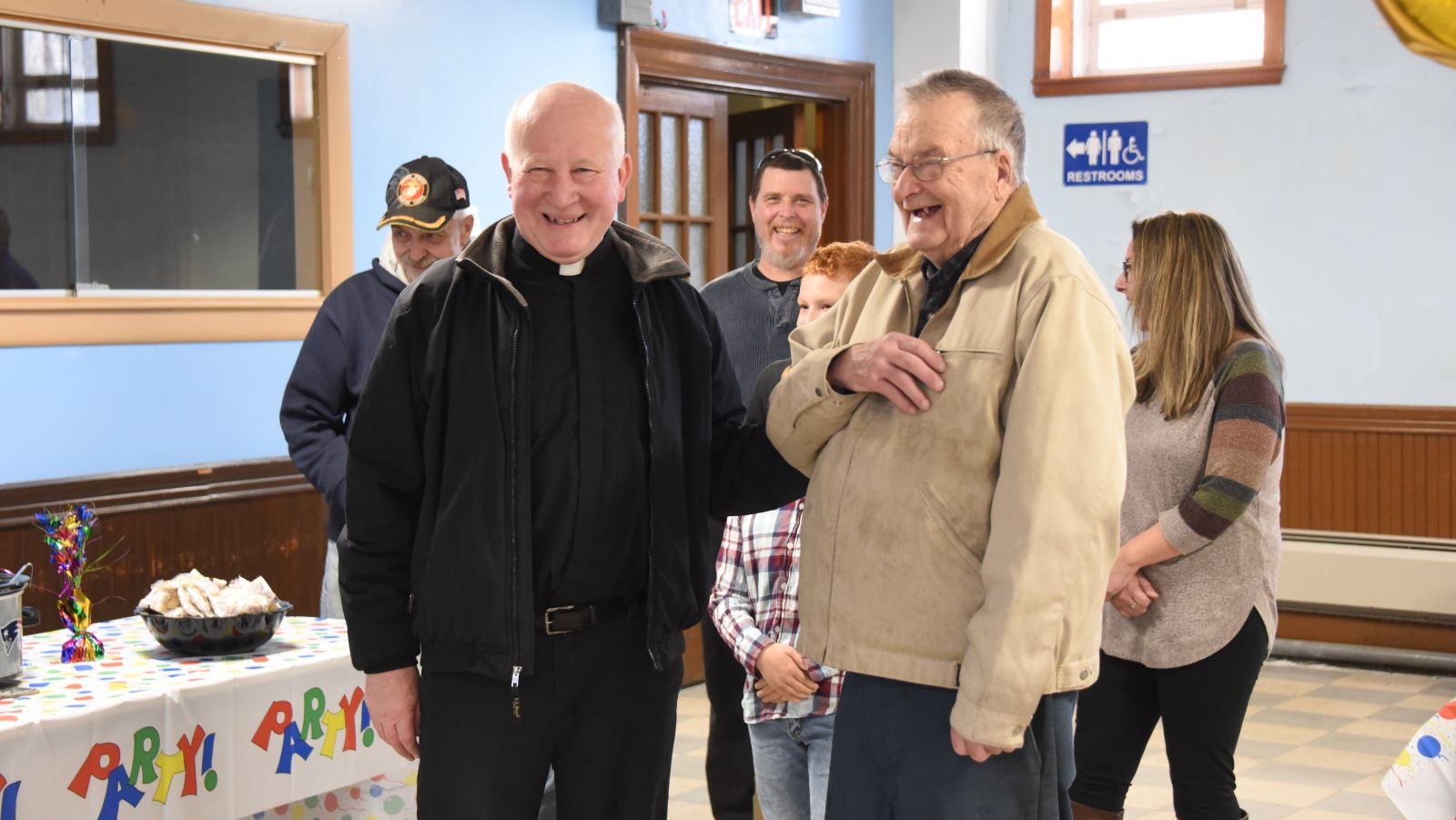 Gene even prepared the hall for his own surprise birthday party, not realizing the April event was for him.
"They told me they had some kids who rented the hall, and they needed it set up for 40 people," he says, laughing. "It was a big surprise. It was good. I enjoyed that."
Gene says he stays in shape by going to the gym every Monday, Wednesday, and Friday. He volunteers at the thrift store on Thursdays and Saturdays, the days it is open.
While he takes the KVCAP bus to the Skowhegan gym, Gene walks the mile-plus distance from his home in Anson to the thrift store, having given up his license at age 88 due to macular degeneration.
"It takes me maybe 20 to 25 minutes to walk over," he says. "The only problem that I have is that I have arthritis in this knee which bothers me."
Although much of his volunteer work is now centered at the thrift store, Gene says he always tries to help when he sees a need.
"On the bus, I can help people with their groceries, if they need help putting them on the bus or taking them out to their home," he says. "It's second nature to me. I just help wherever I can."
His service has also extended to the Daughters of Isabella and the Knights of Columbus, who recently presented him with an outstanding community service award. Gene, who first joined the Knights of Columbus about 60 years ago, was honored at a dinner in April, along with Gregory Hayden, a former Grand Knight, who received the award posthumously.
"They both have done a lot for the community. Gene has set up tables for us. He has done stuff for the Daughters. He has done stuff for basically everyone in the community, and Greg was the same way," says Lawrence Taylor, Grand Knight.
"It was a surprise," says Gene. "I was still getting over the birthday party when they gave me that."
Gene says he plans to keep volunteering as long as he can. He says he has stayed with it through the years because he likes the people with whom he serves.
"I have a lot of friends, and that really counts a lot," says Gene. "We all get along good."
Those who know Gene say it's hard not to get along with him.
"He is a nice, nice man," says Carol.
"We all think the world of him," says Jack. "He is just incredible."