Scout's donation drive is a soaring success
Image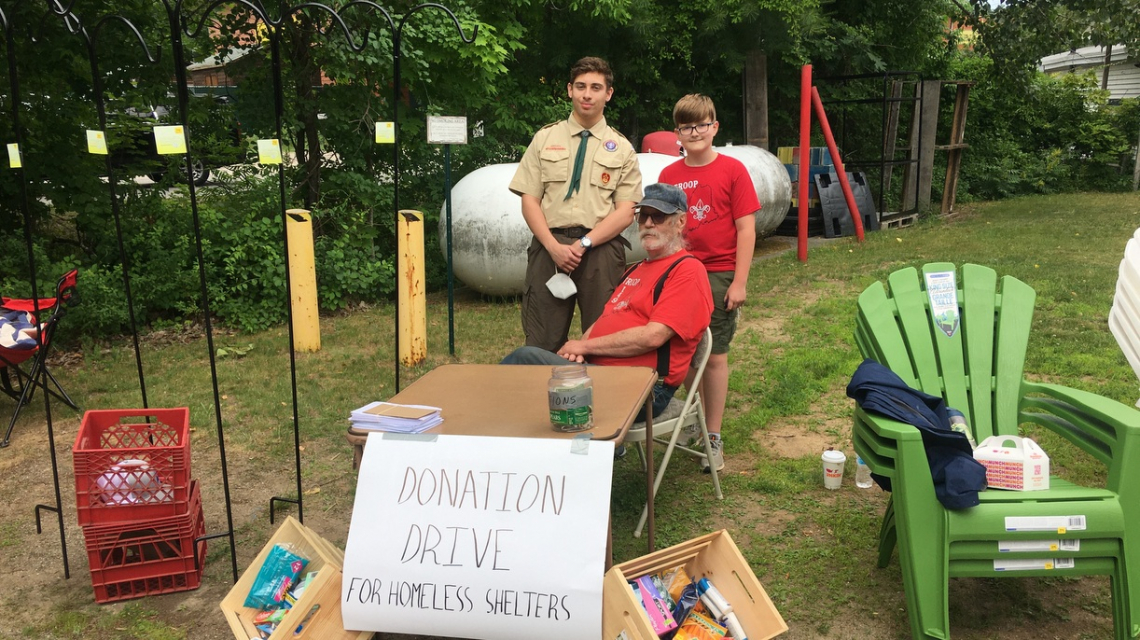 Inspired by his faith and his family, 15-year-old Joseph Angelo, III, who was seeking to become an Eagle Scout, wanted to find a project that would make a difference in the community. It led Joseph, whose family summers in Bridgton, to organize a donation drive with the aim of assisting inmates or the homeless. He says his hope was to collect about $1,000 worth of items, but when it was over, what he received added up to more than ten times that amount.
"I was very surprised to see how generous people were," Joseph says. "It was just nice to see how the citizens reacted, how they were just so generous in giving things to the homeless and to people who needed help."
Joseph is a member of Boy Scout Troop 149 in Bridgton, where he spends summers with his paternal grandparents. While he and his parents now reside in Florida, at the time Joseph joined the Scouts, his family was living in the Dominican Republic, having moved there to care for his maternal grandmother. It meant keeping up a long-distance relationship with the Scout troop.
"I was kind of a lone wolf," he says. "I would talk with the Scoutmaster here or there and some of the Scout leaders when I could. As far as moving up in the ranks, I would do videos, submit work through the computer. Then, when I was in Bridgton in the summer, I would go to the [Scouts'] summer camp for one or two weeks and earn all of the merit badges."
Because his family moving around a bit, Joseph says the Scouts became one of the constants in his life, which is why he wanted to do a project that would serve the Bridgton area. He says he got the idea for the donation drive from a project his uncle had done years earlier.
"He had a donation drive for prisoners down in Massachusetts where he used to live. So, my father was talking to me about that, and I thought that was a very cool idea," Joseph says.
Joseph discovered that restrictions now make it difficult to give items to inmates, so instead, he turned his attention to the homeless. That is when his grandfather, who is active at St. Joseph Parish in Bridgton, put him in contact with Bill Wood, an outreach coordinator with Catholic Charities Maine Parish Social Ministry.
"From there, Mr. Wood let me know what he wanted me to collect, as well how he would like it organized. Then, I started calling stores," Joseph explains.
With pandemic precautions still in place, there were some hurdles to overcome, but Joseph received approval to set up tables outside three stores on two Saturdays during the month of June: Food City in Bridgton, Reny's in Bridgton, and Walmart in Windham. Joseph recruited fellow Scouts and then put together everything that would be needed for the drive including tables, signs, and donation jars.
As shoppers entered the stores, the Scouts handed them lists of requested items, which included socks, deodorant, mouthwash, razors, shampoo, soap, toilet paper, and toothpaste.
"It was mostly toiletries because those were the easiest to give. We wanted to get items that would benefit both men and women," Joseph explains.
The results were impressive. Over the two weekends, more than 6,000 items valued at nearly $10,000 were collected along with nearly $2,700 in cash.
"I'm kind of at a loss for words because I'm very blessed that my Boy Scouts were ready and available, and they were very helpful, as was the community, which was very generous," he says.
"I, personally, was blown away by the amount of donations he received. It was just extraordinary," says Joseph's grandfather, who shares the same name. "It really, really exploded."
Joseph's grandfather attributes the success of the project to his grandson's outgoing manner.
"The child has an enormous personality, so he just acclimates," he says. "He was not the least bit shy about soliciting donations from customers."
The personal hygiene items and clothing collected were given to the Trinity Jubilee Center in Lewiston, which supports those suffering from hunger and homelessness, and the Maine Prisoner Re-Entry Network, which helps those who had been incarcerated transition back into the community. According to Wood, the Maine Prisoner Re-Entry Network also received $1,000 in cash, with another $1,000 going to the St. Martin de Porres Residence in Lewiston, which serves homeless men, and $700 going to Catholic Charities Maine's Relief and Hope Services, which provides financial support for people in need.
"Working with Joseph on his Eagle Scout project was a great reminder that there are a lot of teenagers and youth in our Catholic community who are doing great things to serve others," says Wood. "Joseph is a thoughtful and caring young man whose kindhearted work will help many people who live on the margins in our society."
Joseph credits his family and his faith for helping him make the right choices in his life.
"Faith is something that I can rely on to guide me to know what to do, what I want to do," he says.
Joseph says he was raised in a strong Catholic household, pointing to the influences of his Latino and Irish-Catholic grandmothers. He says when his father and uncle were younger, they were both altar servers who assisted then Father Robert Deeley, now the bishop of Portland, when he was at St. Brigid Church in Lexington, Mass. His paternal grandparents have long been active members of St. Joseph Parish in Bridgton. They are both extraordinary ministers of holy Communion and readers, and his grandmother is also a sacristan and is involved in the food pantry.
Joseph says although he never became an altar server because his family moved a few times, the Church and God have nevertheless always been central to his life. Without siblings and having had some difficulty forming long-term friendships because of living in different places, he says it is God to whom he often turns.
"I keep in contact with the Lord. I pray all the time, and He talks to me," Joseph says. "Relying on God, talking with Him, conversing with Him, reading Scripture here and there, just grasping, you know, what was right, what was wrong, what to do to make good decisions, and so on and so forth, has been very important."
Joseph says he rarely misses attending Sunday Mass, with the exception being the pandemic. He describes that as a difficult time.
"I couldn't actually go to God's house to actually receive Communion, to listen to the priest's homily. That was very difficult because, again, that is one of the only things I have in order to understand what I am doing, what are my goals, what am I trying to accomplish," he says.
In addition to the Eagle Scout project, Joseph has done volunteer work at a library and with an environmental organization, and this summer, he worked at Bridgton Town Hall in the code enforcement and public works departments.
"I just wanted to get a feel for local politics," he says.
As for what the future holds, Joseph says he hasn't decided on a career just yet. For now, he is just looking ahead to the tenth grade.