Responding with faith on the front lines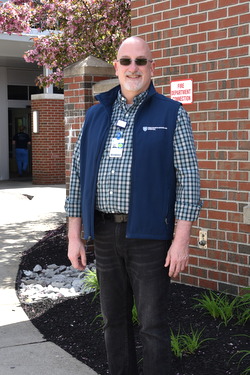 Deacon Rick Huot of Biddeford always begins his workdays the same way, by asking the Lord for His help.
"I have a tiny little prayer that I say every morning. I have a crucifix that I wear every day, and I pick up my crucifix, I look at it, and I say, 'Dear Lord, please give me the grace to do your will and the strength and courage to accomplish it.'"
His wife, Patty, says she, too, turns to the Lord in her work, saying she feels His presence beside her.
"Knowing that He is there to lean on is kind of that thing that gets you through," says Patty. "Just knowing that He is always there, always there right beside you, always there to guide you to try to make that right decision…it's an absolute comfort."
The work that Deacon Rick and Patty do takes them to the front lines of the COVID-19 pandemic.  Both are health-care workers.  Patty is a nurse at Southern Maine Health Care in Biddeford, while Deacon Rick is the manager of the Pulmonary Medicine Department at Wentworth-Douglass Hospital, located just over the border in Dover, N.H.  He oversees the respiratory therapists who care for patients, including those with COVID-19.
"It's a frightening thing to take care of these patients, and despite the fright, these folks go in," he says. "Everyone has gone above and beyond."
That is something so many health-care workers and first responders have done since the coronavirus sped across Asia, Europe, and then the United States and other parts of the world.
"We were kind of bracing ourselves," Deacon Rick says. "This very contagious, potentially lethal disease is coming towards us, so there is a level of concern. Especially in respiratory therapy, we're going to meet every single person who has it or potentially has it."
Adding to the anxiety has been the uncertainty, with so little known about the virus, especially in the early weeks.
"Where the science on this was just so brand new, our policies were changing very quickly, daily, as far as what kind of protections we would be taking and precautions we should be taking.  Hospitals everywhere had to deal with these changing policies," Deacon Rick says.
It meant a need to continuously adapt to new situations and a new environment.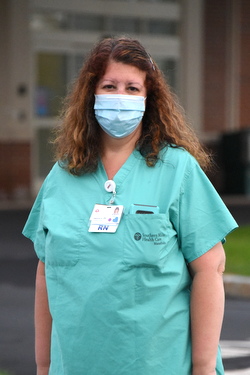 "Now, people are coming in, and they have to wear masks. We're wearing masks. They're wearing masks," says Patty. "So, you're smiling, but you don't know if they're smiling or not.  You have to look at their eyes to see if they're smiling because you don't see their faces."
Deacon Jeffrey Lewis, a nurse practitioner at MaineGeneral Health in Augusta, says it's something you have to learn to live with it.
"You put on your mask when you get out of your car, and you don't take it off until you're alone," he says. "It becomes a part of you."
He says the coronavirus risk has necessitated a change in mindset: you always have to keep it in mind.
"It's a whole different enemy than what we're used to," he says.
It's an enemy Deacon Rick tried to be as prepared as possible to meet, which is why he says he acted early to order needed supplies. He says he benefited from the hospital's membership in Partners HealthCare, which includes Massachusetts General Hospital and Brigham and Women's Hospital in Boston, Mass., one of the first places in the country to see coronavirus cases spike.
"In respiratory therapy, we have a lot of consumable equipment that we use for our ventilators and such. So, my thoughts were that I needed to get a lot of this stuff, and I needed to get it quickly before the rush came and these things became harder to get. I was lucky. I was ahead of the curve for most of these items," he says.
As was the case elsewhere, however, some personal protective equipment, such as N95 masks, were hard to come by.
"All of a sudden, we needed this stuff, and it was not available," he says. "I don't think that any hospital out there didn't have issues, but we were blessed to have good leadership both at Wentworth and at Partners that put in place procedures and policies to conserve it."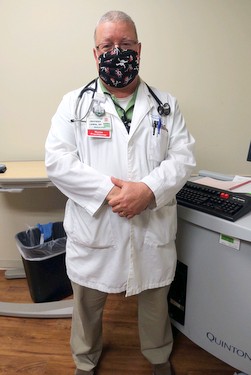 With N95 masks still reserved for those working in situations where the risk is the highest, Deacon Jeff says the masks he uses are made by his wife, Regina.
"The preferred mask would be the N95 for everybody. Period. But, that's not feasible. There aren't enough of them in the world. My wife makes my masks," he says.
Working in cardiology, Deacon Jeff says many of the echocardiograms and other tests he would normally perform have been put on hold, but when a person needs to come in for a test, he says there is no way of knowing for sure if the individual has COVID-19 or not.
"So, I have to assume everybody that I meet has it.  I don't go in there and say, 'Oh my goodness, how do I not get near this person?' because I have to be right next to them. When they're on a treadmill, I have to be right there," he says.
When the test is finished, all surfaces are thoroughly cleaned.
"Two technologists grab all the wipes that they can have, and anywhere that patient has sat, touched, or breathed gets wiped down," he says.
As a day surgery nurse, Patty says she, too, has seen her job significantly change.  With non-emergency surgeries postponed, she and other nurses were put into a "float pool," meaning they are assigned wherever the need is greatest.
"So, I've actually gone to work in the tent where we do testing of patients. And I've been a greeter, standing in the main entrance and making sure patients who are coming in don't have any symptoms of anything," she says.
What has struck her, she says, is how grateful people are, including those there for COVID-19 testing.
"You're putting this swab in their nose, and you're putting tears in their eyes, and you know it's hurting them a little bit. Then, they are thanking you for being there.  And you almost have tears in your eyes, thinking, 'Oh my gosh, they're thanking me for hurting them,'" she says. "They're just glad to know we're there to help them. It's just very humbling."
With many arriving for tests or treatment understandably nervous, Patty says she always does her best to put them at ease.
"It's just being there to listen to them," she says. "If they just need to talk, you let them talk. If you can see that you can joke with them a little bit, you try to joke with them a little bit to ease their mind."
She also keeps them in her prayers.
"I will say prayers every night for those who have it, those who potentially have it, for my work family, for people out there, just to keep them healthy," she says.
Deacon Rick says he, too, prays for the health and safety of his patients and his staff.  As a permanent deacon, that includes praying the Liturgy of the Hours, the daily prayer of the Church.
"In the morning, I say a Rosary, and I do my morning office. Then, in the evening time, when I'm heading home, I do my evening office. I pray on the way in. I pray on the way home, and obviously, I'm praying for my staff. I'm praying for people that we care for," he says. "Folks know that I'm a deacon, and periodically, they'll say, 'Can you pray for us?' And I'll say, 'Too late, I already did.'"
Along with prayers, Deacon Jeff says it's important to always try to witness to Christ, whether you're among colleagues or with patients.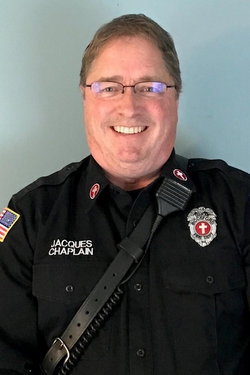 "We all shed our faith, no matter what the level, on those around us, every day and every encounter. As a follower of Christ, I must, in my own small and often broken way, try to portray Him to the world around me.  I am not worthy to stand in the farthest part of His shadow, but He has called me and everyone else who hears His call to bring hope and love," he says.
Deacon Kevin Jacques says that is something he also strives do every time he responds to a call as the chaplain for the Saco Fire Department and the Biddeford fire and police departments. That especially includes being present to support and guide families who have suffered the loss of a loved one.
"One of the things I always say when I go in is that I'm here to support you. If there is anything you need that I can help you with, I am here for you.  Then, I just shut up and be quiet, and I give them an opportunity to soak it in," he says. "It's not so much what you say, it's letting them know that they have somebody to walk through this journey with them."
With the arrival of COVID-19, Deacon Kevin says he no longer responds to as many calls as he formerly did. He also travels separately, rather than on rescue vehicles, and when he is on a call, he must don protective gear.
"I'll put a mask on. I'll put gloves on, pretty much the same protocols as the paramedics do," he says.
When calls come in, he says dispatchers now ask some prescreening questions, such as whether a person has a cough.  The answers may alter what protective gear is worn but not whether paramedics respond.
"In any case that they're called, it doesn't matter if someone has COVID-19 or not, they're there.  I think they should be recognized because of the sacrifice they're making," Deacon Kevin says.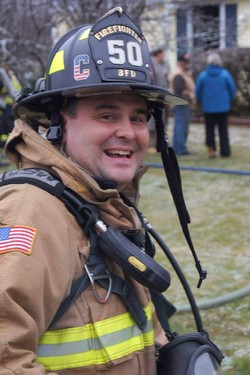 "Obviously, our work can't stop," says Tim Sevigny, a Biddeford firefighter/paramedic, who is also a member of Good Shepherd Parish in Biddeford. "We think, on our end, we're doing everything that we need to do to stay safe, and obviously, that's the most important thing, so we can continue our work and provide services."
For precautionary reasons, Tim says one change that has been made is that in some cases, a single paramedic will go in first to evaluate the situation.
He says an interesting development during the pandemic has been a decrease in calls, but unfortunately, the calls that do come in tend to be more serious.  He believes it may be because people are staying isolated, hesitating to seek help, may not be going to medical appointments, or may not be taking needed medications because of a lack of income.
"We're seeing more deaths with this unfortunately, not COVID-19 related," he says. "It's just a really tragic and difficult situation on every level and in every aspect of everyone's life.  Everyone, one way or another, is affected by it."
Those affected, of course, include the firefighters/paramedics, even though Deacon Kevin and Deacon Jeff, who is chaplain to the Augusta and Gardiner fire departments, say it's not something many of them openly express.
"I keep them daily in my prayers because, even though they may not say they're stressed, there's got to be some stress level down deep inside, whether it's known or unknown," Deacon Kevin says.
"When you go to fight a fire, it's in front of you. It's around you. You know what it looks like. You know what it sounds like," says Deacon Jeff. "This stuff can hit you and infect your whole family before you even blink."
In fact, one Augusta firefighter, who is now back at work, did test positive for COVID-19.
Deacon Jeff says while he no longer visits the fire stations in person because of the risks associated with his job as a nurse, he does reach out to the firefighters by phone and email, especially if he hears someone may be struggling. He has also given them all his cell phone number.
In addition to going on calls, Deacon Kevin tries to visit the Biddeford and Saco fire stations at least once a week.  He is also a member of their peer support team, as is Tim.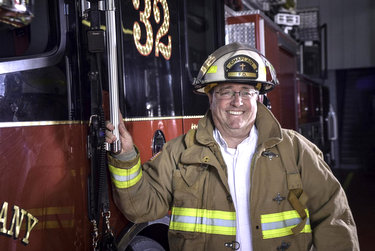 "I think it's just a recognition that right now is not normal, and then, it's just validating what they're going through, just letting them know that we're here for you, and the peer support team is here for you if you ever need to talk," Deacon Kevin says.
"He is always calling and keeping track of us and touching base with us," says Tim. "We do the same thing for him. We always reach out to him to see how he is doing."
While that is something Deacon Kevin appreciates, he says he wants to be there for the firefighters/paramedics, not the other way around.
"My role is to be there to support them, to offer them faith, to offer them whatever they need," he says. "They have to worry about what they're doing. They have to worry about their families.  All of these things are multiplied because of COVID-19. I know, for myself, every time I go, and I'm sure it's the same with these guys, it's always thinking of your family. I don't want to bring anything home to my family.  My wife says, 'You come in from the fire department, you take your clothes, put them in the hamper, go shower, wash your hands, change.' That's a normal process."
Despite the challenges these frontline workers face, they say they are just doing their jobs.
"We're not heroes," Deacon Rick says. "We do what we set out to do in life, and we just happened to pick a profession in which, like any other first-line folks, could be dangerous at times."
T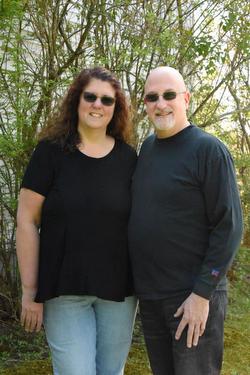 hey say it is God who gives them courage and strength.
"You have to have that trust in faith, that you're doing this for the right reason and God will be there. God will always be in those calls. God will be with you to protect you, will be there to help you. It doesn't mean that you won't get anything, but God is in the midst of it all. It makes my job easier knowing that," says Deacon Kevin.
"I have that trust, every call I go on," agrees Tim. "I have my St. Florian necklace that I wear to work every day. That's an important part of it. God is the one who protects us. I feel like I have a natural layer of protection. Someone is watching over me. There is a greater good watching over me."
"My faith is the only thing that can overcome the fear, anxiety, and depression that accompany this pandemic," says Deacon Jeff.  "Each one of us needs to examine our faith and rely on it to pull us through when we think all is going bad, because it's not. The one thing that the Evil One cannot take away from us is the love of God.