Rallying together to pray the Rosary

One by one, vehicles pull into the parking lot of St. Anne Church in Gorham on a Saturday in June. They line up in neat rows guided by orange cones and cheerful volunteers. The drivers and their passengers are coming together to honor a request of the Blessed Mother: to pray the rosary.
"When I learned that the Rosary rally was happening today, I couldn't miss it. I think we need peace. We need an example of peace and what better example than the Blessed Mother," says Ann Marie Chandler, from Cape Elizabeth, who was attending her first rally.
"As a group, we draw all together that feeling of peace we get when we say it. Especially in these troubling times, we need it. We really, really need it," says Mary Anne Landry, a St. Anne parishioner.
The Rosary rallies have been taking place monthly from May to October since 2017. They were started by Ellen and Dan Kasprzyk as Catholics around world commemorated the 100th anniversary of the Blessed Virgin Mary's appearances to three shepherd children in Fatima, Portugal.
"It is one of the strongest spiritual weapons that we have. It walks you through the New Testament and helps you keep your mind on Jesus' life, on Mary's life, her humility, her absolute faith in God," says Ellen. "Popes and the Blessed Mother have told us repeatedly to pray the Rosary every day. That's good enough for me."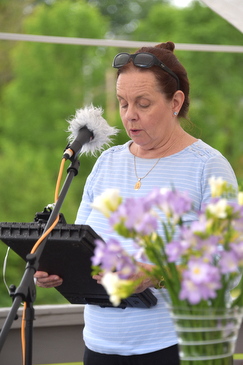 With the deep devotion Ellen now has to praying the Rosary, it is surprising to learn that wasn't the case not that long ago.
"My mom used to pray the Rosary all the time, but for whatever reason, the children never picked it up. So, for many years, I kept getting this feeling that I need to learn how to pray the Rosary. I need to learn how to pray the Rosary. That went on for a long time, and as years went on, it became more intense. Then, I remember, it was March 2017, and it was like somebody was tapping me on the shoulder, saying, 'Do something,'" she says.
Exactly what she was supposed to do remained a mystery, although Ellen was convinced it had to do with the 100th anniversary of the Fatima apparitions.
"I kept asking, 'Could you be more specific?' And of course, I did not get an answer, but this 'do something' feeling, every other day or so, it would come back," she says.
Ellen decided to do some research on the apparitions, and that is when she came across the America Needs Fatima website.
"They were promoting Rosary rallies, the public praying of the Rosary on the apparition anniversaries, so I called them up," she says.
Ellen was seeking to find a rally in Maine to attend, but the group wasn't aware of one. By the end of the conversation, she had agreed to become a rally captain.
"I was a little bit nervous about it because I was not accustomed to praying in public. I had no idea if anyone was going to join me in this endeavor, but I needed to do something," she says.
Fortunately, Ellen had an immediate advocate -- her husband, Dan.
"Being the good husband, he said, 'Well, I'll help you with this.'"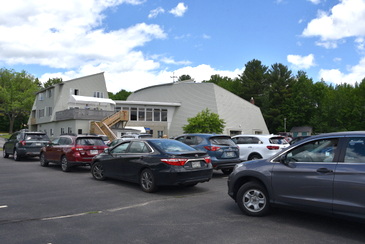 Along with getting approval to hold the rallies at St. Anne, Dan, whose expertise is in technology, realized one of the first things they needed to do was get the word out.
"I set up a website, got that registered, starting putting it on search engines,"  he says. "Then, we started inviting people to attend."
Ellen and Dan got help from America Needs Fatima, which sent them literature on the Rosary and on the Fatima apparitions.  A representative even accepted Dan's invitation to come to Maine, bringing with him a Fatima statue for them to use that first year. They've had it ever since.
"He said, 'Mary decides where she wants to be, and right now, she wants to be in Maine with you guys,'" explains Dan.
Ellen and Dan had originally intended to hold just six rallies, beginning on May 13, 2017, 100 years to the day since the first Fatima apparition. But after the October 14 rally celebrating the Blessed Mother's final appearance, Ellen and Dan discovered that participants didn't want them to end.
"I asked people who were there, 'Do you want us to do this next year?' And it was very clear that it was yes. We need to be doing this," explains Ellen.
"When two or three are gathered in His name, there is our Lord. I love it. I'm so glad that they're able to continue," says Mary Jo O'Connor, from Gorham. "It's just so beautifully done and so reverently done."
For the first three years, the rallies were held on the front lawn of St. Anne Church. Tents and heaters got added along the way for use if needed.  This year, with the COVID-19 pandemic, the May rally was livestreamed only. Then, in June, they switched to a drive-in format. The drive-in rallies are led from a second-floor deck, with microphones and speakers ensuring those in their vehicles can easily hear the prayer leaders.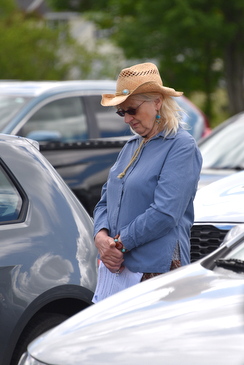 "It's a very moving experience. People from all over the state have come to these rallies," says Andy Levesque, a member of the Knights of Columbus.
Levesque says the rallies were a source of comfort to him after the unexpected death of his wife.
"My faith, and the Church, and attending these rallies made her passing a lot easier to endure. The friendship I've gotten from the participants at the rallies has taught me that there is a loving God who watches over all of us all the time, and His mother takes care of all of those who ask for help. She has been a great help in my life, and I know that there are a lot of people who participate in and attend these rosary rallies who have similar stories to tell," he says.
One of them is Jean Hall, who turned to the Rosary when her granddaughter was seriously ill.
"I had Mary's mantle covering my granddaughter after a severe illness left her in the hospital for 13 days. It was my first Rosary since I was a child," she says.
Now, her granddaughter accompanies her to some of the rallies.
"The first time she walked into that courtyard, the way she said, 'Ahh, it's Mary.' It was like she knew her," says Hall. "It struck me. She was not even two and half, and the way she said it."
Mary Jo O'Connor says she remembers turning to the Rosary when worried about her children during their teen years.
"I always fall back on the Rosary and a prayer to our Blessed Mother." she says. "Right now, as an older person, I say it every day. There is a peace that comes with it. I think it's just a beautiful prayer."
The rallies begin with an invocation, often delivered by a priest of the parish or a woman religious. There are then prayers for the intentions of those gathered, followed by the Angelus, the praying the five decades of the Rosary, the Litany of the Blessed Virgin Mary, St. Maximilian Kolbe's Prayer of Consecration, and the Divine Praises.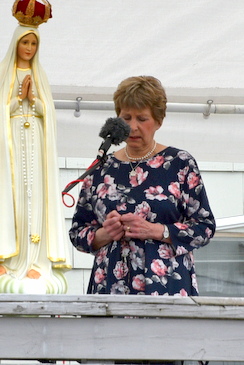 Some rallies are preceded by processions, with the statue of the Blessed Mother carried from the University of Southern Maine campus in Gorham to the church.
"Dan doesn't do anything really small or simple, so instead of just building a litter where you can hold a statue and have maybe flowers on top of it, he built a two-layered litter, so we could put sound equipment because we're singing hymns as we walk down Main Street," explains Ellen.
"It is a wonderful grace-filled honor to join together with our brothers and sisters in Christ, united in fellowship either in chanting praises to Our Lady while processing from USM Gorham to St. Anne's Church or in gathering under the big, white tent on the side lawn, and most recently in the parking lot at St. Anne's Church to pray the Rosary," say Yvonne, Samantha, and Alexandra Johnson. "We not only become more mindful to the importance of the life of Christ through the mysteries of the Rosary but also to the power of hope and peace that comes to us and to the world through each decade offered.  In a world so filled with uncertainty and despair, we are renewed, comforted, and assured through the Rosary of Mother Mary's infinite love for us. "
In addition to the rallies, Ellen and Dan lead or participate in other events related the Rosary throughout the year.  For instance, they pray the Rosary outside of Planned Parenthood during 40 Days for Life. They promote "The Rosary Challenge," an invitation for people to share photos or videos of themselves publicly praying the Rosary. And they offer in-home visitations with the Our Lady of Fatima statue.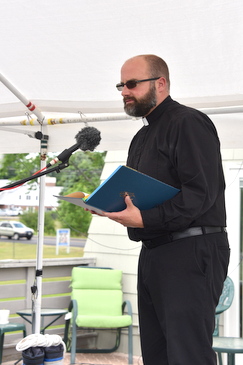 "You bring literature with you, and then, you discuss what happened at Fatima if they're not clear on it. Then, you say the Rosary with them," explains Ellen. "It's an opportunity to share the Fatima message about praying the Rosary, praying for sinners, and reparations for insults against Our Lord and Our Lady."
"She definitely changes you when she's at your house," says Dan. "You feel like her face changes because you start praying, and all of sudden, she is smiling at you.  Don't ask me how that happens, but that's the feeling you get."
Ellen says the messages of Fatima are simple, yet crucial for people to know and embrace.
"The basic message is the same thing the Blessed Mother has been saying at all her apparitions throughout the world. It's repent. Come back to God. Now that we have the Rosary, pray the Rosary. Pray for sinners," says Ellen.
"Praying the Rosary is one of the ways I can make reparations for things I've done in the past and things I haven't done yet," says Dan.  "My life is like a pinprick compared to eternity. I only have so much time in that pinprick to make choices that are going to determine what happens to me in eternity."
"You need to take your faith and where your soul is going for all eternity seriously," adds Ellen. "It's not a game. It' s the most important decision you are ever going to make."