Priest from Nigeria begins service as a hospital chaplain
Image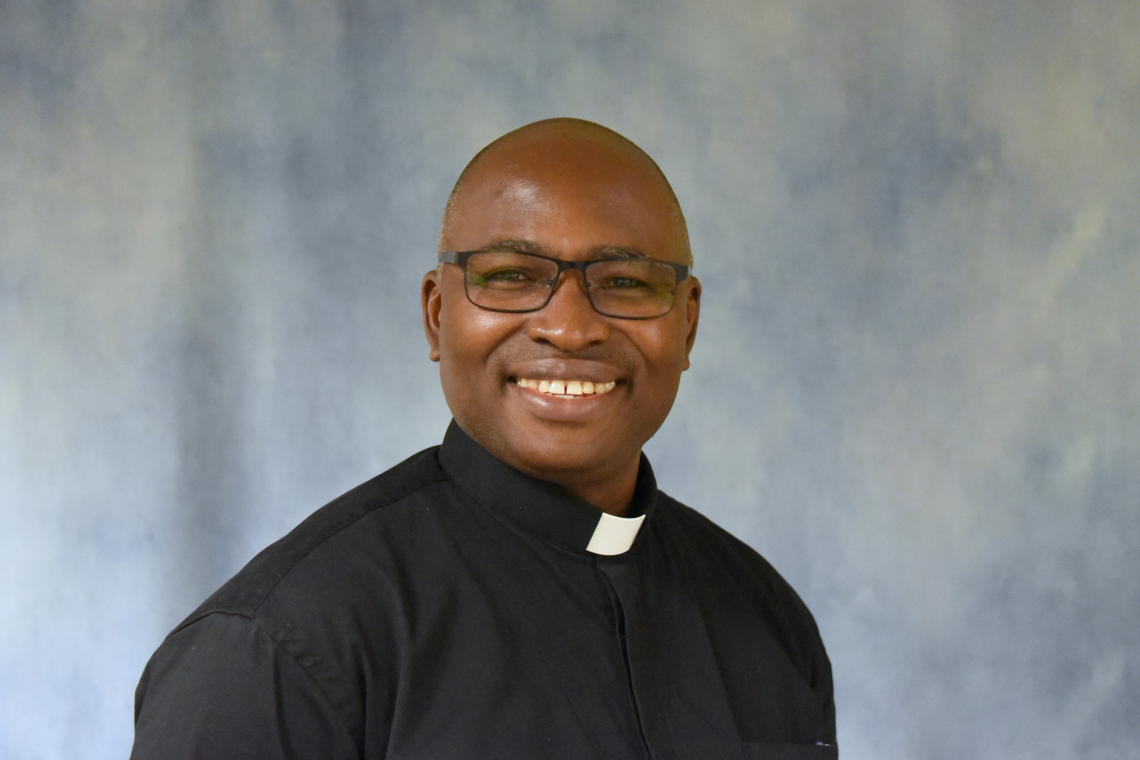 Father Michael Adebote, a member of the Society of African Missions, arrived in Maine in December and is now serving as a hospital chaplain at Central Maine Medical Center in Lewiston.
Father Adebote comes to Maine after working for six years in the Archdiocese of Boston and then completing clinical pastoral education (CPE) at a medical center in New Jersey.
Although this is the first time Father Adebote has served as a hospital chaplain, he says it is a ministry to which he feels called.
"I enjoy being with the sick and being with families of people who are sick, consoling them," he says. "You are present with them, and eventually, you get to see that you were able to help the person to handle the situation better, and that is fulfilling."
Father Adebote is the fifth member of the Society of African Missions now serving in Maine. 
He is originally from Kaduna State in the northern part of Nigeria. Father Adebote was raised Catholic and says he became active at church at a young age.
"I did altar service. I did the youth group. I did the young Catholic students. I did the Legion of Mary. I did the charismatic [renewal]. I read as a young person from the youth group. I sang Christmas carols. I washed cars to raise money in the church. I did many things. It was good growing up in the church," he says.
Father Adebote says Nigeria has a strong culture of faith.
"Whatever faith you belonged to, people were very active in it. It would be hard to find, I would say, young people who would just sit back at home on the weekend without wanting to go to church," he says. "If you didn't go, you felt afterwards that something was missing."
Father Adebote says he first thought about becoming a priest when he was still in elementary school. One of his early influences was a priest who used to visit classrooms before the start of exams.
"He would pray in every classroom for the kids. It struck me. I liked what he was doing, and I felt that I wanted to be like him," Father Adebote says.
Father Adebote says while the feeling passed, it came back after he made his first Communion and became an altar server.
"Then, I was closer to my parish priest because we sat with him in the church. We did things in the church like cleaning. We went to the hospital for the Legion of Mary," Father Adebote says. "All of that activity was giving me the feeling that I would love to do this."
He says the priest gave him a leaflet about the Society of African Missions in case he wanted to consider a vocation.
"I kept it in my belongings, and I wrote on it, 'Father Michael Adebote, SMA.' I wrote that and I kept seeing it, so when I was ready, I applied to them," he says.
Father Adebote's formation for the Society of African Missions spanned 10 years. He says a key point came in his fifth year, which is when SMA seminarians go on a retreat and take time to reflect on their vocation before deciding whether to apply to make their first vows with the order.
"I knew in my heart that this was really what I wanted to do, but it wasn't in my power to do it. It was going to be God's decision for me. And that was very tough. I looked back and I told myself, 'If you wanted to do something in life like medicine, it is in your power. If you want to be a pilot, it is in your power. But the Catholic priesthood, it is not in your power to do it. It is something different,'" he says. "I took a walk into the woods, and I came in touch with myself, with my fears, and with my God, and I dropped that fear. I was ready to say, 'Whatever will happen, let it happen.' I was ready to go anywhere that God would provide for me. I was ready to take a left turn or a right turn. I was just, at that juncture, waiting for God's will to happen for me, and I was free. I was liberated. I didn't have fear anymore."
His ordination to the priesthood took place in 2007 at his home parish.
"It was a joyful day for me. I was very happy," he says. "There was a huge reception and gifts, dancing, speeches, everything."
Father Adebote's first assignment was in the Diocese of Berbérati in the Central African Republic, a country to the east of Nigeria. There, he joined in the Catholic Church's decades-long effort to support members of the Pygmy tribes.
"We protected them from the villagers who exploited them. We defended them. We stood up for them even against the government because the government in that country never considered them to have any rights," Father Adebote says. "They had no village in the beginning. They were people of the forest, but the Church came to their aid and founded amenities for them, like hospitals and schools."
Father Adebote says they also taught people how to build simple homes out of materials such as sand, mud, and clay and, later, taught them how to make bricks. 
It was such a rural setting that Father Adebote says the mission, which used solar power, was the only place with electricity.
"There was no light. They had torches or nothing. Sometimes, women would walk with a piece of firewood burning. They would use that just to let somebody know they are coming, so you don't bump into them in the dark," he says.
It was while serving there that he got a taste of hospital ministry, but it bore little resemblance to his chaplaincy assignment here.
"In the middle of the night, 2 a.m., 4 a.m., they would knock at my door. There were no cars to transport the people, so I would have to start the pickup, put the pregnant woman in the truck, drive them to the hospital, go across the water in a boat in the night without lights," he says. "The hospital was about 50 minutes away, but the roads were also not good, so it could take one hour and 20 minutes."
He says the roads were not paved, and if you came across an obstacle, such as a fallen tree, you needed to clear it away yourself.
"You would have to use a machete to cut that. There were times you would get stuck in mud and you would use a shovel to dig," he says.
Despite the difficult conditions, he says, "I have beautiful thoughts of those days. I enjoyed it. It was nice. It kept me going. I loved what I was doing. I love the people."
So much so that when he was approached about a new assignment in Massachusetts, he hesitated.
"It didn't come at a time when I was feeling like I was tired or ready to go," he says. "It was difficult to accept because I loved what I was doing, and I was in the midst of many things. There were churches that I didn't complete that I started. I was building things like public bathrooms for the people."
After taking six months to reflect on the new assignment, he agreed to become the coordinator of the SMA's summer supplies program for the Archdiocese of Boston, arranging for SMA missionaries to fill in when Boston area priests went on vacation.
Although he had been to the archdiocese before, the transition was striking.
"It's like living one extreme and coming to the other," he says.
After three years coordinating that program, Father Adebote was appointed pastor of three parishes in Brockton, Mass., where he served for another three years, before studying CPE and coming to Maine.
He says he is happy to serve where needed.
"I like it," he says. "A belief that I have is that if Catholics are there, then they have the right to have a priest with them, wherever that is."