Preserving a Down East Treasure
Image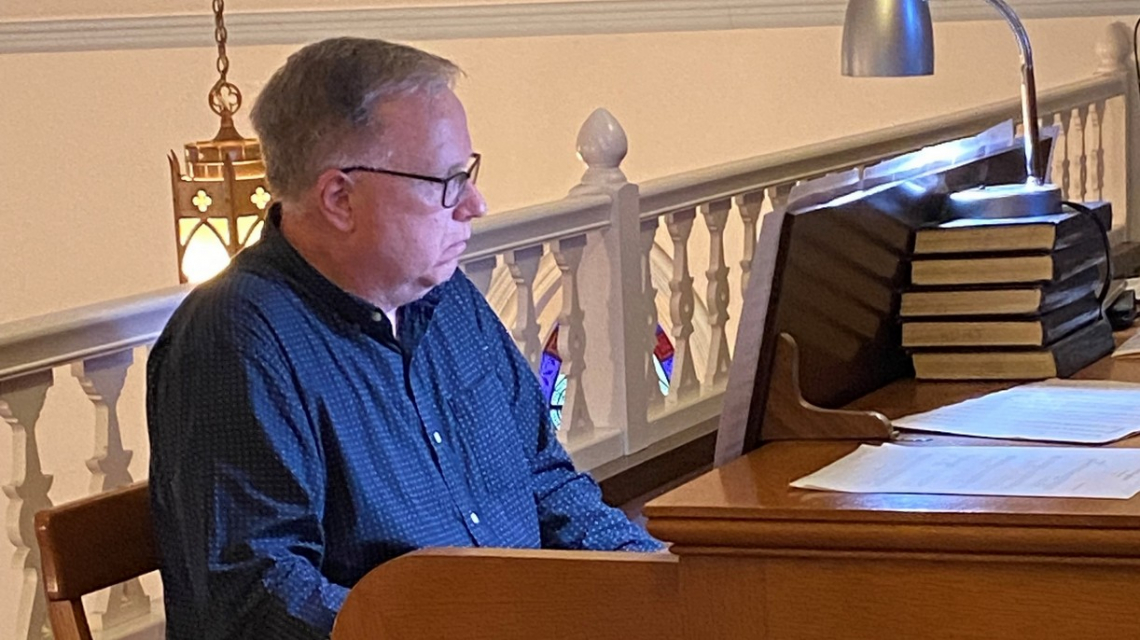 Members of St. Peter the Fisherman Parish have rediscovered the beauty of a gift that was donated to Holy Name of Jesus Church in Machias 87 years ago. In 1934, members of the Cornelius Sullivan family, prominent in the lumber industry at the time, commissioned the prestigious Aeolian-Skinner Company of Boston, Mass., to build a custom pipe organ for the church, an organ still in use today.
"Aeolian-Skinner made some of the finest organs in the country," says Greg Noyes, an organist. "It was the Cadillac of organ building."
"It is a magnificent instrument," says Father Philip Clement, administrator of the parish. "We owe a great deal of debt to the Sullivan family."
"They specified that it should be a very fine instrument, and that is what they got," says Timothy Smith, of the Smith & Gilbert Organ Company.
The appreciation the church community had for its new organ was such that in November 1934, the pastor extended an invitation to Bishop Joseph McCarthy, the sixth bishop of Portland, to travel Down East to dedicate it, an invitation he accepted.
Regrettably, with passing years and generations, many parishioners no longer realized the quality of the gift in their midst. That is until last winter when Noyes asked Father Clement if he could practice on the organ because pandemic restrictions had kept him from traveling to St. Andrews, New Brunswick, where he is the organist at All Saints Anglican Church. Noyes has a connection to St. Peter Fisherman Parish because he also plays at Sacred Heart Church in Lubec.
Noyes says the quality of the organ at Holy Name Church shone through even though it was evident that it was in dire need of cleaning and tuning.
"I went right up to [Father Clement] afterwards and I said, 'Do you have any idea how good this organ is?'" Noyes recalls. "It's a prize, and the people didn't realize it."
After consulting with Father Clement, Noyes reached out to Smith, an old friend who has an organ company in upstate New York. Smith, who used to own a home in Eastport, made the trip to evaluate the organ and came to the same conclusions as Noyes.
"I knew that the organ deserved to have its pipes cleaned, so that's what we did, but it's amazing how intact the organ is mechanically," he says. "It's a remarkable slice of history from 1934 because the organ is completely original. The attention to detail in the construction and the use of materials is all uncompromised."
Smith says it is clear the small pipe organ was specially built for Holy Name of Jesus Church.
"There is a rose window, a larger circular window in the gallery wall, and this organ was configured mechanically to go around the window. That took a fair amount of engineering to alter the shape of the pipes and the structure of the organ so that the organ acts as a frame around the stained-glass window," he says.
Smith says the interior of the organ was not just dusty but dirty, possibly the result of soot from a small fire in the adjoining rectory or a furnace incident decades ago.
Over a three-day period in July, with the help of parishioners, the organ's nearly 600 pipes were removed and carried down a narrow staircase to the parish hall for cleaning.
"He and his mother worked for three days, taking these pipes down, cleaning them, bringing them back up and tuning the organ afterwards. He had some assistance from parishioners who thoroughly enjoyed that as well. They learned about the inner workings of our organ by watching him take it apart and put it back together again," says Father Clement.
"Tim (the master organ fixer-upper guy) made working on the organ a lot of fun, and it was a pleasure to help him," says Gabriel, a teenager who volunteered.
"I wasn't expecting the organ to be opened up like that, and I really liked helping to tear it apart," says Christian, his younger brother.
The metal pipes were cleaned by swishing them in a tank of hot water to loosen the dirt, while the wooden pipes had the dirt blown out of them. The metal pipes were then buffed with soft cloths, while the wooden pipes were wiped down and lightly oiled to remove the dryness of the wood.
"Each organ we work on, we try to treat as if we were to be the ones using it every week. We want it to be beautiful, and reliable, and expressive," says Smith.
Once the organ was tuned, Smith, an accomplished musician, performed a recital for parishioners to help them appreciate what makes pipe organs so special.
"A small organ is like having a chamber orchestra, and a larger organ is like having a symphony orchestra," he says. "Wind is blowing through the pipes and resonating in a space and creating that magical sound that can't happen through speakers."
"It adds to the character of our parish," says Fr. Clement. "It's part of our history. It's an original, and very simply put, it helps us to do what we do. It helps us in our worship of God in the Mass."
The enhanced cleaning cost $3,000, money that was raised through an organ fund and fundraising, including a $1,000 gift from a parishioner.
Now that it has been thoroughly cleaned, Smith says there is no reason why the organ, with regular, minor maintenance, can't continue to serve the parish for decades to come.
"It's an organ that is just a beautiful blossom of tone, if you will, in that lovely church," he says.
"I'm delighted that parishioners are now aware of this treasured gift," adds Fr. Clement