Preparing in a new way for a sacramental marriage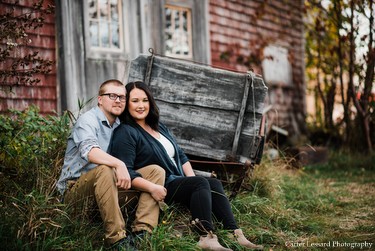 Alycia Walsh and Luke Cote of Minot were looking forward to celebrating a September wedding at St. Maximilian Kolbe Church in Scarborough. Then, the coronavirus got in the way.  Not only did they worry whether friends and family members, including some older relatives, would be able to attend, but they also wondered how they would participate in marriage preparation, a requirement to be wed in the Catholic Church, since parish gatherings were put on hold.
"We were trying to figure it out, and at the time, everything with corona happened, so we started stressing out. Oh my gosh, we needed to take these classes. We needed to figure out what we should do," says Alycia.
That is when Luke discovered "Preparing for a Sacramental Marriage," an online program offered by Kathy and Steve Beirne, long-time marriage educators who also led the Unitas marriage preparation program offered by the Portland Peninsula & Island Parishes for many years.
"I emailed Monsignor (Paul Stefanko) and asked him if it would be o.k. for us to do it online," shares Alycia. "He said, 'Kathy and Steve are great.'"
The program the Beirnes developed differs from some online programs because, similar to Unitas, it follows a couple-to-couple sponsor model.  It's just done through Zoom, rather than in person.
"There are other online programs out there, but they are basically that people watch and then answer some questions. It's not a live couple that they're talking to," says Kathy.
"They're in their home. We're in our home. We sit there with a cup of tea. They sit in their apartment or wherever with a cup of tea," says Steve.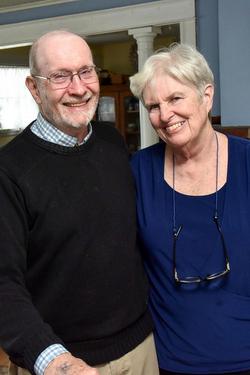 Because it is couple-to-couple and not strictly an online program, it allows Steve and Kathy to tailor the material to each couple's needs and circumstances, for instance, whether or not it's a first marriage for both and whether both are Catholic.
Kathy and Steve meet with each couple weekly for about an hour.  There are six sessions, with the first one including some getting-to-know-you time.
"We ask about their plans for their wedding, how long they've known each other, those kinds of things," says Steve.
Alycia admits that she and Luke didn't know what to expect at first.
"The first time we met on Zoom, I was a little nervous," she says. "It's kind of a personal thing talking about your relationship, but Kathy and Steve also talked about their relationship and things that they've overcome, so it's a really personable setting, getting to meet them, getting to know them, seeing how we all have similar things that we have to deal with."
"They're obviously outgoing, so it makes it a lot easier," says Luke.
The first topic the sessions address is the Catholic understanding of marriage.
"If you're getting married in the Catholic Church, you really should know what the Catholic Church thinks about marriage and understands marriage to be," says Kathy.
In subsequent sessions, they discuss the couple's hopes and dreams for their marriage, communication, family, values, intimacy, and spirituality. Luke says the section on values especially hit home for him, while Alycia pointed to  "love languages."
"We obviously came from different families and our values are different, and they kind of bring it to the forefront that you're starting your own family now, so we have to combine those values and agree on values," says Luke.
"I think the big thing that we talked about was love languages," says Alycia. "Kathy made a point that all of the love languages are important, and everybody has a little bit of all the love languages, but there is a specific one for each. Luke's love language could be acts of kindness and mine could be physical touch, so learning about that and being able to focus on the difference between us."
Even though the Beirnes and the engaged couples are connected through Zoom, the couple still has some private time during the sessions.
"We'll say, 'Tonight, we're going to talk about communications, and here are three principles that we would like you to think about. Now, we would like you to mute your screen, and we'll mute ours and talk about it," explains Kathy. "They've got a set time where they just focus on communications."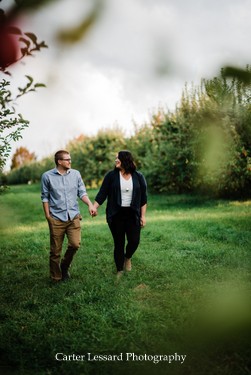 The hope is that after a session concludes, the couple will also take time during the following week to discuss the topic more.
"They have an opportunity not only to participate with us online, but then, they have a whole week to talk with one another and process what we've talked about. The feedback we get from the couples is that that is exactly what they do," says Steve. "Then, in the subsequent sessions, that is session two through session six, the first question we ask them is, 'How did your week go? And what kind of things did you talk about?'"
In addition to their own presentations, the Beirnes also email the couples reference materials including a bibliography of books and videos.
Both Alycia and Luke give the program high marks. Luke says he thinks it has worked out even better for them than in-person group meetings would have.
"I think this is more personalized. You get a lot more communications done, and I just think you progress quicker," he says.
"They've been really helpful. They've opened up communication between me and Luke," says Alycia.  "It's great."
At the time Alycia and Luke were participating in the program, the Beirnes were also working with seven other couples. They included a couple from Fort Kent and a couple from Westbrook who chose the same time so decided to participate together.
"They've gotten to be friends in the process, which is lovely," says Steve. "It's amazing that we can bring together this diverse group of people under adverse circumstances."
Because marriage ministry is their full-time work, the Beirnes have the advantage of flexible schedules. Sessions can be weekdays or weekends, mornings, afternoons, or evenings.
"It's really good to say that we're in a position to help you and support you if you choose to go this way and use our services," says Steve.
And the Beirnes say they, too, have benefited.
"It is so enriching to us. It's really amazing to hear their stories and to get to know them," says Steve.
T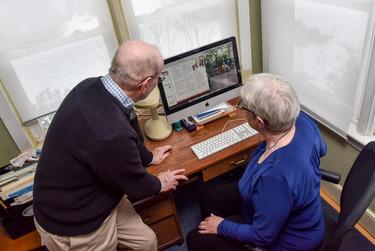 he program has worked so well, Kathy and Steve say it may be a model the Church should consider continuing even after the current crisis passes.
"We see some real potential in all of this," says Steve. "We think personal relationships are so critical for this sacramental journey that people are taking because, hopefully, they can identify, who are the models for them? Who are the people they can look to and say, 'These people do take marriage very, very seriously?  They do see it as an encounter with Christ in very much the same way as a baptismal sponsor, godmother or godfather.'"
The Beirnes say they may eventually seek to train other sponsor couples, but in the meantime, they still have space on their calendar for couples seeking marriage preparation.  Referrals, however, must come from a parish priest.
Alycia and Luke have completed the program and are looking forward to what will now be a spring wedding. They decided to delay due to the uncertainty.
Alycia says she would absolutely recommend the online sessions to any engaged couple and says once she and Luke are married, they may participate in some of the other programs the Beirnes offer.
"It helps a lot," Alycia says. "I'm really thankful."