Planting seeds for the future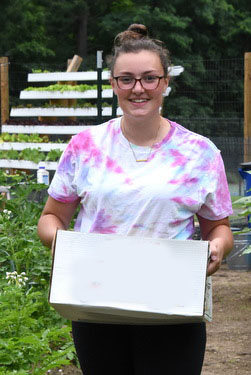 "We have beets, eggplant, broccoli, cabbage, parsnips."
Lucy Frenette, a senior at Saint Dominic Academy in Auburn, proudly points out the variety of crops growing in a new garden that has taken over a corner of the school's campus.
"The carrots are going to be super fun. There are supposed to be a ton of different varieties," she says.
With its nine-foot-high cornstalks waving in the breeze, the St. Francis Garden greets you as you pull into the St. Dom's parking lot. Situated adjacent to the school's academic wing, the in-ground garden measures 50' x 60'. There are also four additional raised beds, each measuring 4' x 18', and an experimental vertical garden.
"I think it's a really good addition to the school," says Benjamin Kase, a senior. "It looks beautiful."
The St. Francis Garden features vegetables from acorn squash to zucchini, as well as an herb garden and some flowers. You'll find basil and beans, carrots and cucumbers, leeks and lettuce, peppers and potatoes, and much more.
Preparations for the garden got underway last fall with the clearing of the land, but plans actually go back six years to when Father Seamus Griesbach became school chaplain. Father Griesbach says he has loved gardening since he was a child, recalling that when he was in high school, he even agreed to mow a neighbor's law in exchange for a garden plot.
He wanted to share that experience with students, believing there is much to learn from a garden. He says, for instance, many students told him they had never seen a plant go through an entire growth cycle.
"To watch a seed they plant in the spring become a plant that produces fruit, and then to actually be able to eat that fruit, that is not a common experience for children or young people today," he says.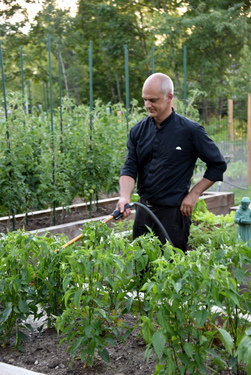 Father Griesbach says the garden also teaches appreciation for the gifts of nature that God has given us.
"They begin to understand the way that we rely on the natural world for our sustenance. If beetles and bugs come in and eat your crops, they die. If it doesn't rain or you don't have the right nutrients in the soil, plants don't grow. So, it teaches us a certain basic understanding of our reliance upon God and upon the world He has given us," Father Griesbach says. "It also teaches about the amount of sacrifice that is required in order to produce food. If you have gone through a growth season, weeding, thinning, harvesting carrots, when it comes time to eat that carrot in the fall, you don't look at it the same way. When you planted the seed and you had to care for it the whole summer, you're going to be a lot less likely to throw that carrot in the trash if you don't like it. So, it teaches stewardship of the natural world and a sense of gratitude for food."
"That's who we are as Catholics. We're stewards of nature: of the water, and the earth, and the soil," agrees Lucy Tallman, a former faculty member who has helped to nurture the garden. "I think that is a very important part of our Catholic faith that sometimes we don't spend enough time talking to students about."
Work on the garden began in earnest in the spring. While the COVID-19 pandemic postponed or cancelled many schools activities from mid-March on, it actually gave the garden a push.
"The pandemic hitting when it did kind of gave us a little bit more energy because it was one of the few things we could do this spring. Because it was outdoors, you could maintain a fair amount of distance and still work on it. We also had funds that hadn't been used because the things that they were allocated for were cancelled," says Father Griesbach.
Students, faculty, staff, families, and alumni were invited to participate. The response has made it a true community effort. Approximately 30 students, many of them part of St. Dom's assistant chaplain program, have been involved, along with 10 adults.
"Agriculture is something I really have a passion for," says Tallman. "So, when I saw this drawing of the garden that Fr. Seamus had drawn, I was just so impressed, and I was very excited about it."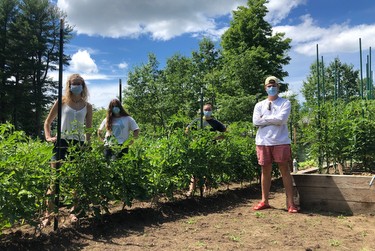 "I saw it as a way for the school community to come together. I thought it was something that would build, and I wanted to be a part of that," says Frenette.
"A big part about going to St. Dom's is that we really put a lot of focus on community service and community outreach, and I really wanted to work on something to do more to give back to the community," says Kase.
Frenette and Kase were among the students involved at the very beginning, helping to put up the fencing around the garden to keep out deer and groundhogs.  It was no easy task.
"Those posts were pretty heavy to carry. I helped out a couple days with that. It was a lot of fun to do I've got to say," says Kase.
"Each of those fence posts needed to go down two feet, and we dug them all by hand.  It was probably about 60 posts, so that is a lot of work, and the students were right there working on it. Then, we dug the fence in. It goes down six inches to keep the groundhogs from digging underneath it," Father Griesbach says.
He credits Doug Olsen, the husband of one of the teachers, for his invaluable assistance.
"He was out there working with the kids," Father Griesbach says. "He must have dug half of those holes, and he enjoyed it."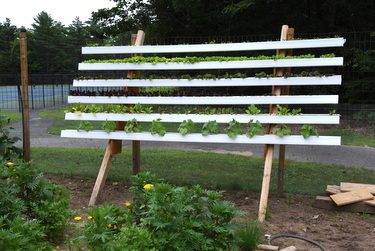 The raised beds were built using hemlock timbers, while leftover fenceposts gave the vertical garden the support it needed.
"We put those at a 45-degree angle and, then, built almost like steps with leftover plywood. Then, we used gutters to go across, so the gutters are what hold the produce and the soil," Frenette explains.
Frenette and Kase were the two most responsible for adding the vertical garden to the plans.
"I went to Father when we were starting out, and I said, 'I think it would be really cool to add some kind of science and stuff to what we're doing, take some of the academics we've been learning and implement it. So, I talked with him about incorporating at least a small vertical aspect because that is a big, up-and-coming thing in farming," Kase says.
From the vertical garden to the raised beds to the rows of cabbage and corn, the garden has a sense of symmetry. Father Griesbach did summer landscaping during his college years, experience he put to good use in the garden design.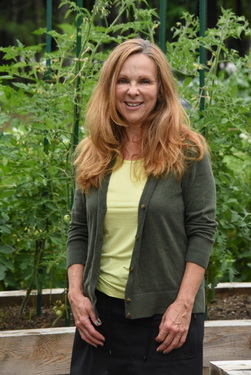 "Look at the lines that go this way, the diagonals. They all match," says Tallman. "We have a lot of different varieties, but once you're there, walking through the garden, you really get the feeling of spirituality and the feeling of community, and that's what it's really all about."
While he may have had a vision for the garden layout, Father Griesbach says there was no masterplan detailing what to plant.  It was driven by what seeds and seedlings were donated, as well as a desire to have the students see and learn about different plants.
"It's helpful, this first year, to grow everything. Now, they know what an eggplant looks like, not just the fruit but the plant. They know what a tomato plant looks like and a cucumber plant and a squash plant," he says.
The garden even includes oats.
"I don't know if we're going to harvest any of the oats. Maybe we'll get a bowl of oatmeal," Father Griesbach says, laughing. "It's not a farm in the sense that you are trying to produce crops for a profit. It's a garden that is trying to build awareness and to share some of what we end up producing, but it wasn't all based on efficiency."
Nevertheless, the garden has produced in abundance.  Father Griesbach credits the many contributors, a sprinkler system modified to water the garden, and good soil preparation.
"We packed it full. Partly, we were able to do that because we had good compost," he says. "We had 16 yards of composting cow manure that we turned in, which is a lot, and a whole bunch of loam."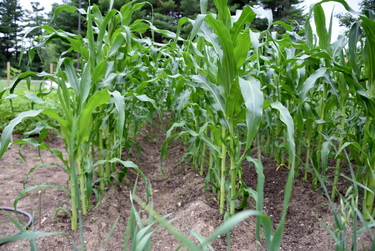 The results are all around you as you walk through the garden. You'll see clusters of tomatoes, lines of lettuce, squash peeking out from beneath leaves, and sunflowers smiling down on you.  There is even a corner dedicated to growing a giant pumpkin.
"We're just trying to make it fun, and magical, and interesting, and I don't know what says fun, magical, and interesting like a giant pumpkin," says Father Griesbach. "I told the kids I wanted a pumpkin big enough to paddle down the Androscoggin River, but I don't know that I'm going to get there this year…I kind of helicopter parented too much."
While he may have given his pumpkin a bit too much attention, Father Griesbach says one thing he has emphasized to the students has been the importance of doing the job well.
"That was one of my mantras with this garden the whole time and just in general.  If you have a different idea about how we should do things, let's hear it out, but one thing I will not accept as a reason for doing something is that it's easier. That is not a good reason.  If you want to do something because it is more efficient or because it will work better or because it will look better or because we'll get better food, that's one thing, but if it's just because it's easier, well, tell me how that is a value because that doesn't seem like a value to me. I think it's important to teach the kids the value of excellence," he says. "When we talk about human dignity, you have to live that out on a very basic level. If you believe what you're doing is important, then whatever you're doing, try to do it well."
The students say working in the garden has been a rewarding experience.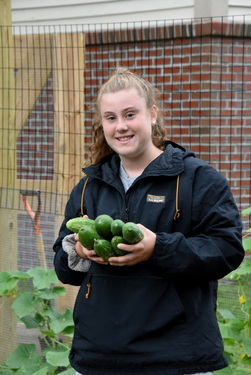 "It amazes me how much growth there has been in the garden from day to day," says Frenette. "It's incredible to see what God has given us and what continues to grow. Something that I can learn through this garden is really building something from the ground up, from nothing to your plate."
"I've learned a lot, how to do gardening, because I never knew how to do that before," says Taryn Cloutier, a St. Dom's senior.
Another beneficiary of the St. Francis Garden has been the St. Mary's Nutrition Center and Food Pantry in Lewiston. Boxes of produce are brought there each week.
"I think it's a good idea that we're giving things to St. Mary's because, especially with the coronavirus, they need a lot for the people right now," says Cloutier.
"It's like, 'Wow, this is actually a lot of produce.' It's not just one head of lettuce and a cucumber. There is substantial produce here that we're able to donate and make a difference," says Frenette.
In August, to celebrate their success, the gardeners held a Garden Caprese Salad Party, inviting members of the St. Dom's community. The students made homemade mozzarella cheese and harvested tomato and basil to prepare take-out salads.
Once the school year starts, the plan is to use some of the produce in the school. Father Griesbach says that's why he's particularly looking forward to the potato harvest.
"I've already talked with Theresa Arsenault, our food services person, and she said, 'Yup, we'll use the potatoes.' So, we'll be able to provide some food. It's just good for the kids to see how these things work, to go from putting the potatoes in the ground in May to harvesting them and eating them in October," says Father Griesbach.
Those potatoes may end up on a plate around the time we are celebrating the feast day of St. Francis of Assisi, the garden's patron. The saint was chosen because of his great love for the natural world.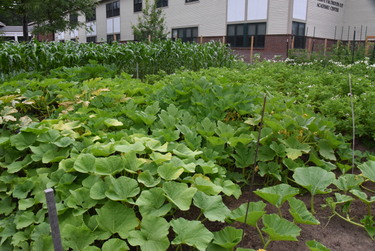 He had a great appreciation for God's presence revealed to us in nature," Father Griesbach says. "So, in terms of his life and witness, he is a good saint to ask for his intercession. Then, also Pope Francis. We're starting the garden in the pontificate of Pope Francis."
In a time when COVID-19 has resulted in so much darkness and struggle, the St. Francis Garden has brought a sense of light and joy to those working on it.
"It's been a bit of a retreat for some from the isolation of our times," says Father Griesbach.
"I usually go on Sundays and Wednesdays, which are the days that everyone goes, but I also find myself going on Saturdays and Mondays, just checking in, making sure it's OK," says Frenette.
There are still more plans for the garden in the future including building a shed and establishing a composting program, which would allow food waste generated at the school be make it's way back to the garden.
If you would like to follow the progress of the garden, visit the Saint Francis Garden at Saint Dominic Academy Facebook page: https://www.facebook.com/The-St-Francis-Garden-at-Saint-Dominic-Academy-115068920194950/.