Newly arrived priest drawn by call to evangelize
Image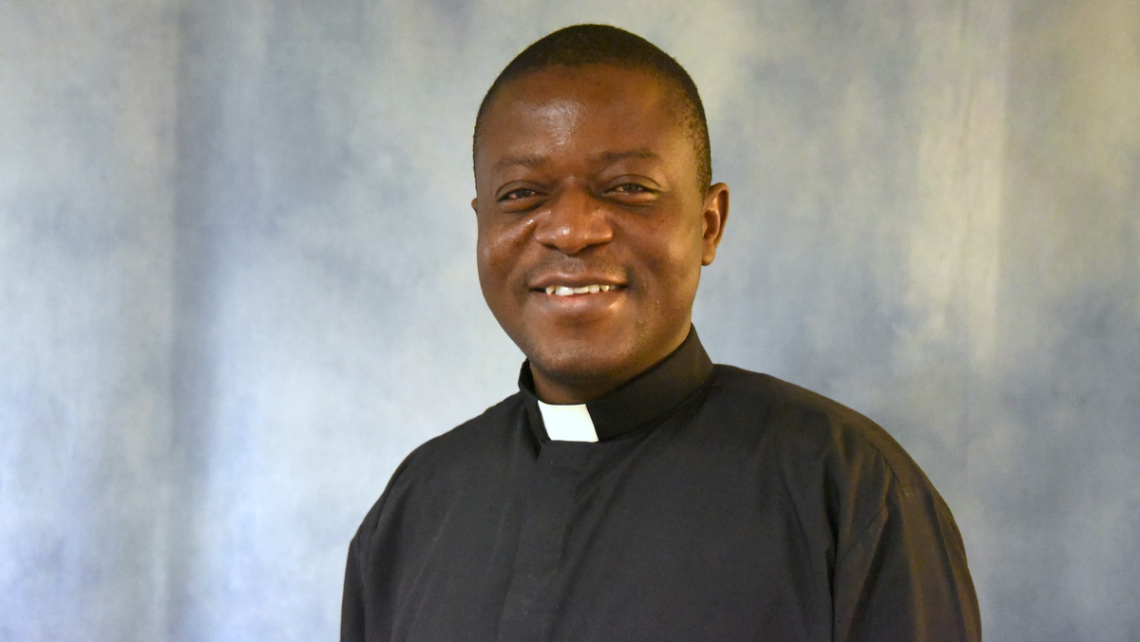 This spring, the Diocese of Portland welcomed a sixth priest from the Society of African Missions. Father Simon Assogba, SMA, is now serving at the Parish of the Precious Blood in Caribou.
"Living my priestly vocation with the people and ministering to them, that is what I look forward to," he says.
Father Assogba was ordained to the priesthood in 2012 and, before coming to the United States, served at his community's formation houses in Nigeria and Togo, as well as in parish ministry in his home country of the Republic of Benin, which is located in west Africa.
Father Assogba was born in the village of Banikoara but was raised in the city of Savè, where his father worked. His mother was Catholic, but his father was not, and as a result, Father Assogba was not raised in the faith.
His journey to the Catholic Church and to the priesthood began when he was in primary school. He says he saw some of his classmates go to catechesis at the local church and wanted to attend, too.
"I was not going to church, so I told my father, 'I want to go to church.' He said, 'OK. If you want to go to church, OK, you can go.' And that is how I started catechesis," Father Assogba says.
His older brother attended with him.
Father Assogba says after three years of catechetical preparation, which was the requirement, he was baptized and made his first Communion, followed a year later by the sacrament of confirmation.
"That is the policy there," he explains. "Then, after confirmation, there is something we do in the French system. We call it solemn engagement. For solemn engagement, you pick either an association or a prayer group in the church, and then, you get yourself engaged in it."
Father Assogba chose charismatic renewal.
"It was a prayer group which I loved. Even before baptism, I joined a group and was going to prayer, and then, I continued that," he says.
Father Assogba says he first thought about possibly becoming a priest not long after he began catechesis.
"Right from the beginning, seeing the priest dressed, I was interested. I said, 'OK, I will become a priest,'" he says.
He had other career thoughts as well but later joined a parish vocations group.
His introduction to the Society of African Missions came after he happened to see a newsletter put out by the congregation.
"I read it, and I was impressed by their primary mission of evangelizing places that are remote. I took the address, and I wrote a letter to the regional superior. Then, one day, a priest came to meet me," Father Assogba says. "That was the first SMA priest I met, and whenever he was passing by, he would stop to meet me, and we would speak."
He says he was accepted for admission to the University of Abomey Calavi but considered going to seminary instead. It was the SMAs who encouraged him to wait.
"They said, 'You are not going to enter the seminary now. You wait. Go to the university first.' Then, I went, and when I was in my third year at the university, they said, 'We want you now if you are ready to enter.'"
Father Assogba says seminary studies were challenging at first because he was sent to Nigeria, which is English-speaking, while Benin is French-speaking.
"I went to Ghana for three weeks of lessons, and then, I went to Nigeria to study philosophy. That was it," he says. "It was difficult at the beginning, but within one year, I got used to it."
Father Assogba also speaks three local languages: Mahi, Nagot, and Yoruba.
Father Assogba was ordained in the Basilica of the Immaculate Conception in Ouidah, Benin.
"My parents, friends, and everybody was there," he says. "It was wonderful."
He says six of his seven siblings are now practicing Catholics, with the seventh a member of a different Christian faith.
Father Assogba says he was looking forward to serving in a parish immediately after ordination, but it was not to be.
"Evangelization – that is what really pushed me, and that is still on my mind, but unfortunately, since I was ordained, I've never had that serous chance of being appointed to do primary evangelization, because right from my ordination, I was put in the formation system. I've been forming people who want to be priests," he says.
He first served as a bursar at the SMA formation house in Nigeria and then as the superior at the formation house in Togo.
"It's wonderful to be with the youth. I enjoyed my days in formation. They were very wonderful," he says.
He says after his formation work, he was planning to go to Kenya, but instead was approached about going to Canada and then, instead, Maine. He says he wasn't sure where it was.
"I had to check a map on Google," he says.
While waiting for the necessary paperwork to be processed, Father Assogba got an opportunity to work in parish ministry, serving in three parishes in the northern part of Benin.
"I was going where I was needed," he says.
It is ministry he says he loves.
"It's good to be with the people," he says.
Father Assogba says he is not worried about adapting to the lifestyle of a different part of the world.
"With my formation, I've learned to get adapted easily to places and people and situations or conditions or whatever," he says. "That made me very flexible."
He says, wherever he goes, he likes to dress and appear as a priest, because he wants to share the joy of his vocation.
"I'm happy for my vocation, and I'm ready to give myself for it," he says. "I love being a priest."