For new Catholics, receiving the sacraments is worth the wait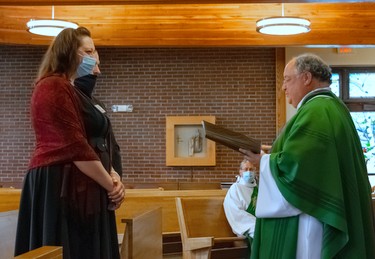 Emily Morris of Yarmouth describes herself as a "rookie Catholic," one who had to wait a little while to officially join the team.
"It was this level of anticipation that it was coming soon, and then, corona happened," she says. "You get your hopes up, and then, the rug kind of gets pulled out from under you."
Like many in dioceses across the United States, Emily's entry into the Catholic Church was delayed due to COVID-19. The Church typically welcomes new members during the Easter Vigil, but this year, with Holy Week approaching, the pandemic forced the cancellation of all public Masses.
"If there is one thing that the coronavirus has taught me, it has been patience, which has never been a strong suit of mine," says Emily. "It's kind of been a wonderful lesson for me."
As the weeks went by, Emily stayed connected with Parish of the Holy Eucharist through Zoom videoconferencing and through FORMED, an online program.
"The learning never stopped," Emily says. "It actually became a little more intense and focused because the time constraint of having to complete these different lessons and these different checkpoints was gone."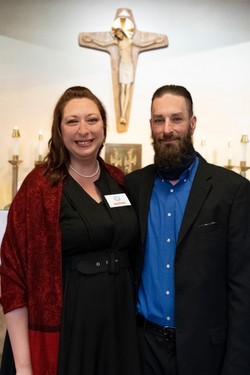 When the day finally arrived, Emily says, "I think I was still in disbelief."
She remembers being stressed out the morning of July 5, worried about her makeup and the humidity that was causing her hair to go flat. However, she says when she entered Holy Martyrs of North America Church in Falmouth, that all changed.
"The Mass began, and this wave of peace just washed over me. It was like, I'm good now. OK, I'm cool. This is really happening," she says. "It was sort of surreal peace."
Previously baptized in another Christian tradition, Emily received the sacraments of confirmation and first Eucharist and was received into full Communion with the Catholic Church. After the Mass, she and her husband, who was already Catholic, had their marriage blessed.
Emily says even though she already felt welcomed by the community, receiving the sacraments led to a true sense of belonging.
"Even though the Church didn't put up that separation, I put that separation in my head," she says. "Now, everything feels right. It feels like everything is in this great balance now and like I can exhale," she says.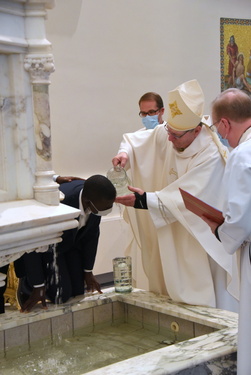 A similar sense of contentment was expressed by those who received the initiation sacraments from Bishop Robert Deeley on July 26 at the Cathedral of the Immaculate Conception in Portland.  The bishop baptized seven people, received one into full communion with the Catholic Church, and two others received the sacrament of confirmation.
"It was delayed a little, but it's fine.  I'll wait for God, whatever His time is," says Jocelyn Nataly Alvarez, a parishioner of Sacred Heart / St. Dominic Parish in Portland, who was confirmed. "It means a lot because I want to be able to do a lot in church, help other people."
"It's a great feeling," says Hubert Mupoy Lew, originally from Democratic Republic of the Congo (DRC), who was baptized. "I wanted to join the Church because I wanted to be one of the family of the Church."
"I want to be a member of the Body of Christ and Jesus. I'm just excited. I don't have words enough to describe it," says Leaticia Uriel Hannah, also originally from the DRC, who was baptized. "I had been learning for two years, and now, I'm ready to continue on this journey."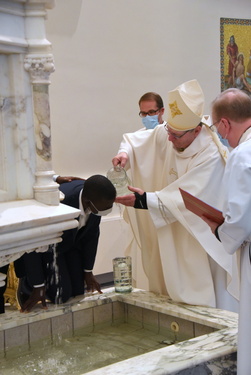 "I feel such an openness in my heart. I can't even put it into words," says Isaiah Bickford, who received the sacraments of confirmation and first Eucharist after having been previously baptized in the Baptist Church.
Michele Bernier, RCIA coordinator for the Portland Peninsula & Island Parishes, says she was heartbroken when it became clear that the group would not be able to receive the sacraments at Easter, knowing how much they had prepared for that day. She says, however, their faith buoyed her.
"They had a complete grasp of the fact that, eventually, they would receive something that transcends time and place. They knew that they'd receive the sacraments in God's time. And they were patient, and loving, and faithful. I was inspired by them, and I continue to be," she says.
Michele set up Zoom meetings to keep the group connected.
"I wanted to continue to support them, and to keep them connected to one another, to their parish family, and to Christ," she says.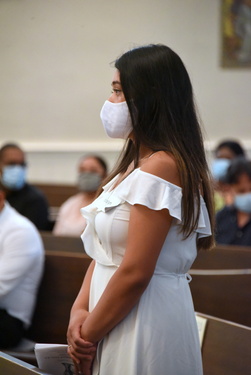 Isaiah says that support made a significant difference.
"Through the amazing people leading RCIA at the cathedral, the clergy, and my sponsor, Dillion (Brabants), I had so much support and feedback that helped me take perspective. I leaned toward them, prayed more, and took time to be quiet with God. That time really became an extended and even deeper Lent, a sacrifice I could make," he says. "When I let go and had some surrender, I found intimate moments with God all through my challenges during this pandemic. It was hard, but there was beauty and grace present as well."
Isaiah says it was the grace of the Rosary that first led him to the Catholic Church.  He says a group of people in his recovery group were getting together to pray it and he joined them, not knowing what it entailed.
"The grace and the peace that I felt praying the Rosary were just so amazing," he says.
He told his friend Dillon, who invited Isaiah to St. Anthony of Padua Parish in Westbrook for a Latin Mass dedicated to the Blessed Mother.
"I went. I prayed the Rosary and just the peace showered over me," Isaiah says.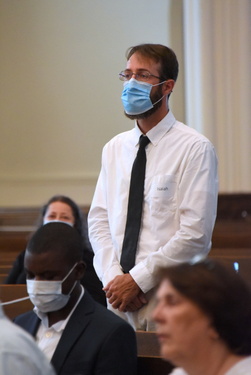 After attending the Latin Mass a few times, Isaiah accepted Dillon's invitation to join him for Mass at the cathedral.
"I went to the cathedral and, wow, I recall a feeling like, 'I think this is where God wants me to be,'" he says.
He remembers something Dillon told him at the time.
"He said, 'When I go to Mass and pray the Rosary, I get a feeling that what I am doing is pleasing to God.' That resonated with me," says Isaiah.
Isaiah says there were many reasons going through his head on why he shouldn't become Catholic, but he says, "I couldn't shake the feeling I had in my heart, so I just kept coming."
Despite his family's connection to the Baptist Church, he says they have been supportive, seeing the change his journey had made in him.
"I have since received so much love and prayer from all of my family for answering the call to come closer to God," he says.
He now describes his life as one of  "openness and light."
"It's so beautiful."