March 2023: Pope Benedict XVI: Remembering a humble laborer
Image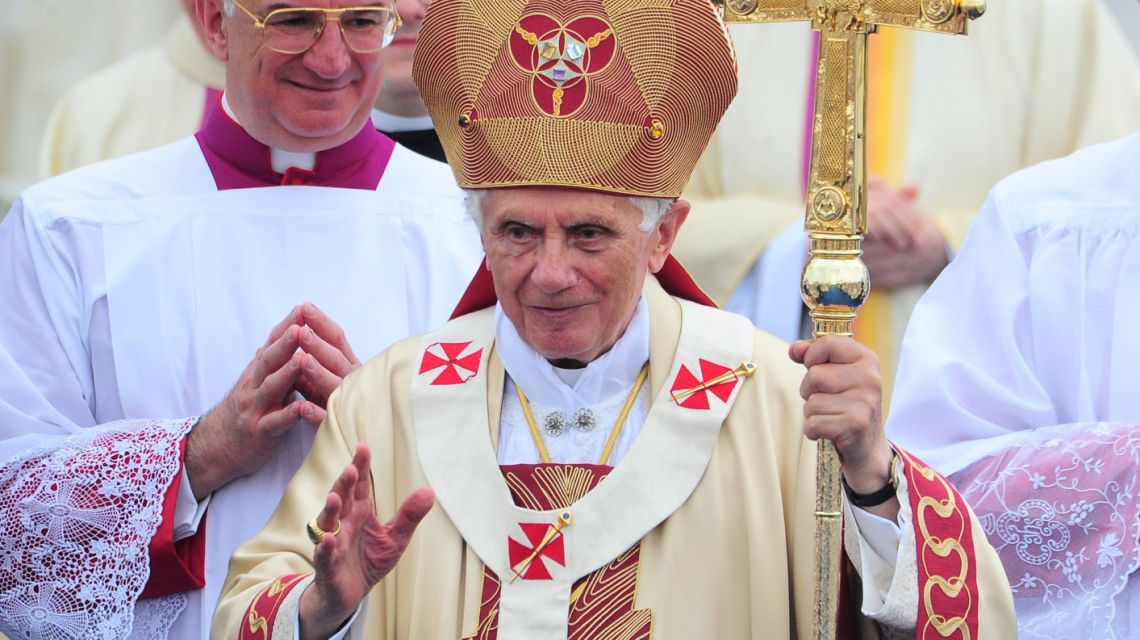 Pope Emeritus Benedict XVI, widely considered to be one of the Catholic Church's foremost theologians, died at his home at the Vatican on December 31. He was 95 years old. 
An estimated 50,000 people attended the former pope's funeral Mass, celebrated by Pope Francis in St. Peter's Square on January 5. Thousands more gathered in churches around the world, including in the Diocese of Portland, to pray for the repose of the soul of the man who guided the Church from 2005 to 2013. 
During a Mass celebrated at the Cathedral of the Immaculate Conception in Portland, Bishop Robert Deeley, who worked with Pope Benedict, then Cardinal Joseph Ratzinger, in the Congregation for the Doctrine of the Faith nearly 20 years ago, remembered him as a great man, a brilliant theologian, and a holy priest.
"He loved the Church and its people. He wanted to be sure that the teaching they received was faithful to the truth of the Gospel, and he was committed to that responsibility," the bishop said.
"I thank God this day for Pope Benedict's love for Jesus, which he shared with us, his love for the truth found in the interplay between faith and reason, and his love for the Church, even in the turbulent times in which he served," said Father Daniel Greenleaf, pastor of Prince of Peace Parish, during a Mass celebrated at the Basilica of Ss. Peter and Paul in Lewiston.
Early life
Joseph Ratzinger was born in Marktl am Inn, Germany, in 1927. The son of a cook and a police officer, he always felt his life was immersed in the Paschal Mystery from his birth on Holy Saturday and his baptism the next day in the newly blessed Easter waters.
During the turbulent years of World War II, the Ratzinger family moved into successively smaller communities in an attempt to avoid involvement with the Nazi Party. They were not completely successful. Young Joseph was drafted into the German army but deserted near the war's end and spent time in an American prisoner-of-war camp.
He studied philosophy and theology; was ordained, along with his brother Georg, in 1951; and earned a doctorate in theology in 1953. For years, he was a professor of theology at various universities in Germany. He quickly became renowned for the depth and breadth of his intellect and, in 1962, was selected by Cardinal Joseph Frings of Cologne to be his consultor during the Second Vatican Council. He published numerous essays, sermons, and reflections over the years, cementing his scholarly reputation.
Cardinal Ratzinger
In March 1977, Pope Paul VI named Father Joseph Ratzinger the archbishop of Munich and Freising. He was elevated to the College of Cardinals in June of the same year. His most prominent position prior to the papacy was that of prefect of the Congregation for the Doctrine of the Faith. It is in this role that Cardinal Ratzinger was responsible for defending the orthodoxy of Church teachings.
Despite his difficult role as the enforcer of Church doctrine, he was known to colleagues, neighbors, and friends as a gentle, pastoral man with a dry sense of humor. 
"He was a shy man, not given to wanting to be in the public eye," Bishop Deeley said. "But as shy as he was, he was inquisitive and interested in the world. His theology reflected on the world in which he lived, and he always saw God and His creation at the center of reality."
Bishop Deeley, who went to work for the congregation in 2004, remembers the time that the cardinal would take to meet with staff members and celebrate important events in their lives.
"It was there … that Cardinal Ratzinger would want to shed his shyness for a moment and move around, among the staff," the bishop said. "The joy he took in life was evident to all the staff. It was an intensely loyal group, loyal to this good man."
Before becoming pope, Cardinal Ratzinger lived quietly in an apartment in Rome, walking to work every day and chatting with those he passed in the streets. He was respected for his ability to listen intently and thoughtfully, even to those with whom he disagreed.
Papacy
Following the death of Pope John Paul II, for whom he had become a respected theological advisor, Cardinal Ratzinger was elected as the 265th leader of the Catholic Church on April 19, 2005.
"After the great Pope John Paul II, the cardinals have elected me, a simple and humble laborer in the vineyard of the Lord," he said in his first address, delivered from the central balcony of St. Peter's Basilica.
He took the name Benedict, the founder of the Benedictine Order, a saint known for his intellectual prowess and for saving Western civilization. St. Benedict is the patron of Europe, and the name Benedict means "blessing."
As pope, Benedict XVI traveled and wrote extensively. His work included a trilogy of books on the life of Jesus Christ and encyclicals on Christian love, hope, and charity in truth.
"The first [encyclical] was God Is Love. It's a masterpiece," said Msgr. Charles Murphy, a priest of the Diocese of Portland, who formerly served as rector of the North American College in Rome and worked on the Catechism of the Catholic Church, which was overseen by Cardinal Ratzinger. "He wanted to affirm love in all its aspects. We're used to thinking of love in the Gospels as only altruism, but he said no. There are three words for love in Greek. Love in Greek involves eros — physical attraction. It involves philia — friendship. And it involves altruism or self-sacrifices. It's all three."
Pope Benedict's legacy also includes his teachings on faith and reason, which he said should complement each other, not be in conflict.
"In a contemporary world where faith and reason are considered enemies, the pope believed that faith and reason fed each other to a clearer understanding of God and the world in which we find ourselves," said Father Greenleaf. "Pope Benedict saw faith and reason as mutually enhancing and as the path to God. Reason also brought a sense of clarity to his faith life and to his theological writings that are now permanent treasures for the Church for future generations."
Pope Benedict's reign was marked by a call both to restore traditional Catholic practice in order to correct erroneous interpretations of the Second Vatican Council and to return to fundamental Christian values in order to counter growing secularization around the globe. He often identified relativism, with its denial of objective moral truth, as the central problem of the 21st century. These concerns informed many of his major initiatives as pope.
During his papacy, Benedict relaxed restrictions on celebrating the Latin Mass, invited Anglicans disillusioned with recent decisions by the Anglican Church to join the Roman Catholic Church, affirmed the new evangelization by establishing the Pontifical Council for the Promotion of the New Evangelization, and declared a Year of Faith in 2012-13.
As with his predecessor, Benedict XVI also faced the deeply troubling sexual abuse crisis. Although the pope faced criticism for his response to it, Bishop Deeley said he witnessed for himself the deep concern the cardinal and then pope had for the people of the Church. 
"This was the man who listened and learned of the enormity of the harm that had been done by sexual abuse, and he acted. He set out to establish a new way to deal with those horrendous cases. His first document was published in 2001 by St. John Paul II, his second in 2010 when he himself was pope. It is in these documents that he designated one office in Rome to handle the cases so that the jurisprudence would be consistent, and it is in these documents that he established 'zero tolerance,' one offense and the cleric is no longer able to function in ministry," the bishop explained. 
Retirement
On February 11, 2013, Pope Benedict made the stunning announcement that he intended to resign the papacy. It is a choice that Msgr. Murphy said will be among the pope's lasting legacies.
"When John Paul II was pope, he had terrible Parkinson's disease, and he could barely talk. He was totally immobile, and yet, he didn't feel like he could retire. Popes don't retire is what he would say. But Ratzinger was more sophisticated as a theologian and knew it was possible for a pope to retire if he felt he couldn't do it. It opens the door for Francis and for future popes," Msgr. Murphy said.
After his retirement, Pope Emeritus Benedict XVI resided in a monastery in Vatican City, living a life of quiet prayer and study.