A legacy of love at St. Mary's Health System
Image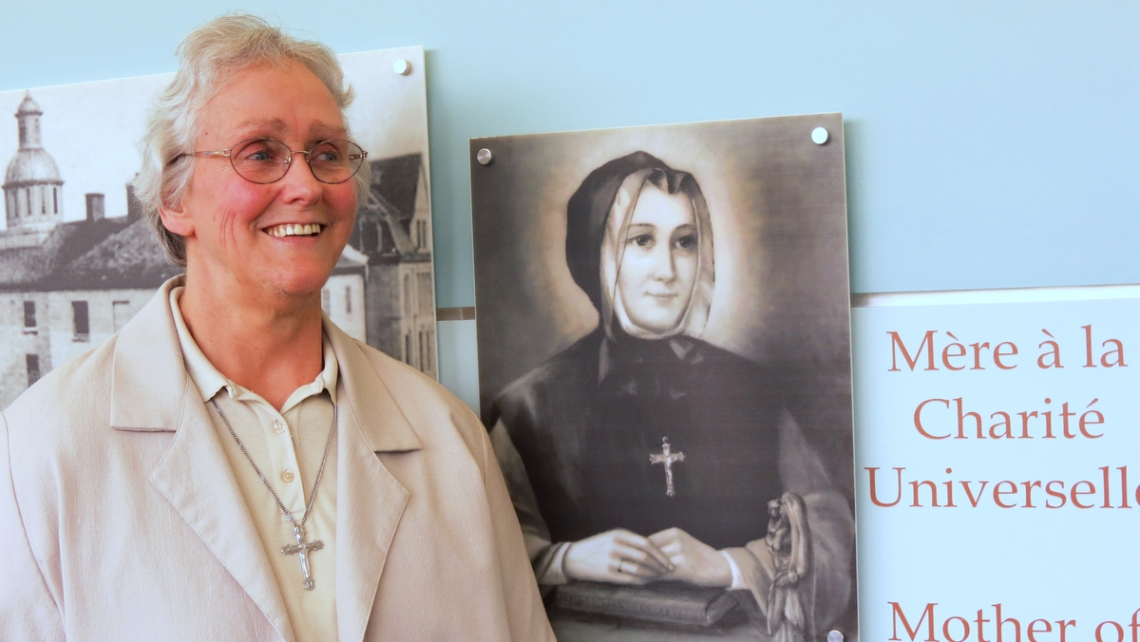 In 1888, responding to the need to provide health care to thousands of French-Canadian immigrants working in the mills of Lewiston and Auburn, the Sisters of Charity of Saint-Hyacinthe established a 30-bed hospital in Lewiston, the first Catholic hospital in Maine. It was known by various names: the Sisters' Hospital, the French Hospital, the Catholic Hospital, and then, in 1902, when a larger facility was built, it became the L'Hopital Générale Ste. Marie – St. Mary's General Hospital.
As St. Mary's — now St. Mary's Health System — grew and evolved through the years, it remained committed to the spirit of the sisters and their foundress, St. Marguerite d'Youville, who promised, "We shall continue to love and serve." But now, for the first time in 134 years, St. Mary's will have to carry that mission forward without a Sister of Charity physically present. Sister Claire Pouliot, SCSH, the sole Sister of Charity serving there, retired in April.
"We send our gratitude and appreciation to Sister Claire for her 24 years as a social worker at d'Youville Pavilion and to all of the Sisters of Charity of Saint-Hyacinthe for their legacy of healing, love, and responding to the needs of the community with generosity," says Elizabeth Keene, St. Mary's vice president of mission integration.
There were once around 100 Sisters of Charity of Saint-Hyacinthe, also known as the Grey Nuns, serving at St. Mary's. However, with the number of sisters declining and with the increasing challenges of running a modern-day health-care system, sponsorship of St. Mary's was transferred to Covenant Health Systems in 1992. When Sister Claire began serving there in 1998, other sisters were still present, but before long, only she remained. Sister Claire says that although she was the only Grey Nun at St. Mary's for nearly two decades, she never felt alone.
"I thought that I was on the shoulders of those who had lived there and worked there before me," she says.
Sister Claire says she also had deep trust in God and confidence that St. Marguerite d'Youville would answer her prayers and intercede on her behalf.
"It always worked out because I would pray to her: 'Take care of us.' Then, I would leave the situation, and over time, it worked out," says Sister Claire. "I really do feel that is how I was able to succeed."
Sister Claire has been a Sister of Charity of Saint-Hyacinthe for nearly 54 years. Growing up in Manchester, New Hampshire, where she attended Catholic school, she says she first felt a call to religious life when she was in high school
"I realized that I wanted to work for the Church and serve the people," she says.
Not yet familiar with the Sisters of Charity of Saint-Hyacinthe, she entered the Sisters of St. Martha, a congregation committed to housekeeping and hospitality. Some of the sisters were serving at her home parish at the time.
While Sister Claire says she can't pinpoint why it wasn't a good fit, it didn't work out, and she returned home. She took a job at Notre Dame Hospital in Manchester, and that is where she became acquainted with the Sisters of Charity of Saint-Hyacinthe.
"I guess God's plan was for me to be here. I applied at age 21 for this community, and I was accepted," she says.
She professed first vows in August 1968 and went on to work in a number of different areas, from a business office to childcare, but came to realize that where she felt truly called was serving the elderly. She recalls that pull existed even when she was still discerning with the Sisters of St. Martha, and they went to visit a hospital in Canada that cared for children and the elderly.
"In my heart, I said, 'This is where I should be.' I just didn't know how to get there," she says.
She also recalls developing a close relationship with her grandmother, who had suffered a stroke and went to live at her parents' home, and she says her desire to serve seniors crystalized even more after doing hospice work at Saint Antoine Community in Rhode Island.
"That is where I really felt that working with the elderly was going to be my main work as a Sister of Charity," she says.
With the support of the sisters, she went back to school to earn a bachelor's degree in sociology from Westbrook College (now the University of New England) and a master's degree in social work and pastoral ministry from Boston College.
Having no experience, she says she was having difficulty finding a position when the congregation suggested trying St. Mary's Hospital, which then directed her to St. Mary's d'Youville Pavilion.
"They sent me across the street to do an internship to see how it would be, whether we would be compatible or not, and I've been there ever since," she says. "It just lasted all this time."
She says she started in admissions but later was assigned the care of 40 people in two units. Among her responsibilities were developing care plans for the residents and making sure they were followed, helping people apply for MaineCare if they were eligible, and helping residents and families who needed to draw up a power of attorney.
"When I first started there, I thought to myself, 'How am I going to know what to do?'" she says. "But once I got into it, the days went by fast."
Throughout her work, she never lost sight of her community's calls to love and serve, nor the hospital's values of compassion, excellence, integrity, and stewardship.
"Just by my presence and by my ministry, trying to be always listening and living those values," she says. "Even though sometimes there was nothing we could do, just being there, being present to the staff and the families and the residents was very important."
At times, the work was difficult, but she says that each night, she would turn it over to God.
"When I would leave at night, I would leave all the problems in God's hands, I would say, 'I'm coming back tomorrow, and I'll pick it up then, but for now, I'm leaving it in your hands.' I put my faith in God and my trust in God to do that kind of work," she says. "I just believed, and I trusted, even though sometimes it was very hard because of the issues that we were dealing with."
Sister Claire says even though there will no longer be Sisters of Charity physically present at St. Mary's, with a strong and faith-filled person like Elizabeth Keene serving as vice of president of mission integration, she believes the Grey Nuns' legacy will continue.
"I think a strong person in mission integration keeps those values alive and well," says Sister Claire. "The motto 'We will continue to serve' expresses the service we hope will continue."
While Sister Claire's departure is a loss for St. Mary's, Keene says the presence and spirit of the sisters are still keenly felt.
"Although the Sisters of Charity of Saint-Hyacinthe are no longer a physical presence on our campus, their charism and their influence inspire us each day," says Elizabeth. "St. Mary's will continue to honor their vision of a healing ministry."