January 2021: The beatification of Father Michael J. McGivney
Image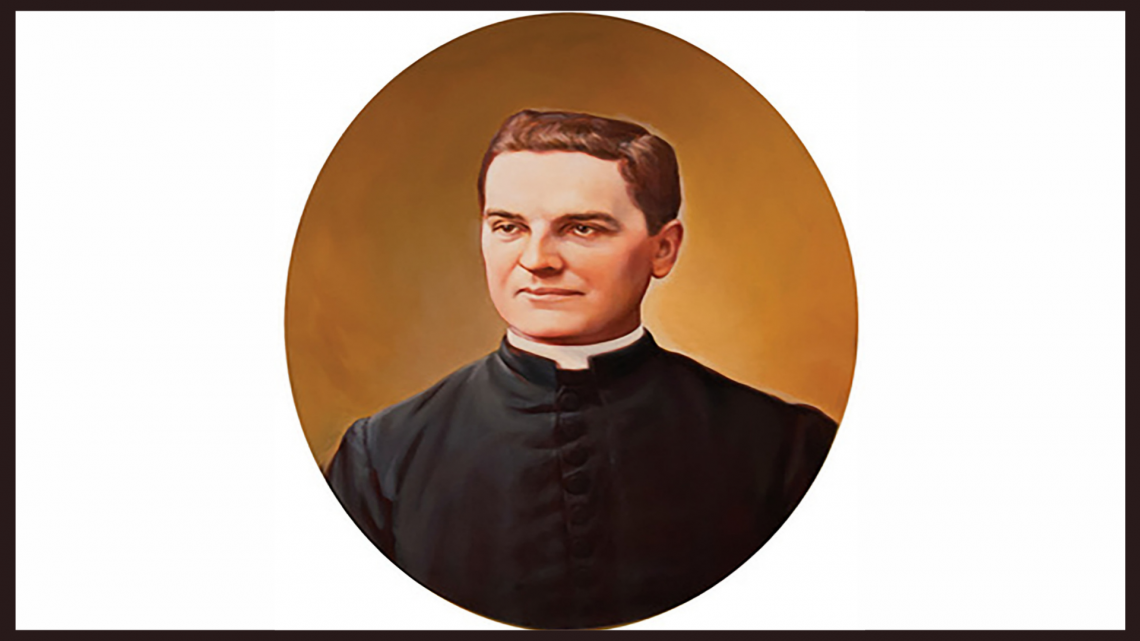 Knights of Columbus in Maine and around the world are celebrating the beatification of Father Michael Joseph McGivney who founded the lay fraternal order in 1882. Father McGivney was beatified in the Cathedral of St. Joseph in Hartford, Conn., on October 31, 2020.
In his apostolic letter proclaiming Father McGivney to be among the Church's Blessed, Pope Francis wrote that the priest's "zeal for the proclamation of the Gospel and generous concern for the needs of his brothers and sisters made him an outstanding witness of Christian solidarity and fraternal assistance."
"He inspires us Catholic men to put faith into action. In founding the Knights, he forever connected the priests, bishops, and laity in service to the Church," said James Badger, Grand Knight of Sekenger Council 1947 in Brunswick.
"It is truly humbling to know how many lives a 29-year-old parish priest has touched," said John Deetjen, Jr., state deputy of the Maine State Council of the Knights of Columbus. "Today, there are over two million members of the order, with councils located in the United States, Canada, Mexico, the Philippines, Poland, Ukraine, South Korea, and France."
Born in Waterbury, Conn., in 1852, Michael McGivney was the eldest son of Catholic Irish immigrants. An excellent student, he graduated at age 13 and went to work in a brass factory, helping to support his family. The pastor of his church, however, encouraged Michael's priestly vocation, and in 1868, he began seminary formation. With his father's death in 1873, Michael returned home, fearing he would no longer be able to continue his studies. Fortunately, the bishop was able to secure a scholarship for him to attend St. Mary's Seminary in Baltimore, Md. He was ordained a priest in that city's cathedral in 1877 for what is now the Archdiocese of Hartford.
Assigned to St. Mary Parish in New Haven, Conn., a parish with a pastor in ill health and tremendous debt, Father McGivney rose to the occasion. Described as a natural and engaging leader, his concern for the poor and marginalized touched the hearts of parishioners as well as those of the community, during a time when there was strong anti-Catholic sentiment. In an effort to alleviate the suffering endured by widows and orphans and to provide for their needs, Father McGivney founded the Order of the Knights of Columbus in the basement of the church in 1882. Dedicated to the principles of charity, unity, and charity, the order served as a community where laymen could become "brothers" in serving others and in supporting one another spiritually. Though Father McGivney founded the order, he insisted that it be led by the laity, not by the clergy.
"In his crowning achievement of founding the Knights of Columbus, he anticipated the call of the Second Vatican Council for greater lay participation in the mission of the Church," Supreme Knight Carl Anderson said during the beatification Mass.  "He embodied the order's principles of charity, unity, and fraternity, and his example continues to guide the two million members of the Knights of Columbus today."
"Father McGivney saw strength in numbers. He saw that if the Catholic communities of New Haven and beyond could join together, we could become an irresistible force in general society. He pointed out that our very Church was started by one man, who prayed on His last night on earth that His disciples all be one. Those men, poor fishermen of Galilee, set out to conquer the Roman society, one community at a time. Today, that Church is truly a universal Church, found in all locations around the world. Father McGivney drew on the success of Holy Mother Church to establish an order that, to this day, is still growing. Each year, we set new records in the total money we raise for charitable causes, as well as the number of hours we contribute to the welfare of society," said Deetjen, who participated in beatification festivities held at St. Mary Church.
There are currently more than 16,000 Knights of Columbus councils around the world including 70 active councils in Maine made up of 7,300 members.
Father McGivney was the pastor of St. Thomas Parish in Thomaston, Conn., during the pandemic of 1890 which killed about one million people. He developed pneumonia while caring for the sick and died on August 14, 1890, just two days after his 38th birthday.
"Blessed Michael McGivney passed away during a pandemic. In many ways, it was providential that he was beatified during one. I believe he would have seen many parallels between 1890 and 2020. During his last months, influenza-induced pneumonia rendered him unable to physically attend to the needs of his parishioners…but he certainly served them spiritually during this time, praying constantly for their needs. His humble passing should remind us that we can do so much with simple acts: prayer, contributions of time, talent, and treasure," said Deetjen.
The Archdiocese of Hartford opened Father McGivney's cause for sainthood in 1997 in recognition of his charitable devotion to the marginalized and his commitment to his faith. Pope Benedict XVI declared Father McGivney venerable in 2008 following the investigation into his life by the Congregation for the Causes of Saints, which found he had lived "a life of extraordinary and heroic virtue."
This October's beatification came after Pope Francis recognized a miracle attributed to Father McGivney's intercession. The miracle involved the healing of an unborn baby from a life-threatening condition in 2015. Now age 5, Michael Schachl and his family attended the beatification Mass.
For Father McGivney to be canonized and be declared a saint, a second miracle must be attributed to him and must come now that he has been beatified.
"There are so many prayers for his intercession that I'm sure another miracle will be approved in our lifetimes," says Deetjen.
If that happens, he could become the first American-born man to be canonized, joining three female saints from our country: St. Elizabeth Ann Seton, St. Katharine Drexel, and St. Kateri Tekakwitha.