An island parish celebrates its centennial
Image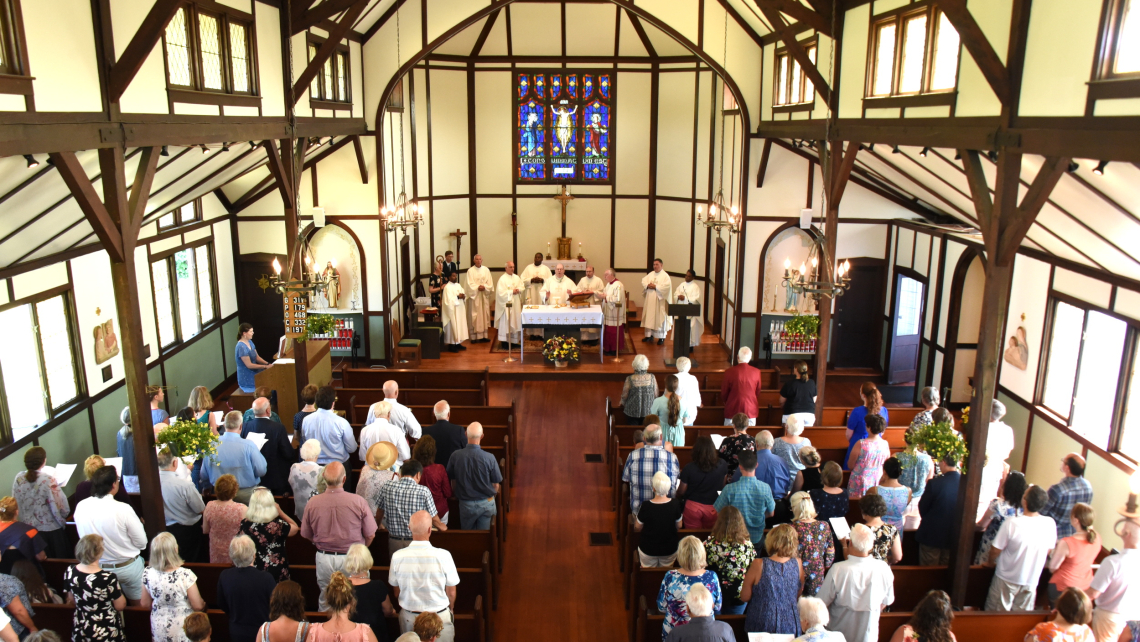 For 100 years, St. Christopher Parish has been a vital part of the Peaks Island community, and on Sunday, July 23, residents joined with Bishop Robert Deeley and current and past priests of the parish to celebrate.
"It's important because it is the rock of the community," says Mark Clements, a parishioner.
"We feel very, very blessed that they still allow us to have our humble church," says Peggy Clements, his wife. "We are truly honored for all the priests who have been coming here throughout the years to say Mass for us."
Priests have been crossing the waters of Casco Bay to celebrate Mass on what is now Peaks Island long before any of the current parishioners or even their grandparents or great grandparents were born. There is evidence that Father Sebastian Râsle, who lived among the Abenaki people in Norridgewock, celebrated the first Mass on the island in the late 1600s or early 1700s.
Masses began to be regularly celebrated in 1911, driven by an influx of summer residents, many of them Irish Catholic families. Summer steamboat service to the island had begun about 40 years earlier. 
"It was not a Catholic island by any means. Most of the people who came here were summer residents, and they were the ones who really pushed and worked for St. Christopher's, to get a Catholic church, because they would go to the cathedral or some [other] church in the summer, and it's a trek. They didn't have buses or cars at the time. They would walk from their cottage to the boat and then, in Portland, up to the church," says Ellin Gallant, age 93, who grew up on Peaks.
Masses on the island were first held at the Greenwood Gardens Dance Pavilion and later at The Gem theater, but with attendance reaching into the hundreds, Father George Johnson, rector of the Cathedral of the Immaculate Conception in Portland, recognized the need for a true worship site. In June 1923, a deal was completed to purchase a 30,000 square-foot lot from Herman Littlejohn. Groundbreaking for the new church took place in October, and the first Mass was celebrated on March 9, 1924.
Many of today's parishioners, like Gallant, have roots that go back to those early days.
"My parents and my grandparents went to church every Sunday, and my grandmother was very active," says Gallant. "My grandmother loved the island because it reminded her of Ireland. She was from Galway Bay."
"My grandfather was one of the people who helped get the parish started, so we've been lifelong parishioners," says Kim MacIsaac, who has been researching the parish's history.
The church, originally brown in color, was built in the mission style with open timberwork throughout. It could seat 440 people with another 70 in the choir loft, which was then in use. At first, parishioners sat in wooden chairs, but pews would soon arrive.
Gallant and her sister, Joyce O'Brien, age 91, have vivid memories of their years growing up in the church, recalling most especially Father Samuel Donovan, who served as pastor from 1928-1945. 
"He was a marvelous, marvelous man," says O'Brien. "Everybody seemed to, at one time or another, go to him for one thing or another. He was very much loved by not only us but by the whole island."
The sisters say Father Donovan had previously gone to medical school, and although he didn't practice medicine, he sought to help people as much as possible, realizing that the island had no doctor and that families were struggling due to the Great Depression.
"He didn't show any preference, Catholic or Protestant, poor or rich, whoever went to him for help got it," says Gallant.
Through the years, a number of improvements were made to St. Christopher Church. Joyce and Gallant remember their grandmother organizing card parties to raise money to buy Stations of the Cross.
"Card parties were very popular in the 1930s," says Gallant.
In the 1950s, a parishioner donated a stained-glass window for the sanctuary, which depicts the crucifixion in the middle, with Mary to the left and St. John to the right. 
"It is the most striking thing when you walk in the door," says MacIsaac.
Also in the 1950s, the church received the gift of a carillon, and in 1964, a belfry was added to house it. The carillon, which has since been replaced, rings every day at noon.
"People actually listen for the 12 o'clock ringing of the Angelus. It's a strong reminder, I think, of our faith," says Fred O'Keefe, chair of the Centennial Committee.
Some parishioners who were stonemasons would later create a Marian Shrine outside the church, and for the parish's 50th jubilee, a replica of Michelangelo's Pietà was donated. 
As it approached the century mark, the church was beginning to show its age and underwent renovations. The Pietà and a statue of St. Christopher were restored, as was the sanctuary stained-glass window. New wiring and vintage-style lighting were installed. Old carpeting was removed, and the floors were refinished.
"The church looks beautiful and is ready now to gather in its parishioners and bring them closer to the Lord Jesus through the prayers and Masses that will continue to be celebrated here. I understand there may still be some things to do, but it is quite an accomplishment to have done what you have," Bishop Deeley said during the Mass.
To help pay for the renovations, pavers were sold, which now lead the way to the church. The bishop blessed the new walkway following the centennial Mass.
Parishioners say they received support for the renovation project from across Peaks Island and beyond. Last winter, for instance, dozens of people turned out to move the pews so that the flooring could be done.
 "All kinds of people came forward to help. Many of them weren't Catholic, but they realized this was a community thing. It was an important historical milestone, and they wanted to help," says Kim MacIsaac.
"People were just doing all kinds of different things to help out, and that, I think, taps into a deep Christian intuition and truth that's revealed by Christ, which is that we're not made to be happy by getting what we want. We're made to be happy by offering what we can to God and to our neighbor," says Father Seamus Griesbach, pastor.
Parishioners of St. Christopher say there has long been a strong sense of community on the island.
"Because it's away from the mainland, there is a lot of reliance on other people. When you need people or something needs to be done, it doesn't really matter if you're Catholic or Protestant, everybody supports everybody," says Phyllis MacIsaac, who has been coming to the island for 65 years and has lived there full time for more than a decade.
"It is one of the most accepting communities that I have ever been in, very lovely people of all faiths," says Peggy Clements, who began living on Peaks full time four years ago. "We all support each other, and they have made Mark and I feel very, very welcome."
Although it has retained its small-town feel, parishioners say the makeup of the community has changed through the years.
"When I was here as a child, there were very large families, six, seven, eight children in a family, including my family, which was seven children. That's the biggest difference right now. Those large families are all grown up," says Phyllis MacIsaac.
Despite that, they say St. Christopher remains an active parish.
"We do a lot of gatherings after Mass and just a lot of other activities, so it's a lovely church community that we have here. It's very special," says Phyllis MacIsaac.
And it has a core group of parishioners dedicated to keeping it that way. 
"It's small, so I'm sacristan, altar server, and eucharistic minister, sometimes all on the same day. I also teach adult Bible study," says Mary Anderson, a longtime parishioner. "Because it's so small, you feel like you have to do something. You can't assume someone else is going to do it."
"I'm going to continue to be involved at St. Christopher's as long as they let me do it," says O'Keefe, who checks on the church from time to time and has served on the Finance Committee, the Parish Council, and as sacristan.
While the centennial celebration has now passed, the St. Christopher community hopes that its impact will last beyond one day's events.
"That was our hope, when we were discussing this centennial, that this would be a bit of an on-ramp and a way to reach out to some of our parish families that, over the years, for one reason or another, have grown a little bit more distant from the practice of their faith," says Father Griesbach. "Even though they have that great heritage, like any great heritage, you have to renew it, or else, you're living in a museum. If it's going to have life, then each generation has to take up that same mantle and really accept ownership of it."