An Invitation to Follow the Way of the Cross
Image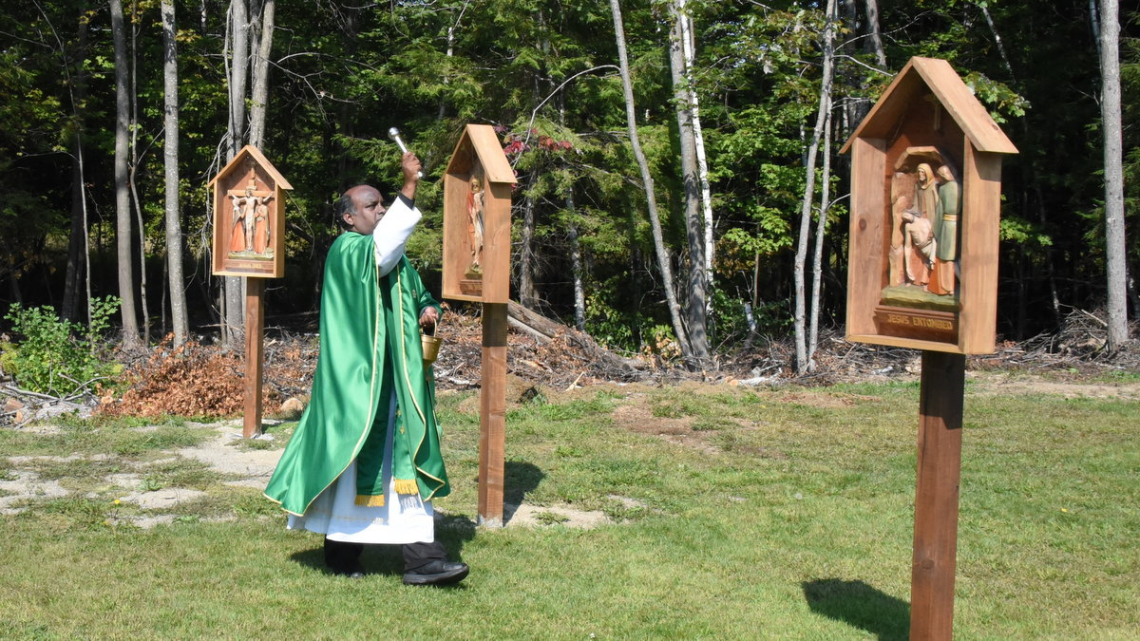 Parishioners in East Millinocket, as well as other community members and visitors, have a new place to go to pause, reflect, and pray.
Christ the Divine Mercy Parish has added fourteen Stations of the Cross to the grounds outside St. Peter Church.
"It's a wonderful place for people to just take time. Sometimes, you need that quiet time, away from everything else," says Rena Lagasse, who recently moved from Limestone to East Millinocket. "It's beautiful. It's just amazing what they've done, and it's beautiful to have something so close to home, so we can come and worship."
"It's like a walk with Christ, and it's in a setting where His beauty is surrounding us. You feel close to Him," says Janice Krause, from Millinocket and Florida.
The Stations of the Cross form a half circle around a large wooden cross and a statue of the Blessed Mother, and together, they make up what Father Dominic Savio, HGN, administrator of the parish, hopes to name the Christ the Divine Mercy Shrine with Mary's Way of the Cross.
The stations were blessed by Father Savio following an outdoor Mass on Sunday, September 11, the culmination of a project that dates back more than a year.
"They're beautiful. They've done a nice job. This church feels like family, and the Stations of the Cross fit right in," says Richard Krause, Janice's husband. "I think God provided a beautiful day for a beautiful service."
After being named administrator of the parish in April 2021, Father Savio says he noticed that the outdoor area dedicated to the Blessed Mother needed some work, so he turned to parishioners with the hope of making improvements in time to commemorate Mary's nativity, which is celebrated on September 8. Although they didn't make that deadline, parishioner Bob Carr volunteered to paint the statue of Mary and surrounding archway, donating both the labor and materials.
The nearby wooden cross also needed replacing, and again, parishioners stepped forward. Ralph Ouellette created a new one out of an old telephone pole, while George Ouellette added in elements such as nails.
Father Savio says he next thought about adding Stations of the Cross because he wanted people to have a place to go when the church was not open and wanted something visible from the road.
"I said, 'Why don't we do something to make a path so people could walk around this place, have an evening walk or something so they can pray?'" he says.
Father Savio says he discovered that years ago there were thoughts about having outdoor Stations of the Cross, and he decided it was time to make that happen.
The first challenge was acquiring the stations without spending a lot of money. He says he recalled from his days serving at Corpus Christi Parish in Waterville that Stations of the Cross had been saved from the former St. Francis de Sales Church, so he reached out to Father Dan Baillargeon, the pastor there. Father Savio says he learned that while the other items taken from the church had been given away, the 14 wooden stations were still in storage.
"I thought, 'Maybe God wants me to bring those.' The next day, I went and picked up all the stations," he says.
"Having part of our parish come here to Millinocket, to this area, is just a wonderful thing to see," says Janet Brunette, a Corpus Christi parishioner and friend of Father Savio's who attended the Mass and blessing. "I have been hearing all about the plans before it came into fruition, and I'm so excited to be here to share this."
Once Father Savio acquired the Stations of the Cross, he again turned to George Ouellette, a talented woodworker, who, over several months, designed and built cabinets to house each of them.
 "I bought the lumber, and then I cut each piece that I needed. I needed 28 pieces for the sides, so I cut those 28. Then, I needed to do the little roofs, so I made 28 of those pieces, and for the bottom, I needed 14, and I cut them all evenly," he says.
Ouellette added plexiglass to the front of the cabinets, so the stations could be easily seen, yet protected from the elements. He also stained and waterproofed the cabinets, then reached out to another parishioner, Herman Deloge, who donated posts on which to hang them. The posts were then cemented into the ground.
 Ouellette says he believes they will be a valuable addition to the parish community.
"It's been a long time coming," he says. "I think being outside, with people driving through, it's going to be noticed, and maybe it will make a difference."
Father Savio says he believes they already have.
"I see already people bringing their grandkids and showing them and teaching them what it is and all these things," he says. "We don't open the churches 24 hours these days, but if we have something outdoors, they can teach them: 'This is the cross. This is Mother Mary. These are the Stations of the Cross,' and all these things. There are a lot of young ones who come around here to play. They come and ask me sometimes, 'What is this? What are you doing here?' And I explain to them this is the Stations of the Cross. This is how Jesus died. So, they learn something spiritually."
Father Savio plans to add an outdoor cabinet which will house "Mary's Way of the Cross" booklets for people to use.
There are also plans to add a paved pathway to make the area wheelchair accessible. About 15 feet of distressed trees and brush have already been cleared away to create room.
The project also included adding flowers along the path that leads to the statue of Mary. For that, Father Savio received assistance from a parishioner nearly 200 miles away. Renee Wright, who does gardening at the Cathedral of the Immaculate Conception in Portland where Father Savio once served, made the trip to East Millinocket with her daughter, with vibrant results.
"It is beautiful, just beautiful. The flowers and the plants, that all adds to it. It is a very nice thing," Patty Byrant, a parishioner from East Millinocket, says of the enhancements. "I am glad that Father did this. This is a beautiful thing."