A grandmother's legacy of faith
Image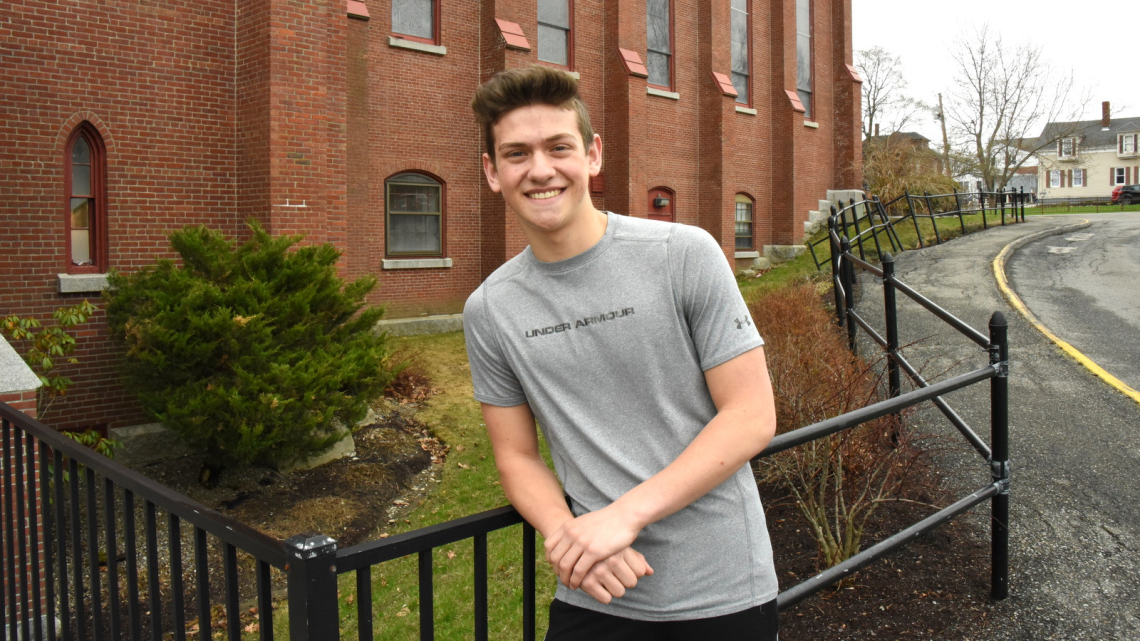 In late summer, David Robichaud, an 18-year-old from the town of Hermon, will begin studies at the Massachusetts Institute of Technology (MIT) in Cambridge. David will bring with him the math and science prowess that led to his acceptance at the prestigious school, as well as something else — his deep Catholic faith.
"There is so much stress in the world. There is so much everything, but I think I am in a really good place in my life, and I think it's because my faith is so strong," he says. "It has just made me more confident. I just feel that it's given me a sense of peace."
David attributes his faith to his upbringing. Prayer, he says, has always been part of his daily life.
"Every single day since I was born, we always pray before meals, and before we go to bed, we always do the Our Father, Hail Mary, Glory Be, the Angel of God prayer, and then the St. Michael Prayer. Then, my mom does the petitions, intercessions in which she prays for the whole world. It's always long," he says.
David has his own prayer routine as well.
"When I brush my teeth, I have a Bible app that has a morning and night prayer. So, I pray when I brush my teeth in the morning and again when I brush my teeth at night. Then, I have a Mother Teresa book. It has a one-paragraph quote from her for the day, so I read that before I go to bed," he says.
He says he also frequently dives into My Daily Bread, a book of short reflections and prayers that his mother gave him two Christmases ago.
"I think I've read it three times. I have a colored pen and then a highlighter, and I write in it, and every time I re-read it, I use a different one, so now, there are like six colors in it," he says.
In addition to his parents, David says an important influence in life has been his grandmother, so much so that it was she who came to mind when he entered an essay contest asking high school students to write about "the person in whom you most see the face of Christ."
"I've just been so thankful to her my whole life because she was the holiest person I ever met," he says. "She was just this peaceful, incredible person. I feel like she didn't lead me by saying, 'Hey, here's how you do your faith.' She just showed me what it meant to be a good person of faith."
In his entry for the 2023 Father Charles Irvin Memorial Essay Contest, offered by FAITH Catholic, a partner of the Diocese of Portland in the publication of Harvest magazine, David describes his grandmother as "the most patient and happy person I ever met."
"My grandma has lived with me ever since I was born. Comfortable in her room, she always showed me that all you needed to be happy was family, faith, and a few good TV channels. No matter the time of day, her TV was always set on one of 3
channels: Food Network, Hallmark, or EWTN. As cliché as it sounds, words can't describe how kind of a woman she was. She never spoke ill of anyone, nor did she ever snap at us the way we got frustrated with her. She was perfect: the one who truly showed the face of Jesus," he wrote.
His grandmother passed away on Thanksgiving in 2020, a day David describes in the essay as one not just full of sorrow but also of gratitude.
"She showed me to be thankful for a simple life, filled with family. She showed me to be thankful for having faith. She showed me to be thankful for everything, even the outcomes that don't go our way," he wrote.
David's heartfelt reflection on his grandmother earned him first place in the contest, beating out competitors from several other dioceses. The prize was a $1500 college scholarship.
"Everything helps," he says.
In addition to the Christian witness of his grandmother and parents, David says he received another gift from his family — the opportunity to attend All Saints Catholic School in Bangor from kindergarten through eighth grade.
"People don't appreciate just how much it prepared me, not just academically for high school but spiritually," he says. "I feel like All Saints, it was the best eight years of my life, just because everyone there just had a great faith, and it was a great community."
David says the community was so strong that he struggled at first when he left that environment to attend a public high school.
"I went from going to Mass on Wednesdays and Sundays and having religion classes at All Saints to kind of none of that," he says.
He says the difficult transition led him to stop participating in youth ministry, which he had done through middle school, but he says once he got back into it, he rediscovered what he had been missing.
"Youth ministry is kind of throughout the week. Mrs. [Evelyn] Clark has done a great job. She is always posting emails, getting activities going — chili, bake sales, bowling, just community involvement. She takes that one hour a week that we spend with God through Sunday Mass and just makes it so much more," he says.
David says while he found a lot of his fellow high school students stayed with their own, small group of friends, that is not the case at youth ministry. He recalls, for instance, attending the Maine Catholic Youth Day, which was sponsored by the diocese's Office of Lifelong Faith Formation.
"Everyone is so friendly, just because they have that same fire in their faith. I think it's made me thrive socially. I would say that is a big thing my faith has helped me with," he says.
Youth ministry also provided David with service opportunities, such as Christmas caroling at a senior living center and cleaning up around gravestones at Mount Pleasant Cemetery in Bangor. David has also been an altar server since he was a second grader, helped out his father during the Knights of Columbus' annual Tootsie Roll Drive, and has volunteered at St. Paul the Apostle Parish's Vacation Bible School and at Totus Tuus, a summer faith enrichment program. During his senior year, he also was a math tutor at All Saints Catholic School, saying he wanted to give back because of all the school gave to him. He and his family have also volunteered at the Ronald McDonald House.
"Volunteerism is the most selfish thing you can do because you are going to feel good about it," he says. "I just think it's good for people to try to give back, to try to do whatever they can because life is stressful."
David says while he had initial concerns about staying connected with his faith while in college, he says he discovered that MIT has an active Catholic community.
"They gave us an app with a bunch of activities, and there were so many Catholic ones. They hold daily Masses. They have a beautiful chapel," he says. "There is a group called MIT Catholic, and they have dinners once a week. I went to that [during a visit], so we had spaghetti, and we prayed the Rosary before spaghetti."
David says as long as he gets involved in activities such as that and puts his trust in God, he is confident his faith life will remain strong.
"When you have faith, you just have so much more peace in life," he says. "You just have to follow God. He has a path for you."
David Robichaud's Essay
Read David's contest-winning reflection about his grandmother.