A gem of a teacher for 48 years
Image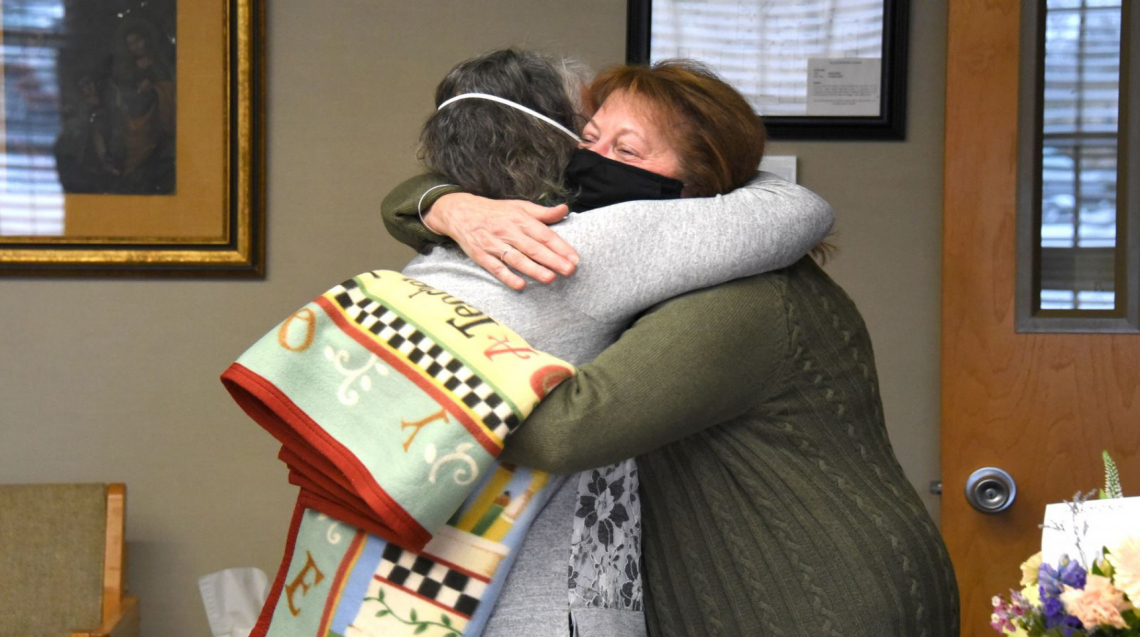 Imagine enjoying your job so much that you've continued to do it for nearly 50 years. That is the case with Estelle Beauchesne, a teacher at St. James School in Biddeford.
"I just love teaching," she says. "It's the children of course.  I've always loved children."
Beauchesne began teaching at St. André School in Biddeford in 1973 before moving to St. James School in 1992, when it was established through the merger of Biddeford's three Catholic schools. Through the years, she has taught and encouraged more than 1,200 students.
"She's amazing. She always takes care of us," says Piper, a student in Beauchesne's third-grade class. "She's always there to help. She's always happy and excited, and she is never in a bad mood."
"She's sweet. She helps us when we feel sad. She never gets mad at us when we get in trouble. She always says, 'It's okay, we'll try again,' says Marison, another third grader.
Principal Nancy Naimey describes Beauchesne as a gem, saying she brings joy to the school, inspires others, and, despite her many years of service, has never shied away from learning something new.
"She has the experience of a veteran teacher, but she embraces new ideas. She has a relationship with every person in the school — students and staff. Her faith is a beacon to the school, always leading prayers and the choir to celebrate our Catholic faith. St. James loves Estelle," says Naimey.
For all that Beauchesne has brought and continues to bring to St. James School every day, she was honored with the Maine Catholic School Teacher of the Year Award. With family members looking on, the award was presented to her in February by Bishop Robert Deeley and Marianne Pelletier, superintendent of Maine Catholic schools.
"It's such a privilege to present this to you," said Bishop Deeley. "Honoring you today reminds of us of what are Catholic schools are about."
"Your perseverance is overwhelming and amazing," said Pelletier. "There is a lot to celebrate."
"You are the personification of a Catholic educator that we all aspire to be. You are faith filled. You have a positive outlook always. You are always learning. You're an active listener. You give of yourself. You brighten the life of the others around you, and you make St. James and all the people in it better just from knowing you," said Naimey. "That light within you shines to everybody."
Beauchesne says she has felt a call to teach since she was a child growing up in Biddeford.
"I was always the one, when we played with the neighborhood kids, who was the teacher," she says. "And I taught my dolls, as I hear others have done – lining up my dolls on the couch and teaching them."
She says one of her early influences was Sister Margaret Camire, p.m., who was her fifth and sixth grade teacher at St. André School in the 1960s. Even to this day, Beauchesne says she models her teaching style after Sister Margaret, preferring to engage her students rather than sitting at her desk.
"She had a way of teaching us that we could really understand, and she was energetic," says Beauchesne. "By the end of the day, her habit was all full of chalk. I just loved the way she taught."
Beauchesne received a nice surprise during the Teacher of the Year award ceremony when Sister Margaret joined on the phone to offer her congratulations.
"I thank God this has happened to you. It's a beautiful honor," Sister Margaret said. "I praise the Lord that you took something good from me."
Beauchesne says a lot has changed since she was a student and then a teacher at St. André.
"It's a different world. I come from a time when parents were home, and now, of course, parents have to be working parents," she says. "Students are much livelier, no doubt about that. I'm finding that they need to be challenged more in the sense that they are exposed to more than students were 50 years ago."
Beauchesne says one positive is that there is much more focus today on the individual child than there was when she started teaching. For instance, she used to have one spelling lesson for all her students. Now, she has three spelling groups, each at a different level. While it's more work, she says it's worth it.
"It's targeting the child who struggles. It's targeting that child in the middle, and it's targeting the children who are above that level and are ready to move on. We do the same thing with math," she says. "We meet every child where they are."
One challenge Beauchesne has had to keep meeting over the past 48 years is ever-advancing technology. Although she says she hesitated to embrace it at first, she is now glad she did, realizing that even young children are proficient at using computers and cell phones. Technology has also turned out to be invaluable during the pandemic, especially early on when classes needed to be held remotely.
"That was really a challenge, but we adapted. We took our white boards home, and I tried to make it like I was in the classroom," she says.
Beauchesne also now uses Zoom to connect with parents because they aren't currently allowed to visit the classrooms.
"That part has been difficult for them, but they have been really good about it. We've Zoomed. We talk on the phone, email, because the parents like to be involved," she says. "I find parents here are very supportive."
Beauchesne says she admires the parents because she knows many are making sacrifices to be able to send their children to Catholic school, something Beauchesne believes is invaluable.  She says the lessons children take with them go far beyond academics.
"In the kind of world we live in, these children need a building of their faith," she says. "If students have a question throughout the day, we can bring God into anything. I think that is an important piece in my teaching. I love teaching religion and hearing what the students have to say when we have discussions."
Beauchesne says she comes from a faith-filled family where prayer was part of her life, and she can't imagine starting a school day without it, whether it is with fellow staff or with her students.
"It sets a good tone for the entire day," she says. "We can pray before lunch. We can pray before starting our afternoon. It can come at any time, and it just kind of refocuses the students."
For all but one of her 48 years, Beauchesne's students have been third graders. While many of her colleagues have switched grades through the years, Beauchesne says she has found third grade to be the perfect fit for her.
"I just have always loved third grade," she says. "It's that age where they want to be independent, but they still need you. I don't know, they're just a lot of fun."
Her students think she's pretty fun, too.
"It's fun to work with her. It's fun to play checkers with her,' says Andrew, one of her current students. "It's incredible that she's been teaching for 49 years!"
Because of the length of her career, Beauchesne says she has had the privilege of teaching some of the children of her former students.
"That's been very enjoyable. Some of them are carbon copies of their parents," she says. "It's also wonderful to see that these children who came to Catholic school, now that they're parents, they are sending their children to a Catholic school, so it shows that it meant a lot to them."
Beauchesne says it's hard to believe she has been teaching as long as she has.
"The time goes by so quickly," she says.
She says she is grateful for all who have helped her through the years, from those who set a positive example for her when she was a student to those who have been her teaching partners.
As for retirement, she says it is not something that has been on her mind.
"I've gotten closer now, of course, but it was never something that I said, 'Oh, at this age, I'll retire,'" she says. "Every year I want to do better. Every year, at the end of the year when I'm cleaning my room, I'm thinking, 'Well, what can I do next year?' So, when I'm not doing that anymore, I'll know it's time!"