Franciscan Sisters of the Eucharist welcomed to Maine
Image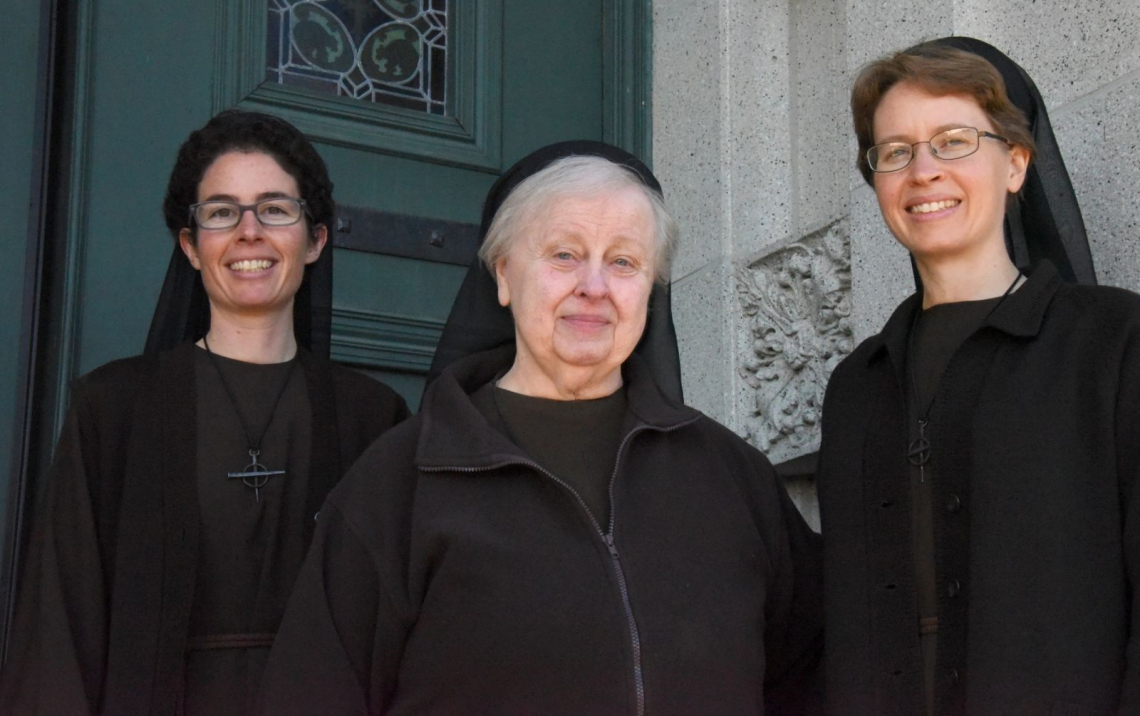 They are originally from Michigan, Tennessee, and Wisconsin, but now, three Franciscan Sisters of the Eucharist call Maine home. In July, the sisters, whose motherhouse is in Meriden, Connecticut, were sent to establish a house in Lewiston, moving into the convent located next to Holy Cross Church.
"It's definitely good to be with the people in Maine because they are so friendly and welcoming," says Sister Francesca Silver, FSE.
"On the day we arrived, a group of parishioners from Prince of Peace Parish welcomed us and helped us move in," says Sister Christianna Hamman, FSE. "It's been quite humbling actually: the support, generosity, and welcome that people have given us."
Sister Christianna and Sister Francesca are both serving in campus ministry at Saint Dominic Academy, while Sister Kateri Visocky, FSE, the third member of the community, is on staff at Prince of Peace Parish in Lewiston. Sister Kateri says she is still settling into her role with those bring holy Communion to the homebound.
"There is a tremendous amount of pastoral energy at Prince of Peace Parish with the pastor, Father Daniel Greenleaf," she says. "He has a heart for the people and wants to serve them in their many needs, as I hope to do also."
Sister Christianna and Sister Francesca bring a similar commitment to Saint Dominic Academy. Sister Christianna serves at the Auburn middle and high school campus, while Sister Francesca's ministry is at the elementary school campus in Lewiston.
"It's a lot of fun. I see all the students from pre-K through fifth grade once a week for a special religious education class. The kindergarteners come up and say, 'We're going to theology,'" Sister Francesca says.
Sister Christianna also teaches a class, sixth-grade theology, but much of both sisters' work is centered around leading retreats.
"The retreat program has been solidly built up over the last several years, and now each grade has an annual retreat. Through that retreat, students continue to understand who God is in their life and the four pillars of the school: study, prayer, community, and service. Students also grow in their relationship with each other and with God and discover who they are and who God is calling them to be," explains Sister Christianna. "The retreat program is a unique aspect of Saint Dominic Academy. As a Catholic school, we can provide a really robust retreat program."
Sister Christianna and Sister Francesca also prepare morning prayer, which students at their respective campuses lead, and they make preparations for weekly Mass.
"We have students participating as servers and readers to familiarize them with the various roles they can take at Mass," says Sister Francesca about the younger children. "We started a choir and now have 30 students singing at Mass."
"I work with a group of students called assistant chaplains. They are tenth through twelfth graders whose service to the school includes organizing and training altar servers, writing the intentions for Mass, and choosing and training lectors the readings. They are also a big part of helping with the retreats," says Sister Christianna.
The sisters hope their ministry and presence help students gain a greater understanding of the truths of our faith, so they can develop a deeper relationship with the Lord.
"We hope that having a sister present in the school provides a daily reminder of Christ and of something beyond our earthly life - that there is more. To see those who have dedicated themselves to the Church, whether priests or religious, is a good witness for youth," says Sister Christianna. "My own relationship with God has been such a vital part of my life and I want others to have that experience and opportunity."
All three of the sisters say their relationships with God go back to their childhood days.
"Where we learned our faith was in the family," says Sister Kateri, who grew up in Mason, a small town in northern Wisconsin.
"We would read the Bible together as a family every evening, discuss what we read, what it meant, and how it could apply to our lives for everybody we knew," says Sister Francesca, who is from eastern Tennessee. "It was really helpful to me."
"My parents were involved in parish committees and eucharistic ministry, so they provided a great witness of faith in action," says Sister Christianna, who is from Greenville, Michigan. "We also had a family prayer before meals and before bed. We did special things for Advent, which helped the faith come alive for me."
Sister Christianna says something about religious life attracted her as far back as her childhood. She learned about women religious from reading the lives of the saints and from the presence of sisters at her parish. When she was in high school, her youth group visited the Franciscan Sisters of the Eucharist's center in Lowell, Michigan. That led to taking piano lessons from the sisters and to serving as a part-time receptionist for them, which helped her to get to know them better.
"I met with one of the sisters every so often to talk, to learn about St. Francis of Assisi. Sometimes, I would help with outdoor projects, but I never thought about becoming a Franciscan Sister of the Eucharist," she says.
The sisters, however, may have seen something in her because, during the summer, they invited her to accompany two sisters who were traveling to the motherhouse in Connecticut.
"I thought, 'I bet they think I want to be one of them, but even though I don't, I still like to travel,'" she says. "So, I went with them and had a wonderful weekend at the motherhouse and really appreciated how the sisters lived and prayed together, attended daily Mass, and ate their meals together. They had so much joy in whatever they were doing, whether it was making dinner, baking bread, or planting flowers."
Sister Christianna majored in math and Spanish for secondary education at Western Michigan University.  The thought of religious life never completely left her, however, and after graduation, she decided to participate in a volunteer program at the sisters' motherhouse. The program combined daily Mass, prayer, and study with outdoor work.
"It gave me a lot of time to reflect and integrate childhood, high school, and college experiences. Through reflection and times of prayer, I came to see that God was leading me to a religious vocation," she says.
She made her first profession in 2012 and professed final vows in 2018. Sister Christianna says that while there was no aha moment for her, each step along the way affirmed she was on the right path.
"Each step provided me with deeper growth in my relationship with God and an opportunity to live out His call for me," she says.
The ministries of the Franciscan Sisters of the Eucharist include health care, counseling, music therapy, education, work in seminaries, and social work. Sister Christianna says teaching was a natural fit for her, coming from a household where both parents worked in education. Prior to coming to Maine, she served at schools in Connecticut, Michigan, Vermont, and Oregon.
Sister Francesca's background is also in education. She previously taught at schools in Connecticut, where she also served as a facilitator for an outdoor youth leadership program and did social work, visiting the elderly.
While Sister Francesca loved serving in Connecticut and living at the motherhouse, after professing final vows last year, she knew there were other places needing sisters.  When she heard about the Maine community, she volunteered.
"I thought it would be an adventure to begin new relationships and to bring our community to a new place," she says.
Sister Francesca says she knew little about Maine except for its reputation as a place of natural beauty, something she has always appreciated. Her college major was in outdoor education, and she spent five years living and working as a teacher and naturalist in Great Smoky Mountains National Park.
Sister Francesca says it wasn't until she was out of college and working at the park that she thought about a religious vocation. She credits a priest who came to serve at a small mission church near the park.
"He was the one who really started encouraging us at the church to go to daily Mass. He explained to us more of what Mass is and how Jesus gives Himself to us there. I started going to daily Mass because he was so compelling in explaining the gift of the Mass," she says.
The priest also began holding eucharistic adoration at the church, and Sister Francesca says it was likely her participation in adoration and daily Mass that led the priest to ask her if she ever considered religious life.
When a group of sisters traveling through the area attended Mass at the church, he encouraged her to stay afterward and talk with them. She did just the opposite.
"I used to ride my bike to Mass because it was not far from where I lived in the park. So, I got on my bike and pedaled as hard as I could to get back home, back into the park."
She says, however, it caused her to ask herself what she was running from.
"I started thinking that I should give religious life a chance. I shouldn't just reject it without even looking into it. An awareness of how Christ gives Himself to us at Mass and how He is there for us in the Eucharist was really something that was becoming deeper in my life."
She attended a prayer retreat with the sisters but says it wasn't the right fit, leading her to conclude she wasn't called to religious life after all. She says that might have been the end of it if not for her mother, who told her that she didn't think she would be called to that community because she always thought of her as having a Franciscan spirituality. Sister Francesca googled "Franciscan Sisters" and found the Franciscan Sisters of the Eucharist. She decided to email them.
"They encouraged me to come and visit, so I drove up one weekend to Connecticut and spent the weekend praying with the sisters and working outdoors. We have a small farm there," she says. "The time spent with the sisters helped me to realize that if I were called to religious life, maybe this is a community that I would be called to."
She continued communicating with the sisters and went on a vocations retreat. The defining moment for her was a sister's description of religious vows.
"It was very simple, but it really spoke to me. The sister said, 'Through poverty, we give God everything we have; through obedience, we give everything we do; and through chastity, we give God everything we are.' And I thought, 'Well, of course, I want to do that. Who wouldn't want to do that?'"
While Sister Francesca made first vows in 2015 and final vows last spring. Sister Kateri celebrated her 60th jubilee last year, having made her first profession in 1960.  She attributes her vocation to the strong faith of her family, to the sisters who taught her catechism during the summer when she was younger, and to the sisters who taught her in high school.
"These religious women were always very interested in the students. They were devoted to education and that showed. This and my own upbringing as a member of a Catholic family were the biggest influences in determining my vocation to religious life," she says.
Sister Kateri originally joined the Franciscan Sisters of Perpetual Adoration but then became a member of the Franciscan Sisters of the Eucharist, a new community formed following the Second Vatican Council.
She received bachelor's and master's degrees in music education and music therapy and was doing post-graduate work in Michigan when she was asked to go to Alaska, where the community had just established a new house. Her ministry there included a little bit of everything.
"I took Communion to the sick and helped with the half-hour television program the diocese filmed every week. I was the photographer for the Catholic paper in Juneau. There was a day care for children, and I became the cook and was in charge of the catechetical program.  In addition, I was an organist at the cathedral," she says.
After ministry in Alaska, she was asked to go to the San Juan Islands, off the coast of Washington. There, she was the buyer for a grocery and gift store that the sisters operated for more than 25 years.
"Ministry on the island was a great love of mine," she says. "I taught music to students from the islands and directed a four-voice choir and a chamber orchestra that gathered players from each of the islands in the San Juan's."
After serving in the San Juan Islands, Sister Kateri was asked to go to Saint Meinrad Seminary in Indiana and consequently earned a master's degree in theology. Following the degree, she served as associate director of pastoral formation, working with seminarians in pastoral ministry as they moved toward ordination.
After Saint Meinrad Seminary, Sister Kateri was assigned to Jerusalem and worked at the Christian Information Center in the Old City.
"We gave information and maps pertaining to the various shrines under the custody of the Holy Land. It was a beautiful way to meet the world," she says.
Unfortunately, her time there was cut short by the pandemic. She returned to the United States and to her community's house in Michigan when she was asked to go to Maine.
"We are thrilled to be part of the Lewiston community as a visible sign of Christ's Church," she says. "I've never failed to be missioned to a place where religious women are not recognized as being part of the Church, and that is such a simple and deep way of evangelization, probably better than 20 million words I could speak. St. Francis of Assisi said, 'Preach always, and when necessary, use words.' It's true."
The sisters say they have been delighted by how many people have expressed appreciation for their presence, whether it's folks in the grocery stores or students in the schools.
"Students see you and they say, 'Hi, Sister! I love you.' I was standing in the hallway one day, getting ready for morning prayer, and a third grader came up to me and said, 'Watch out!' and gave me a big hug," says Sister Francesca.
"People have been so generous and welcoming, bringing us bread that they baked or jars of pickles they made, or other snacks," says Sister Christianna. "We are very grateful."
To learn more about the Franciscan Sisters of the Eucharist, please visit their website at www.fsecommunity.org.