Finding a Path to Light and Freedom
Image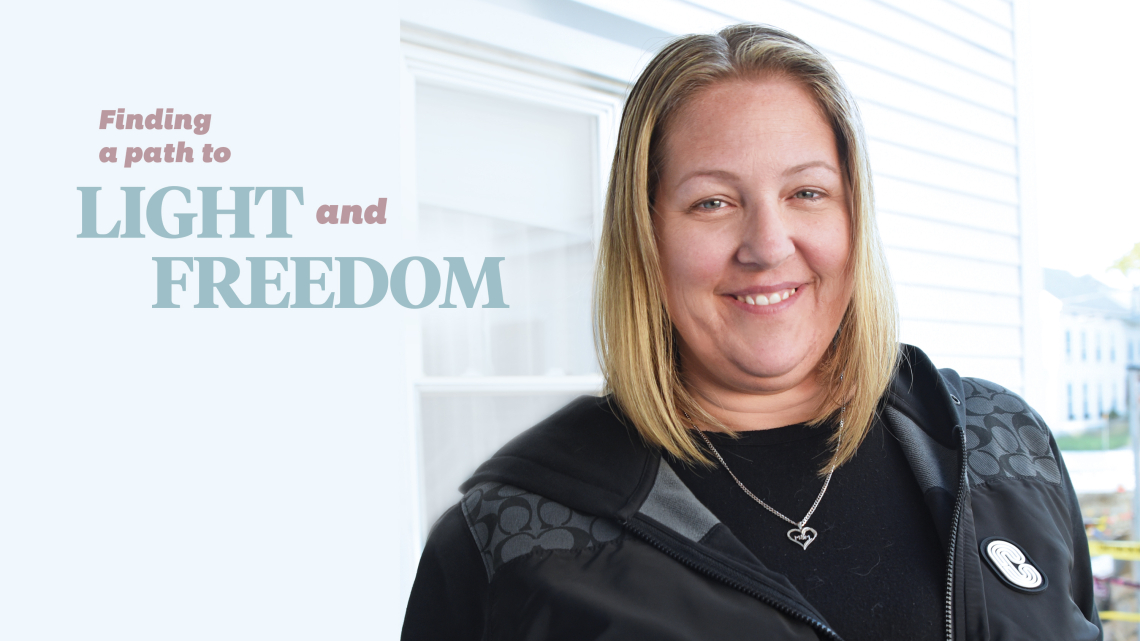 Freedom, friendship, hope, safety, and support.
Those are among the words used by residents to describe the Esther Residence in Saco, a program that seeks to provide a safe, nurturing community for women leaving incarceration.
"There is just so much to the program," says Heather Huntley, a former resident. "It's a whole different feel than most places that are for people in recovery."
"I don't know if I would be alive if I hadn't gone there," says Rhianna Twomey, another former resident. "I will never forget what they did for me."
The Esther Residence is a ministry of the Servants of the Immaculate Heart of Mary, better known as the Good Shepherd Sisters of Quebec. It was established in the spirit of their foundress, Marie Fitzbach Roy, who, in 1849, accepted a call to provide refuge to "fallen women" in Quebec.
"Nothing has changed in society. In 1850, when we were founded, these women had no place to go. They were rejected. It's the same now. It's so sad," says Sister Lucille Gardner, SCIM.
But 16 years ago, Sister Lucille, Sister Simone Janelle, SCIM, and Sister Joanne Roy, SCIM, made a commitment to try to change that. While many people eye retirement when they are in their 60s, these three sisters instead took on the new challenge of opening and operating the Esther Residence. They have run it ever since.
"For those of us who have received more, for me, it is our task to help those who received less," says Sister Joanne.
"It's not just a job. It's a mission. It's a call," says Sister Lucille.
It's a mission and call that current and former residents are grateful the sisters accepted.
"They are just such kindhearted women," says Heather. "They would bend over backwards for anybody. You're like family."
"I don't even have the words. They're just amazing people, and they really are just dedicated and passionate about what they do. They don't give up on people," says Rhianna. "I look up to them, and I always will."
"These women are the most wonderful women," says Pat Johnson, Rhianna's grandmother.
Pat says before Rhianna went to stay at the Esther Residence, she feared losing the granddaughter she loved and helped to raise.
"I was waiting for the phone call that she was going to be dead somewhere," says Pat.
Now, Pat talks with pride about how well Rhianna is doing.
"She is an amazing young woman," says Pat. "She is just a success story. She really is. She is wonderful."
Rhianna says her troubles began when she was a teenager. She describes her younger years as "turbulent" and says she often spent time away from home, hanging out with an older crowd. It led her to first experiment with cigarettes, then alcohol, and then drugs. She says she smoked crack for the first time when she was 15, and by age 16 or 17, she was using heroin.
"That definitely became my drug of choice. I dabbled with cocaine and stuff on and off, but heroin, that was it for me," she says.
To support her drug use, Rhianna says she began shoplifting, resulting in her arrest on multiple charges. She says she ended up being sentenced to 18 months in jail, of which she served 13 months, and when it was time to be released, a counselor recommended the Esther Residence.
"At that point, I needed somewhere to go. Nothing else would have fallen into place the way it needed to if I didn't have shelter and food — the hierarchy of needs. So that was the goal at first — just somewhere stable to go. I knew I needed structure, a support system, and that's what drew me to the Esther Residence," she says.
Rhianna says when she first arrived, she did not feel at ease, but that soon changed.
"It took some adjusting, just being back in civilization, so it was definitely an adjustment for me, but once I did get settled in and felt comfortable and kind of let my guard down, I just realized that the Esther Residence was much more than just a place to stay and so much more than a sober house and sober living," she says.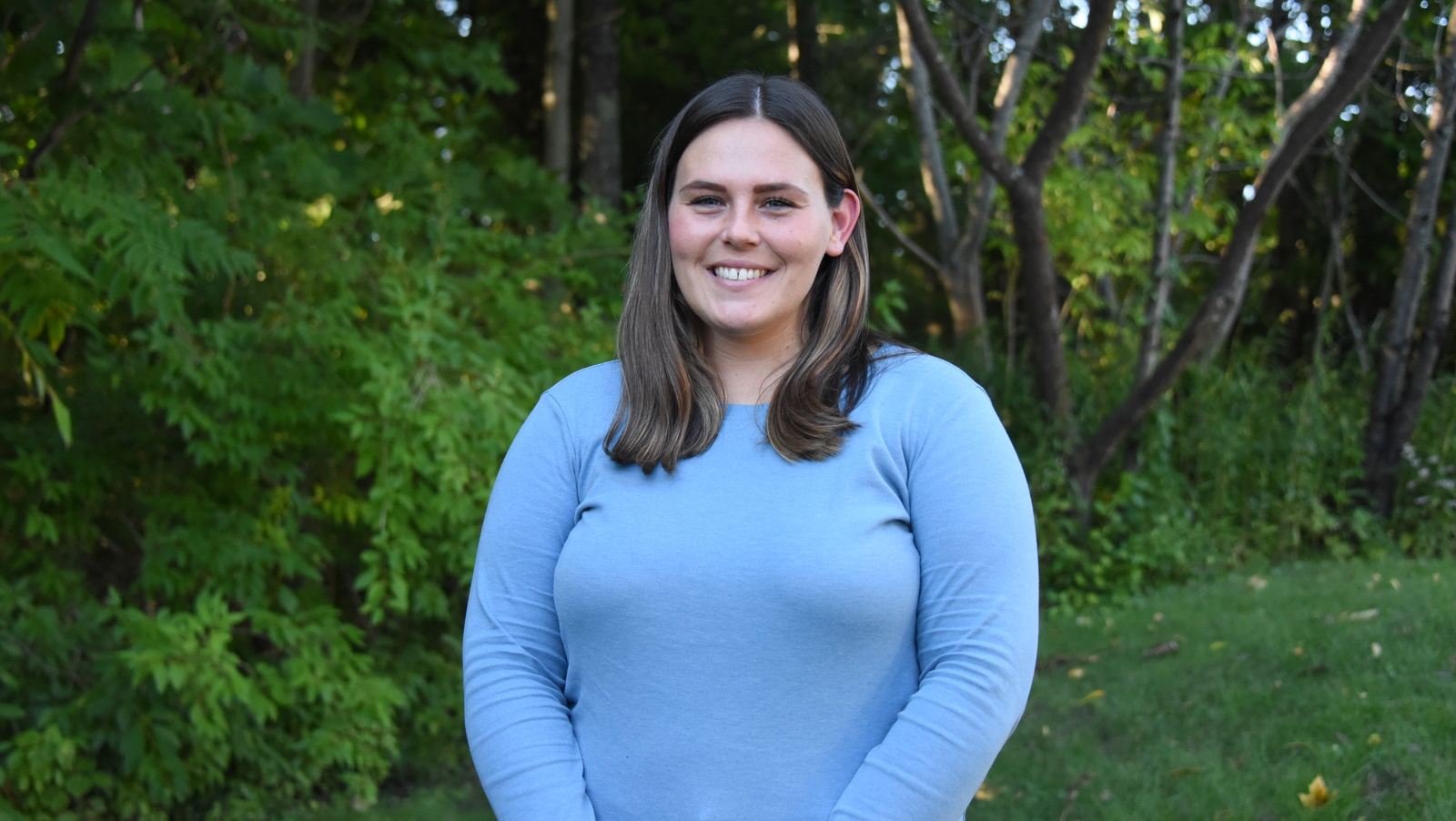 Heather, who stayed at the residence around the same time as Rhianna, about four years ago, says it didn't take long for her, too, to discover there was something special about the home and the sisters.
"They were great. Right off, they were so welcoming," she says. "Everyone comes from different backgrounds, and they're there to support you, no matter what kind of background you have. They don't even care. They don't judge. There is no judgment whatsoever. That's a big piece."
Heather arrived at the Esther Residence after completing a drug rehabilitation program, which came after time in jail.
She says she had been on her own since age 14 but, nonetheless, graduated high school and earned two associate degrees. She was also the mother of three children and had a good paying job. She says, however, that she made some choices that led her down a destructive path.
"It was always like a challenge — prove everyone wrong, until I did everything, and then, I was bored, so I started hanging out with people that I shouldn't be hanging out with. I was addicted to the lifestyle right away. It was the lifestyle of running people around who were using drugs. I was getting high here and there, but it was more along the lines of, these people were happy to see me, and I had all these friends all of a sudden," Heather says.
What started out as occasional drug use grew into addiction. She began smoking crack and then shooting up heroin. She says she also began dealing drugs herself. She ended up in jail but, not having a place to go when she got out, returned to the same environment.
She says her use of needles nearly killed her, when an infection in her leg spread throughout her body, leading to endocarditis and the need for heart surgery.
After she recovered, she says she stayed clean for a while but again started dabbling in drugs. Then, she overdosed while babysitting at her daughter's house. She says she ended up back in jail and was caught bringing in drugs. After four months of incarceration, she says her lawyer convinced the court to allow her to enter a nine-month treatment program. After completing that, she applied to the Esther Residence.
"I knew I needed something, but I wasn't sure what," she says. "I wasn't always a drug addict. I wasn't always that person. I came from something. I was something before, and I just needed to get back there, and I used the Esther Residence as a stepping stone."
Heather says she wanted to go to the Esther Residence because she had heard great things about it, even though she couldn't imagine herself living with religious sisters.
"I had never even met a nun," she says.
Before being accepted into the program, women like Heather must fill out an application, which the sisters review. There is then an interview process to determine if the woman would be a good fit for the program. Although the sisters sometimes have to say no, it's not the answer they prefer to give.
"I do a lot of interviewing, and I kind of fall in love with them, and then, I want to take them all in," says Sister Joanne.
The sisters say the women coming to stay at the residence bring with them a variety of issues.
"We've been in this work most of our lives, and the trauma that people have experienced still surprises us," says Sister Joanne. "It's mental health issues and substance abuse, domestic violence very often, and legal involvement."
"They're struggling with trauma and many, many family issues," says Sister Lucille. "Of course, recovery is primary."
The residence can serve up to eight women at a time. There are four bedrooms on the second floor, each with two beds. The sisters have rooms on the third floor, although one sleeps downstairs each night.
 When women first arrive, there is a two-week orientation period, during which time the women remain at the house, learn the rules and the phases of the program, and, hopefully, begin to feel comfortable. The women also fill out applications for apartments, which they need to do early on because of the shortage of affordable housing, and they must look for a job.
"It's for them to work and take care of their bills and save and move towards independent living and reconnecting with families," says Sister Joanne.
The women pay rent while staying at the Esther Residence. They are also given chores to do, and they take turns cooking dinner. The women are expected to eat together five of the seven evenings of the week.
"It's different from a sober house because sober houses, you go in and you do your own thing. You pay your monthly rent or whatever, and you go to meetings. But there, you sit down and have dinner with these three nuns five days out of seven. Even after I moved out, they would call and say, 'Heather, come over and get some food,' or 'I've got some scallops for you,' because they know I love seafood," says Heather.
The sisters, all three of whom have extensive backgrounds in social work — two with master's degrees — also provide case management, helping the women connect with counselors, services such as Alcoholics Anonymous and Narcotics Anonymous, and doctors and dentists.
"When you have these things in your life, all the trauma, your chance of having this illness or that illness increases, and their dental needs are unbelievable. Drugs chew at the teeth," says Sister Joanne.
Goals, which are regularly reviewed, are established for each woman. There are mandatory group meetings every Tuesday, during which the residents can raise any issues they're having at the house. The women also meet individually with the sisters.
"They definitely emphasized having goals and measuring your progress and looking back and seeing how you're doing, and if you're getting off track, helping you get back on track," says Rhianna. "They have these thick binders, really tall binders, and they take very detailed notes."
To help the women establish routines and learn to take responsibility, they are given points for accomplishing tasks. Those points may then be redeemed at the residence's "store," which is stocked with items people have donated.
The women are also invited to join in group outings such as apple picking, disc golfing, and trips to the local ice cream shop, and there are activities inside the home as well. For instance, a chef sometimes comes in to help the women develop their cooking skills.
Thanks to a Matthew 25 Award that the residence received from Catholic Charities Maine in 2021, the Esther Residence was able to start offering parenting sessions to help the women who are mothers reconnect with their children.
"You have a parent who has experienced trauma, children who have experienced trauma, so trying to help them reunite in a healthy way is the job of our parent coach," says Susan Dame, chair of the Esther Residence Board of Directors.
Lengths of stay at the residence depend on each woman's progress. Rhianna says she lived at the residence for about two years, longer than most, because she suffered a relapse while there. She says she is grateful to the sisters for not giving up on her.
"They basically gave me another chance and then gave me another chance," she says. "I got back on track, but it was a little scary for a few weeks there."
The Esther Residence's motto, which the residents helped choose, is "Out of darkness, finding a path to light and freedom," and that is what it has done for women like Rhianna. Although she needed to do the work, Rhianna says the residence gave her a foundation on which she could build a new life.
"I could go to the fanciest rehab resort out there, and they could have all the best amenities and a spa, a fully stocked fridge, clothes, everything taken care of, but I wouldn't have been successful like I was at the Esther Residence because you just can't put a price on how much they truly care about each and every woman who walks through their doors," she says.
Rhianna says she has come so far in the past few years that when she talks about those experiences, "it feels like a character in a movie about someone else's life."
Rhianna and Heather both now have successful careers. Rhianna is a manager at a company, and Heather is a supervisor, having recently received a promotion. Heather, who began rebuilding her relationship with her children while she was at the Esther Residence, also recently bought a new home with her daughter.
"We bought a four-bedroom house with a two-bedroom apartment attached, so my daughter will live in the house, and I'll live in the apartment. I never thought I would really own a home," she says.
Heather also serves on the Esther Residence's Board of Directors, as well as several subcommittees, and she meets with new residents to help them get settled.
Rhianna says she often buys small gifts for the current residents and sends them cards, remembering how much outreach like that meant to her when she was living there.
"It was just really cool being on the receiving end of that," she says.
The sisters say they are fortunate to have the support of members of Good Shepherd Parish in Saco. They say, for instance, if a resident is ready to move out and needs an item, they typically just need to list it in the parish bulletin, and someone comes through. Heather says one woman even gave her a car.
"Support like that is marvelous," says Sister Simone. "They come in with practically nothing, and when they leave, they need a truck."
There are, however, always a lot of needs.
"We have a new web page up now that is our wish list," says Susan.
Among other things, that list includes money to help pay for outings and for activities that the women can do with their children.
The Esther Residence has been the beneficiary of several grants, receives support from the Good Shepherd Sisters and organizations such as the Rotary, sends out a fundraising mailing around Thanksgiving, and holds several fundraisers throughout the year. While together they have provided enough money to keep the residence on firm financial footing, there is an awareness that funding will need to significantly increase in the not-too-distant future when the sisters finally retire and are replaced by lay staff, who will need to be paid higher salaries.
"We've been so fortunate to have the donations that we have and the supporters that we have, but there is no way that we could support additional staff people," says Susan.
While the residence serves women from many parts of Maine, Susan says the work being done there remains one of the state's best kept secrets, something that she is trying to change so that more people will recognize the importance of that work.
"I see the work that the sisters are doing, and I see the women whose lives have been completely changed," says Susan. "The women have told me they felt unconditional love for the very first time in their lives. Can you imagine?"
Sister Joanne says the Esther Residence needs to continue because "it saves lives."
Rhianna's grandmother couldn't agree more.
"Rhianna has all the confidence in the world now. She loves herself, which she didn't before," Pat says. "I can't praise them enough. They provide the true meaning of community service."
If you would like to read more about the Esther Residence or support the work of the sisters, visit www.estherresidence.org.