Finding Happiness through Living the Eucharist
Image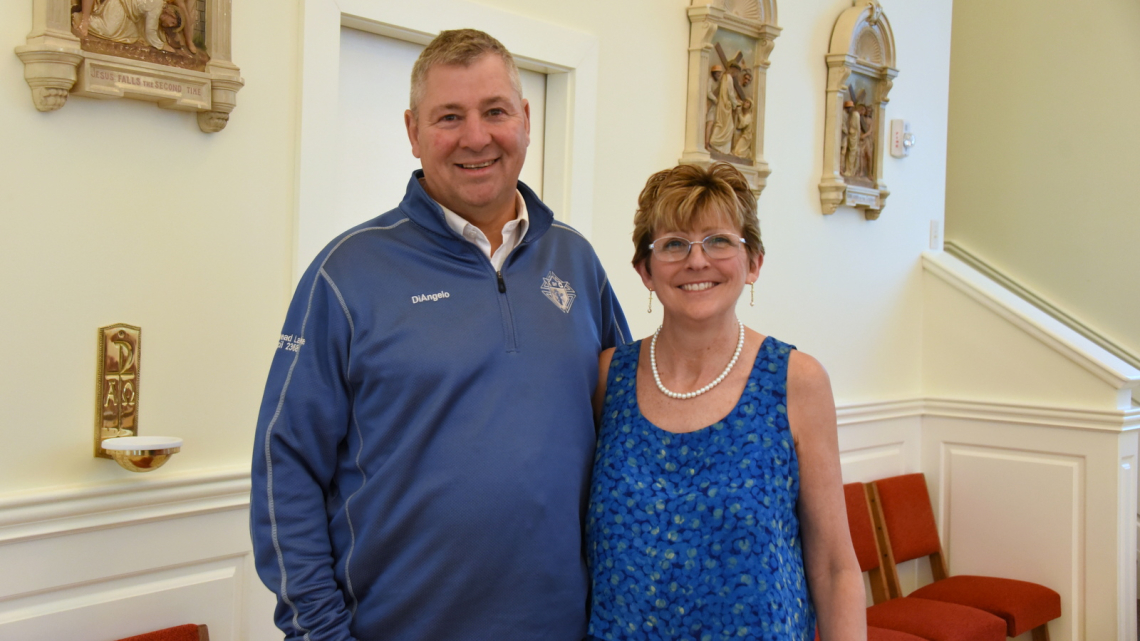 Friendship. Love. Camaraderie. Peace.
Bette and Joe DiAngelo of Greenville say those are just some of the things they have gained through their commitment to living the Eucharist.
"I think you just feel happy and feel full of love," says Bette.
"It focuses you on the important things," says Joe. "It seems the more you give, the more doors open up for you and good things happen."
Bette and Joe are active members of Holy Family Parish in Greenville, the parish in which they were married 34 years ago. They say it is a community that is very special to them.
"We are blessed to have so many wonderful friends and family who surround us. Spending time with people who share the same values builds a stronger faith foundation for all of us," says Bette.
There aren't many roles at Holy Family that Bette and Joe haven't embraced. They have helped as altar servers, extraordinary ministers of holy Communion, readers, sacristans, and ushers. Both serve on the Pastoral Council and help with event planning and fundraising. Joe is also the Grand Knight of Moosehead Lake Council 2368 of the Knights of Columbus, while Bette teaches faith formation, helps in funeral planning, and is the parish's administrative assistant.
"Sometimes, we actually have to hold them back because they would spend all their time helping the church," says Father Hyacinth Fornkwa, administrator of the parish.
Bette and Joe say their involvement comes from a love for their faith, a love for their church, and the belief that everyone needs to do what they can to help.
"We have to get people to realize that if you want a church and you want to have these celebrations, you have to contribute to them," says Joe.
"One of the expressions that I always use is that many hands make light work. That is true for whatever it is, whether it is a fundraiser, or helping with an event, or giving money to the Catholic Appeal. If everyone can give what they can give, you'll get there. God is good. It will happen," says Bette.
An example of that is the building of the new Holy Family Church, which was dedicated in 2018. Despite being a small, rural community, through the dedication and generosity of parishioners, the necessary money was raised, and their dream became a reality. Joe says even people with limited incomes contributed.
"They would pledge five dollars a month or something," says Joe. "It was the greatest thing."
Joe, who served as chair of the Building Committee, says the project gave him an awareness of the importance of doing your part to carry the faith forward.
"The whole church project was life changing for me," says Joe. "To be able to work with Steven Bilodeau and John Morrell, my best friends, on the whole church building project was an aha moment for me, that when I am gone, this will be something that will live on beyond me."
Joe and Bette are quick to point out that they are not the only parishioners dedicated to serving their church community.
"It's the Morrells. It's the Fredericks. It's the Guerins. It's the Bakers. It's the Taylors, and on and on. They give us inspiration. The Taylors go to Mass on Saturday and sing here and then get in the car and go to sing at St. Joseph [in Rockwood]. Then, they're back here Sunday morning — and they're in their 80s," says Joe. "I think we wouldn't be as excited and as faithful without all those other people, including our priests."
"We need to live each day with love in our hearts and learn from each other, especially the older people in our lives and parishes. They have so much to share," says Bette.
In addition to their service to their parish, Joe and Bette are active in the community. When their three sons were younger and involved in sports, the couple organized the Sports Boosters to support the school's programs. Bette also started a program to help preschoolers transition to kindergarten, and for years, she served with Literacy Volunteers, bringing the program to Greenville. She initiated a family literacy program and a program called New Books, New Readers, receiving several grants from the Barbara Bush Foundation for Family Literacy.
"It was just a really special time, seeing people realize that they can make a difference if they apply themselves," says Bette.
Joe is active through the Knights, who not only sponsor church-based programs such as Soup for the Soul but collect Coats for Kids, go Christmas caroling in senior housing, and put on events such as a free-throw shooting contest and Trunk-or-Treat.
"It's nice to have the presence of the Knights in the church but also in the community, so people will see that it's pretty cool to be Catholic," says Joe.
Bette and Joe say their love for their faith goes back to their youth. Both were raised in households where faith and family were priorities.
"There was the responsibility that on Sunday morning, we went to Mass as a family. Mom instilled that in us, and then, later, it was my grandmothers who instilled that in me because both my grandmothers lived close to where I went to college," says Joe. "My Irish grandmother, Nana, would say, 'Honey, when things are bad, go to Mass. You'll always feel better.' And she was right. To this day, when I walk out of church, I always feel great."
"I'm right there with you," says Bette. "I think you just feel happy, and you feel full of love. Right after Mass is such a special time. You have God right there."
Joe was born in Boston, Massachusetts, but grew up in Haddonfield, New Jersey. Bette, on the other hand, was born and raised in Sidney, Maine. Her family attended St. Theresa Church in Oakland.
"I was the youngest of five kids, and it was really important to my parents to bring us up in the Catholic faith," says Bette. "Five kids were too loud to sit down in front, so we always sat in the back, but after Communion, we got to sit in front with my grandparents, and that was always a special time. We would then go to visit them after church. I think that really instilled in me the importance of faith and that Sunday was a special day."
Bette admits there were times when she would have preferred to be out playing with her friends, but she says she is now grateful to her parents.
"Looking back, I love that my parents put an importance on that," she says. "Now, I get it, and having kids, the next generation, we tried to do that with our kids."
Bette and Joe say Mass has always come first in their household. Joe says even when their youngest son, Connor, had high school basketball practice in Bangor on Sundays to gear up for tournament play, they attended Mass first before heading there.
"Connor couldn't be there until 10:30 or 11 o'clock because Mass was Sunday morning. I don't know if other parents respected it or not, but we didn't care. It's what we wanted for Connor," he says. "And you know what? They still won the state championship."
 "I think you make them stronger if you make that choice, but society does make it hard," says Bette.
Along with prioritizing Sunday Mass, Bette and Joe say they also emphasized the importance of spending time together as a family, especially over dinner. She says they would shift their mealtimes around to make sure they could all eat together.
"When you're sitting around a meal and catching up, questions come up, and you can talk about things. It's a really nice time. I think that you grow your faith, too," says Bette.
Bette and Joe say they also always prayed together at night as a family, and now that their sons are no longer living at home, they regularly pray the Rosary. They also attend daily Mass on days when it is celebrated.
"We go to eight o'clock Mass, and I start work around 8:30, so it's easy to do," says Joe.
Bette and Joe say practicing their faith together has always been an integral part of their marriage.
"Being lifelong Catholics really brought us together and strengthened our love, and I think we helped each other to grow in faith and continue to do so today. He is the best husband, father, and now grampie, and he is an inspiration in every part of my life. I truly believe he helps me see the Holy Spirit at work every day," says Bette.
"Bette has the most amazing faith, and just being able to witness it each day helps me to be a better person and helps me to strengthen my own faith," says Joe. "She is selfless and thinks of everyone before thinking of herself. Her little gifts or goodies here and there brighten the days of others all the time."
"I think life is truly about the little things," Bette says. "If you can be a spark in someone's life, whether it be a smile, hug, or kind word or gesture, you are being a light, and that brings so much happiness."