Finding Great Joy in the Priesthood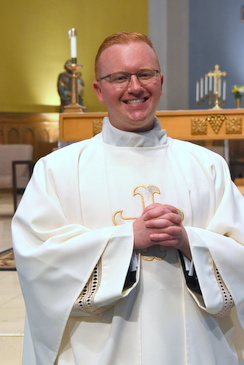 Father Alexander Boucher searches for the right words to describe what it's like to be serving as a priest of the Diocese of Portland.
"It's indescribable, honestly," he says. "There is great joy that comes from being a priest."
Father Boucher, who now serves as a parochial vicar of St. Matthew Parish in Limerick and St. Thérèse of Lisieux Parish in Sanford, was ordained to the priesthood on Saturday, August 22, by Bishop Robert Deeley. 
"God has led you here. He has created you for this moment," the bishop told him.
"You have taken time to discern, but what you have discovered is that God has intended that you are destined for the service of priesthood."
The ordination Mass was celebrated at St. Joseph Church in Biddeford, the same church where Boucher was confirmed, made his first Communion, and served as an altar server.
"St. Joseph Church is just filled with a lot of spiritual importance in my own life, so being able to have it there was really something," Father Boucher says. "That space, for me, has always been home."
Father Boucher says his exposure to the Catholic faith began at an early age. In his preschool years, he remembers accompanying his grandmother to daily Mass, as well as to funeral Masses where she sang in the choir.  He would sit at her feet with a bag of crackers, doodling.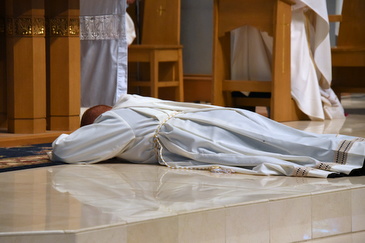 "Growing up, there was always a level of just comfort and a feeling of being at home at Mass," he says.
His mother, Lisa, says she saw the signs of a vocation in her eldest son when he was as young as age two.
"He would go to church with my mother-in-law. He would play Mass at home and make little Eucharists. When he was five, he dressed up as a priest for Halloween. We knew it was in him," she says.
Father Boucher says the first time he remembers expressing an interest in the priesthood was at age four, when he attended the first Mass celebrated by Father Daniel Greenleaf, who was also ordained at St. Joseph Church. Seeing the young priest and the procession of priests there to support him, Father Boucher recalls tugging at his dad's sleeve and saying, "I want to do that when I grow up."
Of course, he also wanted to be a police officer, a firefighter, and a teacher, among other possible careers.  For a writing assignment at St. James School in Biddeford, he remembers stating that he aspired to be either pope or president.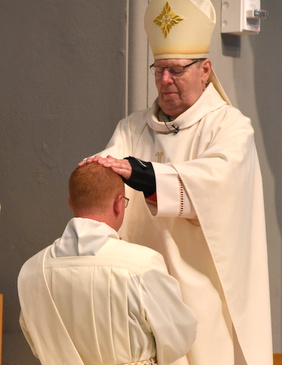 Father Boucher says there were many early influences in his life. They include Father Renald Labarre, his childhood pastor, who was the first to raise the possibility of a priestly vocation, and George Collins, now Father George Collins, SJ, his theology teacher during his sophomore year at Cheverus High School in Portland. At the time, Collins was still in formation for the priesthood, serving at the school as part of his regency.
"I saw in him someone who was open, through his own vocation as a Jesuit, to discerning and responding to God's call, and that was beautiful to me," says Father Boucher. "He was the first person I opened up to about what was kind of rolling around in my head and was kind of whispering inside: 'OK, maybe God is asking me to do something here.'"
Although the thought was in his head, he says there was a lot of pushback on his part.
"I think a lot of it was just wanting to blend in," he says. "Being a priest isn't what your friends are talking about on the playground or when you're hanging out on a Friday night."
That changed when he attended The Catholic University of America (CUA) in Washington, D.C.
"That was the first time that I ever had the opportunity to dialogue with peers about that kind of thing. So that started to create an openness in me to a vocation to the priesthood," he says. 
At CUA, he also found mentors in the many priests serving there, including Father Frank Donio, SAC, a Pallottine priest.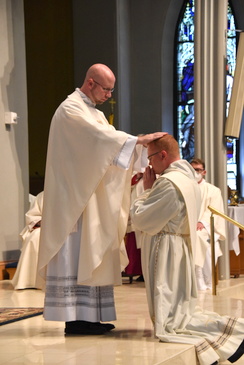 "Father Frank was our Knights of Columbus chaplain and was very influential throughout my time in college, and he also became my spiritual director for a few years," Father Boucher says. "As a spiritual director, I think he really helped me to overcome the feelings of doubt, the feelings of inadequacy, that idea that I think so many people have of, well, I won't be happy if I do that.  He was able to help me work on those things that I saw as stumbling blocks that were not stumbling blocks at all. They were simply things I needed to talk through and pray through."
After two and a half years at CUA, Boucher took a break from studies but remained close to the Church.  He did administrative work for the Pallottines and became one of the first employees at their new Catholic Apostolate Center in Washington, D.C. He also worked at the National Leadership Roundtable on Church Management in Washington, and he became a pastoral associate at the Portland Peninsula & Island Parishes, doing a lot of traveling back and forth.
"I was making more money than I ever had in my life as a 20-year-old. So, I'm thinking, 'I can do this. I can have that family that I want, and I can serve the Church and be happy,'" he says.
God, however, had other plans.
"There was still something there that I couldn't shake, and ultimately, I ended up going back and finishing up at CUA," he says. "I felt really compelled to more deeply discern a vocation to diocesan priesthood."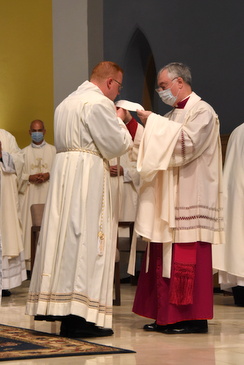 Father Boucher returned to Maine from his studies to assist with Bishop Deeley's installation as Bishop of Portland in February 2014.  He recalls the bishop urging him to "listen to the Holy Spirit whispering to you, speaking to you in your heart."
It was the nudge Boucher needed. He applied to become a seminarian and was accepted by the Diocese of Portland and assigned to St. John's Seminary in Brighton, Mass.
"Our lives are really lives of continuing conversion, so I think that seminary greatly aids in that because it provides you with the time and the space and even the vocabulary to come to know yourself better, come to know God better, and come to know how to serve the people of God," he says. "All of our work, all of our study, all of our prayer, all of our formation is focused on being formed into a priest of Jesus Christ for the service of the Church and the people of God."
Father Boucher says his pastoral assignments while in seminary were all impactful, but he looks back on his first summer assignment, with Father David Raymond at St. Mary of the Visitation Parish in Houlton and St. Agnes Parish in Island Falls, as a turning point.
"It was that summer assignment where I think, for the first time, I actually desired to be a priest, actually desired to cooperate with God. I went off to seminary because I thought it was the only thing I could do at that point to further discern a call to the priesthood, but it was during that summer assignment that it all started to fall into place. It all felt right," he says. "I don't know that it was anything in particular, but being in a parish as a seminarian, living in a rectory with a priest who loved his priesthood and loved his people, for me, I could just see myself doing that. It just made sense to me."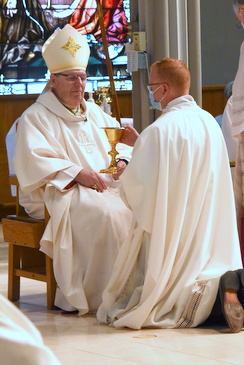 While in seminary, he also served at St. Patrick's Manor in Framingham, Mass., where he was inspired by the way Carmelite Sisters for the Aged and Infirm cared for the elderly. He helped out at the Salesian Boys and Girls Club of East Boston, an inner-city, afterschool program, and he served at MCI-Norfolk, the largest medium security prison in Massachusetts, a ministry to which he feels called.
"The inmates were great to work with. I mean, their depth of faith, their knowledge of the faith was not something I expected to encounter," he says. "Before I went, a priest from the seminary, who regularly goes to say Mass there, said that there are saints behind the walls of that prison, and I really took that to heart."
Boucher spent the summer of 2018 at the Institute for Priestly Formation, located at Creighton University in Omaha, Nebraska, an experience that he says greatly deepened his prayer life.
"The program is really oriented toward teaching diocesan seminarians how to be spiritual fathers, how to pray, how to make that a sustainable, lifelong thing, how to make that the lifelong focal point of priestly life and ministry so that everything is really grounded in prayer, so that the strength to do priestly ministry is entirely grounded in one's own relationship with God," he says. "I can't imagine, now, embarking on a lifetime of priestly ministry without having had that encounter with God in prayer."
He stresses that it's something every Christian should seek.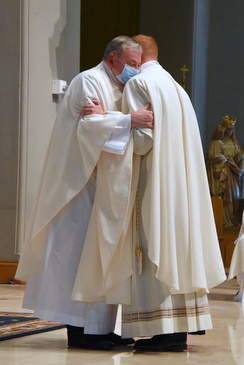 "I think if more people had that real, actual encounter with God in deep prayer, which I think we all desire whether we realize it or not, then our churches would be full; our families would be stronger. I think you would have seminaries and convents and religious houses overflowing," he says. "I really do think that we need to be focusing on that primary identity of who we are, and that is beloved children of God. I think that has the ability to transform our parishes, our dioceses, our Church, and our world."
Father Boucher says it's a message his parishioners can expect to hear a lot.
"We need to keep our eyes fixed on Jesus and stay grounded in the sacraments, especially the Eucharist and confession," he says.
During seminary formation, Father Boucher also served at his current parishes, St. Matthew and St. Thérèse of Lisieux, and, during the summer of his diaconate year, at St. Paul the Apostle Parish in Bangor, where he says the experience helped him overcome his nervousness delivering homilies. He then served at St. Camillus and St. Agnes parishes in Arlington, Mass., an assignment cut short by COVID-19.
The resulting shutdown also postponed his ordination. Originally scheduled for Pentecost Sunday in May, it instead took place on the Queenship of the Blessed Virgin Mary three months later. Although disappointed with the delay, Father Boucher says he was excited about the new date because he has a deep devotion to the Blessed Mother.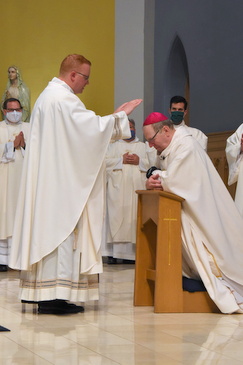 "She is a powerful intercessor," he says.
Even with the later date, COVID-19 restrictions meant many people who played important roles in his life could not be present.
"It was very hard to not have an open invitation for people who have supported me and prayed for me and journeyed with me for so many years," he says.
Father Boucher says there was, however, one benefit: a sense of peacefulness on the morning of the ordination.
"What was quite beautiful was just being able to arrive at the church in the morning, take a deep breath, and not worry about a lot of commotion and details," he says. "One of the beautiful things was being able to go to confession in the confessional at St. Joseph's right before my ordination and, before leaving the church that day, to be on the other side of that confessional hearing my first confession."
He says he came to appreciate the beauty of the sacrament while he was in college and describes hearing confessions as the most humbling experience of his life.
"I am in awe of people's humility, people's faith, their trust, not just in Jesus, and the Church, and the sacrament but, also, in their priest who is sitting with them, who is a sinner just like them," he says.
Father Boucher says the pandemic has resulted in a bit of a strange start to his ministry as a priest. He say it's been disappointing not to be able to do some of the things to which he was looking forward, including visiting students at St. Thomas School, the elderly in nursing homes, and inmates at the jail.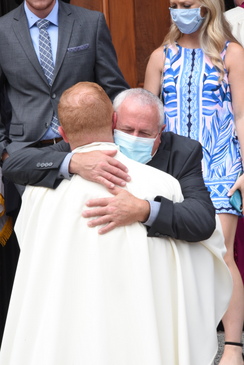 "It's definitely a challenge not being able to relate to people in a normal kind of way, always having to be cautious and rightfully so," he says. "I'm not able to accept an invitation to go over to their house for dinner without questioning whether it is the prudent thing to do."
He says it is helpful, however, to be at the same parishes where he was serving while awaiting ordination, and he also has extended family in the area. His grandmother, so influential in his life, grew up in Sanford.
"It's been great to rediscover some of that," he says.
Father Boucher says the people of the communities have been wonderful to him, and he is excited to be serving them as a priest of the diocese.
"For the longest time, I could not imagine myself doing anything else, but I didn't have the courage to take that initial step. Now, as a priest, I'm so glad that I ignored all those doubts," he says. "There is great peace in doing what God is asking of us."