Energizing the faithful through parish social ministry
Image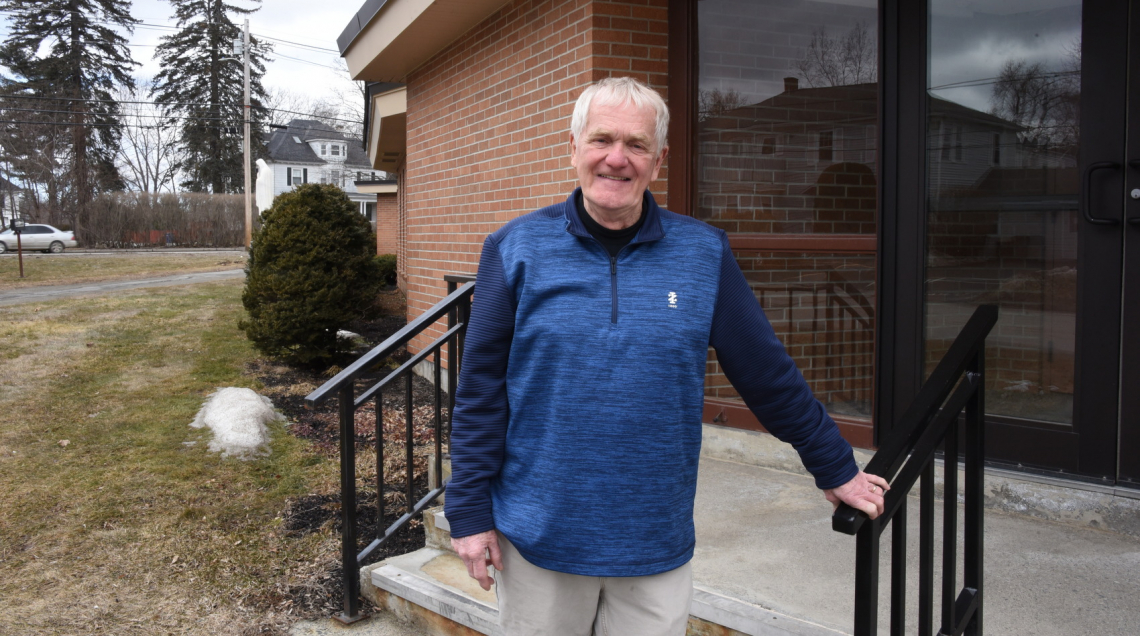 "If you build it, they will come."
If there is a motto to Bill Wood's ministry with Catholic Charities Maine (CCM), that just might be it.
"A lot of stuff happens once you get something going," he says.
And Bill always seems ready to get something going.
"I specialize in the feel-good stuff," he says.
Bill is one of four outreach specialists with Catholic Charities Maine Parish Social Ministry, a position he has held for the past six years. His work takes him to 10 clusters from Maine's mid coast to its western hills. His goal is to help parishioners put their faith into action.
"What we try to do is to engage more parishioners in social outreach in their community, because when you serve others, that's when you deepen your faith. You can see God in others when you interact with the poor and people who are in need," he says.  "We experience our faith when we're helping others, and I think that helps to energize parishioners."
While Bill is constantly coming up with possible projects, he stresses that when he visits parishes, it's not with the intent of telling them what they should do but, rather, to find out what they would like to do and how he can help.
"To be supportive of them, to help them, to make the connection that they can come to Catholic Charities as a resource," he explains. "We want people to be successful in their passion and in their ministries, so we try to help them by networking with them, trying to sometimes give them financial support, providing training, things like that. That's basically what I want to do with my job."
Bill speaks with enthusiasm about the many programs and ministries that have been embraced by the parishes he serves. They include a new thrift store in the hall of St. Rose of Lima Church in Jay, a new food pantry at the former Holy Savior School in Rumford, the reopening of the St. Anthony Soup Kitchen in Skowhegan after a four-year absence, the establishment of a meditation garden at St. Elizabeth Ann Seton Church in Fryeburg, a camp at St. Joseph Parish in Farmington to teach about food security, a new outreach coordinator for members of the African community served by Prince of Peace Parish in Lewiston, and a Catholic social teaching education program at St. Michael Parish in Augusta.
Bill helped St. Brendan the Navigator Parish in Camden apply for a grant that led to the hiring of a parish social worker. He brought the Catholic Charities' Jolly Gifts Christmas giving program to Corpus Christi Parish in Waterville, Immaculate Heart of Mary Parish in Auburn, and St. Michael Parish. He helped Corpus Christi with a Lenten service initiative and has worked with Our Lady of the Lakes Parish in Oquossoc on a pots and pans drive and with All Saints Parish in Brunswick on a winter coat drive, both to help refugees.
"You're talking about a lot of different things, and I'm not an expert on any of that, but what I think I can do is support people who are the experts and the people who do have a passion for it. You try to assist them in whatever ways you can so that they will be successful in their ministry," he says. "My goal is to have something percolating at each of my clusters, either something we've just done, or are currently doing, or are planning on doing."
"I get a call from him almost every month, and he will ask, 'Well, what are some of the things you're interested in? This is what we have going on. This is what we have for offerings,'" says Kim Suttie, pastoral life coordinator at Corpus Christi Parish. "I always say that Bill is relentless in a good way."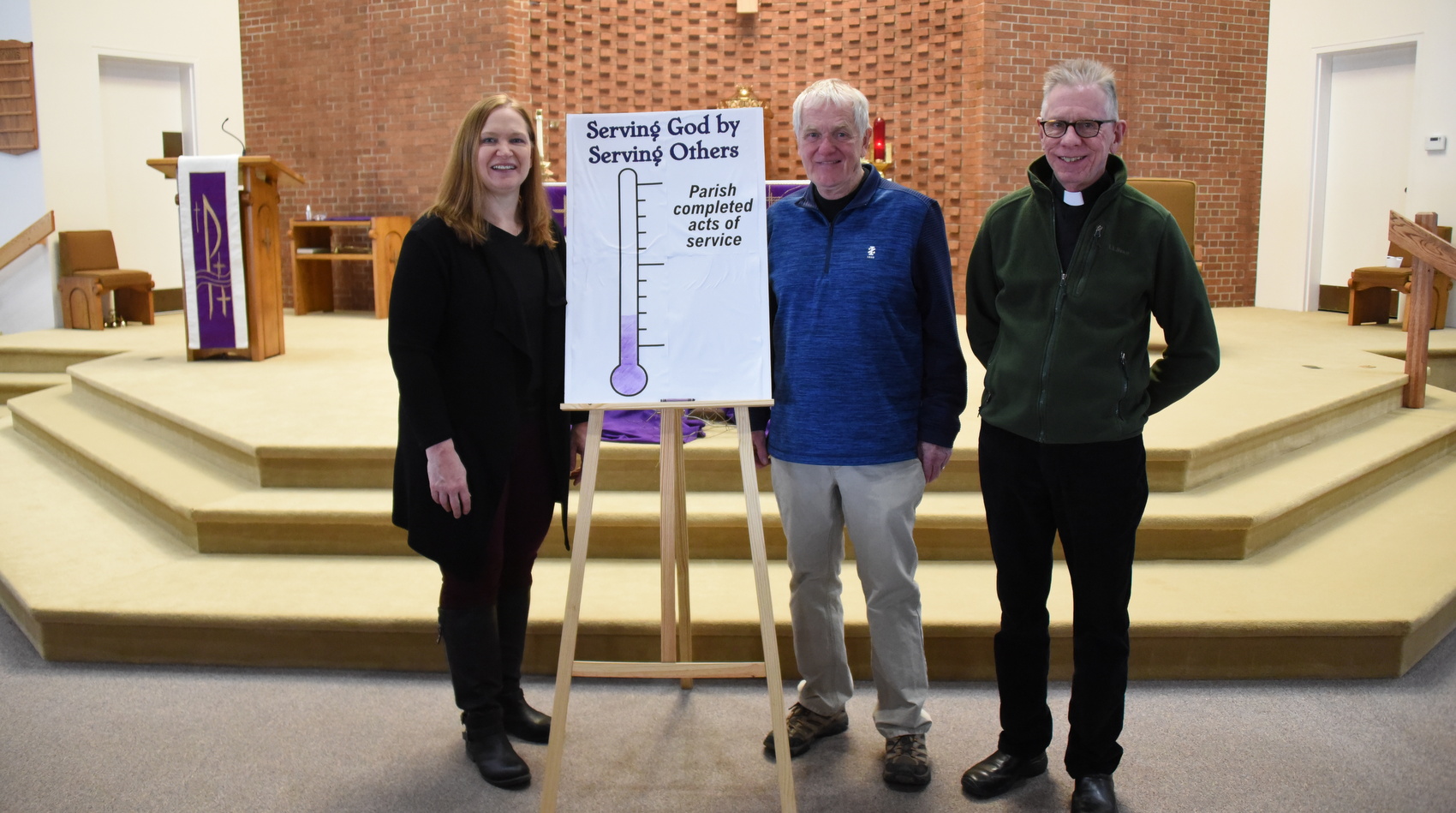 Bill says he likes to take the boots-on-the-ground approach, visiting parishes and getting to know the people there.
"I heard a good quote: 'In relationships, you proceed at the speed of trust.' So, I think it's important to show up and do some things with people, do it together," he says. "Once you get to know people, people want to help. People who work for the Church, that is the reason they work for the Church. You want to tap into that passion and faith that they have."
He has a naturally outgoing personality that helps in building relationships.
"I hear from a lot of people all over the state, across many different sectors – government officials, partners, teachers, other social service providers – about our employees and volunteers, and in my 15 years, I have probably heard more positive stories about Bill and his efforts than anyone else," says Steve Letourneau, CEO of Catholic Charities Maine.
Bill says he enjoys collaborating with others, something to which he grew accustomed in his previous career. Before coming to Catholic Charities Maine, he worked for more than 30 years in traveling theater, much of it spent teaching kids about nutrition.
"I ended up doing a lot of what is called educational theater, so school shows. I would do 300 shows a year. I saw over three million kids. In my career, I probably did 7,500 shows. I performed in 46 states and a couple countries," he says.
His change in direction came when he was in his early 50s, after becoming a member of the Catholic Church, a journey he credits to his wife, who had come back to the faith, and a priest friend, Father Gerard Roux, OMI.
"I had a friendship with him and would often go and spend time with him. He was kind of like my spiritual advisor, even though I was spiritual but not Catholic," he says.
Sitting in a pew after receiving the initiation sacraments at Easter, Bill remembers spotting a Catholic Charities' bulletin ad for a divorce ministry and marriage enrichment position.
"I was looking for something completely new. It didn't have to be performing. It could be anything, and I had just become Catholic, so I had been talking about Catholicism and had been welcomed in the Catholic family, so I said, 'Oh sure, I could work for Catholic Charities.'"
He applied and got the position, attributing it in part to a book of meditations that he had written after Father Roux's death.
"Annette Rioux, who was the person interviewing me, she had a copy of my book. She ended up with a copy of the book, so it was just kind of weird," he says.
The interview ended up being the start of what has now been a 16-year career at Catholic Charities Maine. First serving in divorce ministry and doing marriage preparation, Bill then added ministry to people with disabilities. When Catholic Charities opened a thrift store in Portland, he began working there. Then, after five years, he moved into parish social ministry.
"I liked the idea of being back working in the churches and having a chance to travel. There is more diversity in the job," he says. "With parish social ministry, there is more flexibility and fun."
Both of which are evident in the many ideas he generates.
"I get them from listening to people," he says. "I often say that in my career in theater, I was a good storyteller, but working at Catholic Charities, you become a story listener."
Well, maybe a little of both.
"He is probably the best storyteller I have ever met. He is able to talk about real life experiences in his role with parishes and CCM that bring the story to life. You can just sense the Holy Spirit at work with the ministry and the work he is involved in," says Steve. "Bill carries goodness in his heart wherever he goes and is an ideal ambassador and representative of Catholic Charities Maine."
Bill applauds the commitment made by the Catholic Church in Maine to parish social ministry, both at the local and the diocesan level. Catholic Charities Maine Parish Social Ministry receives almost all of its funding from the annual Catholic Appeal.
"When you give to the appeal, you're helping to create and sustain that network where people can come together and, as Catholics, share their passion and show their love to the community," he says. "We can do more together, and we should do more together."