Endowment seeks to preserve an island treasure
Image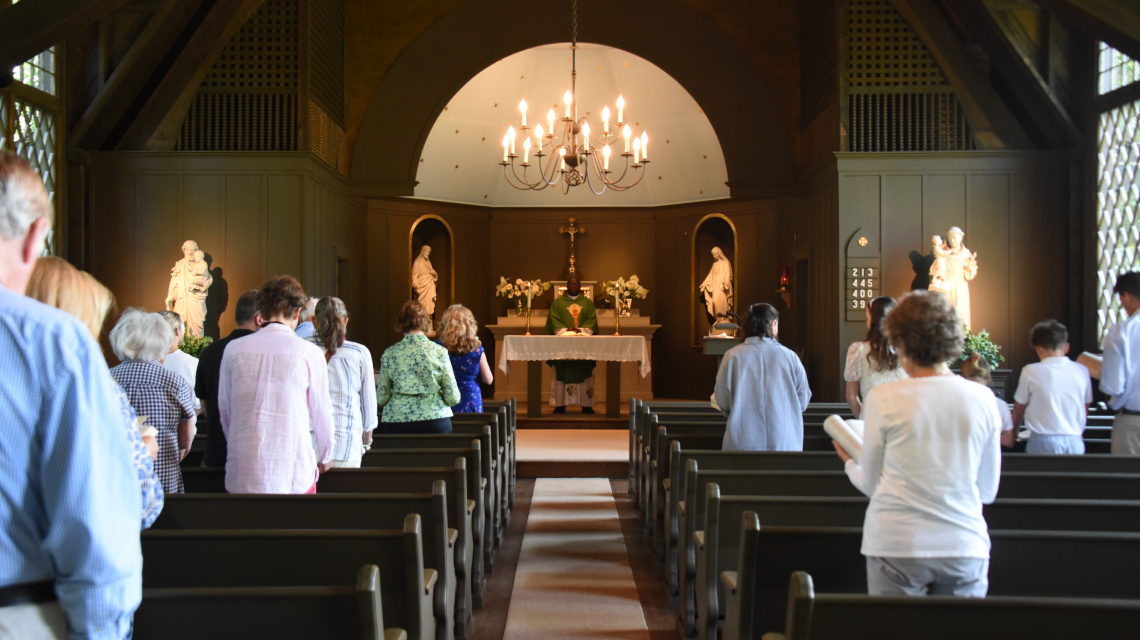 Amid the sounds of chirping birds and rustling leaves, parishioners gather for Saturday morning Mass at St. Mary of the Isles Church in Islesboro. Many have been coming to the Midcoast island and the small church for decades, drawn by the warmth of the community they have found there.
"There is a spirit here, a continuing spirit. Many different people from many different walks of life, from many parts of the world, come here in the summer, and they come for the purpose of coming to this church," says Sue Flaherty, who has spent summers on the island for 36 years. "This is just a beautiful, simple church."
"For me, this church is the most important part of the island," says Joan Marie Landzetterberg, who has summered on the island for 16 years. "I feel immediately connected to the presence of the Trinity because of the natural resources right around us and the sounds of nature and wind and sometimes birds."
Led by the efforts of Rev. John E. Kealey of Belfast, St. Mary of the Isles was founded on August 4, 1901, and was dedicated by Bishop William O'Connell, the third bishop of Portland, on August 20. In the late 1800s and early 1900s, the island had become a summer destination for wealthier landowners, and the church was built to serve members of their household staffs, many of whom were Irish Catholics. With a steep gable roof, the simple country church measures 40' x 80' with exposed wooden beams on the inside and windows that open to reveal the surrounding natural beauty.
"There is a lovely spirit here. There is something here, I think, in the timbers of this church that brings us back to where it originated, which was for servants of the wealthy who came here as rusticators, summer rusticators," says Flaherty. "You feel that it is the faith that sustained [the workers] through all kinds of things, whether they came over on a boat from Ireland to a new country, or they had some hardships while they were at work here."
"It's a charming church. It just has the aura of Our Lady out here," says Diane Fentress, who has been coming to the island for 40 years. "It just has a real sense that when you come in here, you feel like you are where you should be."
"It's the simplicity, the quiet that is very different than parishes and churches I've gone to through my childhood and my adult life. I think the fact that it is integrated into nature in a way that feels very pure keeps you extremely altar-centered and focused," says Landzetterberg.
Although the community isn't large, topping off at 50 to 60 parishioners in the heart of the summer, those who worship at St. Mary of the Isles are committed to preserving it. That has included the replacement of the steeple in 2021 and an interior restoration project about 25 years ago. 
"It had very different windows, colored windows. We simplified the church. We took all the colors out and just turned it brown, and then we did the stars over the altar and painted it blue," says Fentress.
Now, there is a new endowment that will help parishioners in their efforts to care for the church. The St. Mary of the Isles Care and Maintenance Endowment was established with the Catholic Foundation of Maine by Lila White, who passed away in September 2022. White lived on Islesboro for 10 years, then moved to Falmouth but returned to the island with her brother during the summer. She was a well-respected member of the community, with a deep love for her Catholic faith.
"Lila had such great dignity and humility. She did things in such a quiet and dignified way, but she got things done. She was just lovely, just as gracious as she could be," says Lee Fentress, Diane's husband. "She was really a special person."
"The endowment for St. Mary of the Isles Church is very special because there is a group of men and women, like Lila, who love Islesboro and the church, which has so much history," says Elizabeth Badger, executive director of the Catholic Foundation of Maine. "This endowment will sustain this church and make sure there are funds available to maintain it forever. That's the purpose of an endowment."
Although Mass is celebrated on the island only during the summer, island residents say its importance cannot be overestimated. They say they are grateful that each Saturday a priest from St. Brendan the Navigator Parish and Barbara Hendricks, the longtime music minister at St. Bernard Church in Rockland, travel to Lincolnville and then take a ferry for the three-mile trip to the island. 
"It's really important to have this. It's just an important part of our lives, our faith, being here," says Diane Fentress. 
"I probably would find myself spending much less time on the island because without this church and without my faith, then I really don't have anything," says Landzetterberg. "I don't know how we could take away the most fundamental part of our existence and still be able to enjoy our time here on the island."
"It has been very, very special," says Lee Fentress. "And now, good gracious, thanks to Lila, we have an endowment that will ensure its future. God rest her soul."
Anyone can contribute to any endowment managed by the Catholic Foundation of Maine. If you would like to contribute to the St. Mary of the Isles Care and Maintenance Endowment and ensure that the church continues to be a spiritual presence on the island for generations to come, please contact Elizabeth Badger, executive director of the Catholic Foundation of Maine.