Eagle Scout earns piles of praise
Image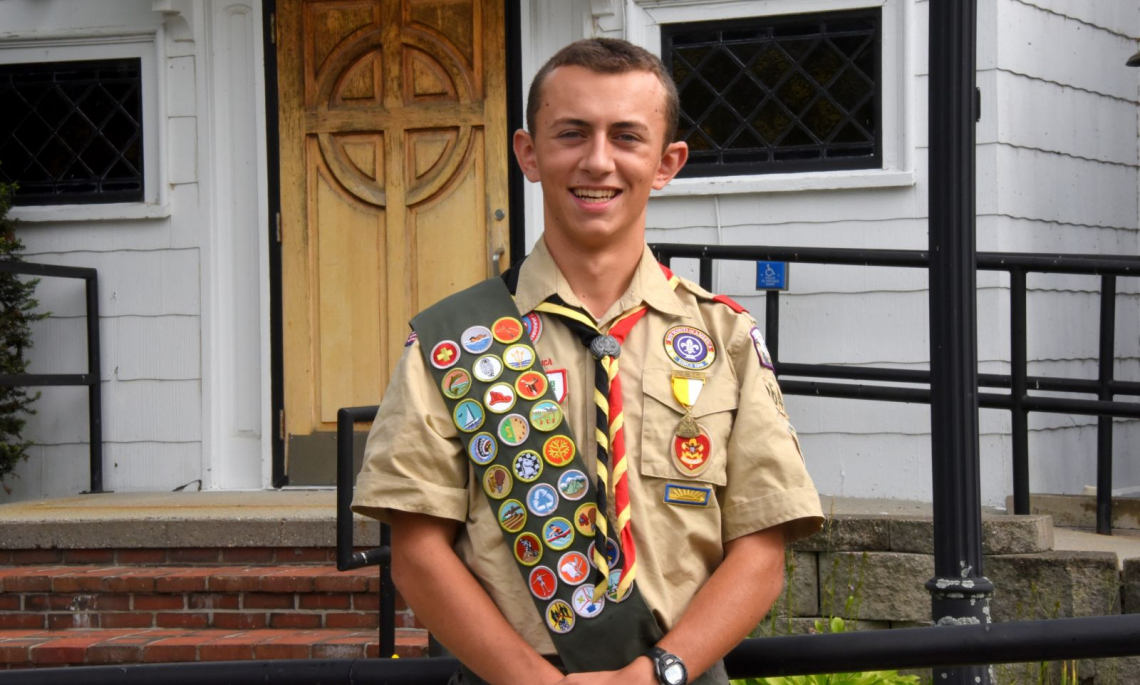 The interior of St. Ambrose Church in Richmond looks a bit brighter these days thanks to the initiative of a 17-year-old parishioner, Joseph Valliere. For his Eagle Scout project, Joseph raised about $13,000 to install carpeting throughout the church. With Joseph supervising the work, dark blue carpet tiles were put in at the end of August, and when parishioners returned for Mass the following week, their appreciation was apparent.
"I am absolutely enthralled with how beautiful it is. So much work and thought were put into it," says Nancy Stinson, who says she is especially appreciative because her great grandfather helped build the church. "This is just incredible and so thoughtful."
"I love it. Blue is my favorite color. I came in and I said, 'Oh, this is absolutely gorgeous,'" says Mary Hurley, Stinson's sister-in-law. "This church is very important to me to say the least because we've gone here forever."
When thinking about his Eagle Scout project, Joseph says his attention immediately turned to the Church because Troop 149 in Brunswick, his Boy Scout Troop, is sponsored by All Saints Parish.
"So I thought the greatest way I could do a project is to give back to the Church," Joseph says.
At first, he considered St. Katharine Drexel Church in Harpswell, a summer mission that his family sometimes attends, but it was suggested that he instead consider St. Ambrose Church in Richmond, which was built in 1889, more than a century before St. Katharine Drexel.
"Then, it was like, 'What does St. Ambrose need?' We did a walk around a couple times, and it was the flooring that we noticed the most," says Joseph.
 After getting an appraisal from Mike's Flooring in Lisbon Falls, a company owned by parishioners, Joseph presented his proposal to the parish's Finance Council, which gave its unanimous support. He says he began fundraising the very next day. That included doing presentations at six of the parish's seven churches, with his parents handing out flyers for him at the seventh.
"My parents helped me write out a little half page thing that kind of described who I was. I would pass those out at the beginning of Mass with a little donation envelope explaining my Eagle Scout project. Then, either at the beginning of Mass, right when it started, or at the end, I would do a two-minute presentation. I would explain pretty much what I was doing, what the purpose of it was, where it was happening, how much funds I needed, and that I needed all the help I could get. Then, I stayed after Mass to answer any questions," Joseph explains.
Thanks to parishioners' generosity, Joseph exceeded his initial $10,000 goal, which was fortuitous since there was an additional $2,100 expense for asbestos abatement in the entryway.
The abatement took place in early August, with the carpet installation beginning two weeks later. Before work could begin, Joseph and two friends from youth ministry unscrewed and moved all the pews into the adjacent hall.
"Having the pews removed was probably the most difficult part. Once we got them removed, we set up our square pattern from the center point and divided out our quadrants and went from there," explains Mike Kenopensky from Mike's Flooring.  "It didn't require a lot of prep work. We just basically leveled off some areas and sanded down any bumps that would probably show through the carpet."
In addition to the carpet, Joseph and his parents also installed bullnose trim along the step leading to the sanctuary.
"My parents picked out the wood because I wasn't sure what we needed, and then, I helped polyurethane it, which was definitely a learning curve for me. I had never done that before. My parents would stain it, and then, I would go back and stain it again," explains Joseph.
Joseph and his family also replaced the screws holding down the pews and painted them black, so they would blend in. The family scrubbed all the vents and painted them black, and Joseph's sister, Abby, cleaned all the pews with Murphy Oil Soap.
When the project was finished, Joseph was among those giving it a thumbs up.
"I'm excited," he says. "It turned out great."
"It's amazing. He worked so hard, and it looks so nice," says Faith Schillinger, a longtime parishioner.
"I think it's beautiful and it's so complete. The color is unique, and I think it's appropriate because it's a little darker blue which will endure better," says Reggie Smith, who serves as a sacristan, reader, and extraordinary minister of holy Communion. "This is especially beautiful, too, at the edge of the altar."
Joseph credits the leadership skills he learned from his parents and from Scouting with helping him see the project through from beginning to end.
"I've been in Boy Scouts since first grade, and the Eagle Scout project is the culmination of pretty much all the leadership things that you've learned," he says.
Nearly all the money Joseph raised was used for the project, but what was left was put in a fund for a new sound system for the church.
While the Eagle Scout project is now complete, that doesn't mean you won't see Joseph and his family helping out around the parish. They are active parishioners.
Joseph says his involvement started through Boy Scouts but increased after he became Catholic when he was in sixth grade. He says while he was brought up to believe in and pray to God, it wasn't until his mother was diagnosed with lung cancer that his family connected with the Church and began attending Mass.
"During that time, my dad was like, 'Let's go to church,' just out of the blue. I think the only other time I had actually been in a church was the basement of St. John's because that's where we had Boy Scout meetings," Joseph recalls.
Their experience at Mass would lead him and his sister to participate in the RCIA program.
"We started learning more and more about the actual Church and God in general. I thought, 'This stuff is pretty cool.' I wanted to learn more about it, so I started going through it," he says.
Joseph had hoped his mother could be there when he received the initiation sacraments, but she died just three months after her initial diagnosis. Joseph says he struggled to understand why but found a sense of peace in the Church.
"It just doesn't really make sense, but Marcy [Brenner, the RCIA coordinator] and pretty much the entire Church helped us through that entire program," he says. "It was helpful being able to pray. It was a comfort, in a way, going to church and being just like, I can relax here. I can enjoy myself, talking with God."
Joseph says the RCIA program helped him develop a stronger prayer life and a stronger conscience, leading to a deeper relationship with God and a greater desire to serve others. He, his sister, and his parents (his father remarried) volunteer at the parish's Lenten fish suppers, yard sales, and wherever there is a need.
"If I see somebody who's not having a good day, I really want to help them," Joseph says.
Joseph is also an altar server and has participated in two mission trips to New York.
"I love meeting people. I love talking with people, so it was a lot of fun," he says.
Now a high school senior, Joseph says he wants to pursue a career dedicated to service, which is why he is hoping to be admitted to the U.S. Coast Guard Academy.