Decades of dedicated service at Maine Catholic schools
Image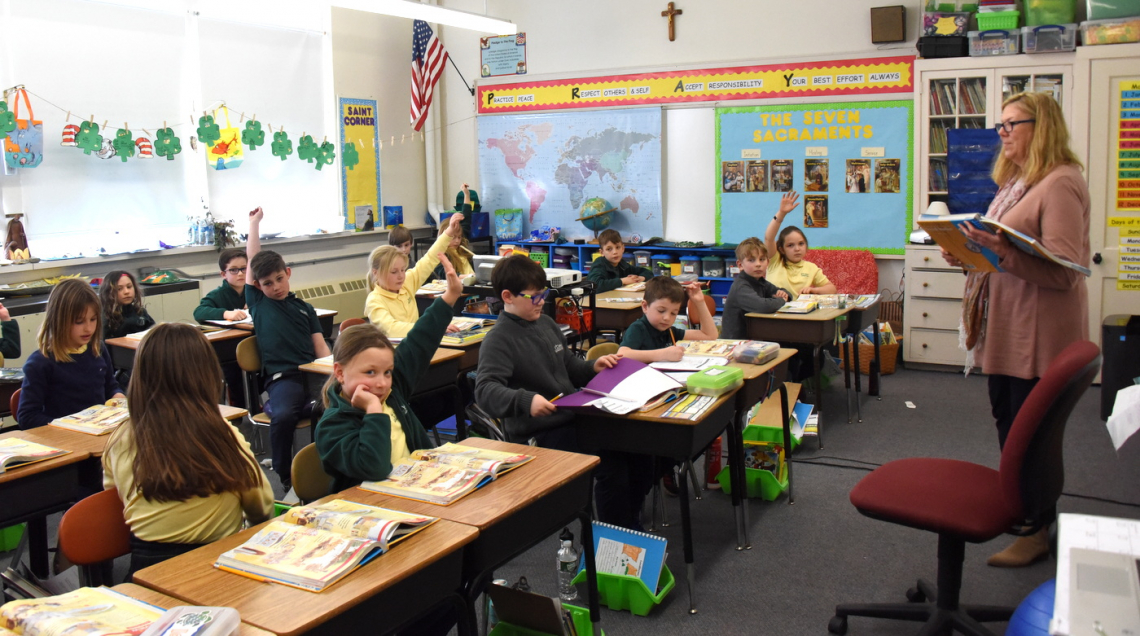 Forty-eight years. Forty-three years. Thirty-four years. At Maine's Catholic schools, it is not hard to find teachers or staff members who have been serving for a decade or even two decades or more. And they say they wouldn't have it any other way.
"I feel like it's not a job. It is what I was meant to be," says Kathryn Theriault, from St. James School in Biddeford, now in her 37th year of teaching. "I really feel like this is where I belong."
"I find it a pleasure every day to come to school," says Mary Ellen Fitzpatrick, who is in her 30th year at Mount Merici Academy in Waterville. "Every day that I walk into the building, I am happy that I am here."
These educators say there are many reasons why they enjoy teaching at a Catholic school. Most especially, they say it's the ability to teach the whole child.
"As educators, we're here for academics, but I also feel there is so much more kids need to learn besides academics — manners and thinking of others before themselves, thinking about how they're going to be leaders, how do they present themselves, putting it all together to really give them the opportunity to be the best people they can be, and of course, here, we can do it through God," says Amanda Shorey, a 20-year teacher at St. John's Catholic School in Brunswick. "Kids are going to be smart in their own way. They're all going to be successful in some way, but are they going to be a positive part of the community? I think God plays a part in that. Being a faith-filled person plays a part in that."
"I have a friend who is retired now, but he used to teach in public school. He said, 'You know, in many ways, your job is easier than mine. You get to talk about God, and I can't, but I still have to build character here.' And I agree with him. That part is a luxury. We can talk about God freely," says Theriault.
God's presence is felt at Maine Catholic schools from the moment faculty, staff, and students arrive for the day until the moment they head back home.
"The part that I love is that we begin each day with a prayer. We end each day with a prayer, and it allows the students and me to slow down. It forces you just to be calm, relaxed, take in God's creation," says Shorey. "It's nice to be able to talk with kids about that and always encourage them to look for God for answers. He's there as a support."
"I feel there is a peacefulness to a Catholic school, and maybe it's because we start the day in prayer and end the day in prayer and say grace before meals. God is in the picture," says Fitzpatrick.
And that is true whether students are studying religion or designing robots and whether they are attending Mass or solving a math problem.
"There is just a very family atmosphere here, where we put kids first and try to instill the love of God and also respect and kindness towards each other," says Theriault.
"What I see in children here is that they are really learning to be respectful of their classmates and the teachers and the adults. We really, really work on that," says Martha Hart, who has been serving at Mount Merici Academy for 25 years.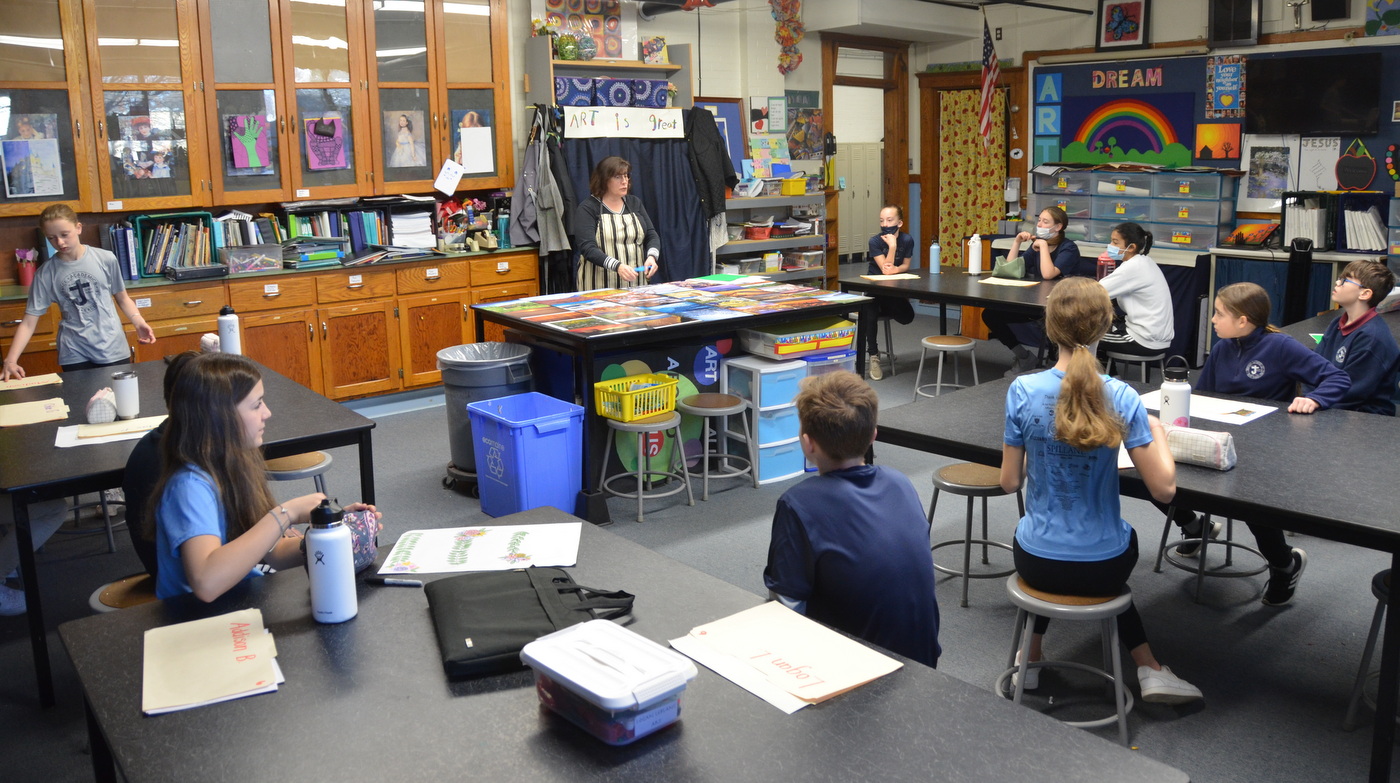 "I love that we can talk about God's mercy and good sportsmanship but also about being willing to forgive someone and accept their apology," says Laurie Zinni, a teacher at St. John's with nearly 20 years of experience in Catholic education. "We practice peace. We respect others and ourselves. We accept responsibility to always put in our best effort. We really talk to the kids about that and the virtues of the month. We really try to instill in them that it's not just about being your best self academically, but it's also about being your best self with those around you."
That includes their fellow classmates, their family, and their community.
"One time, for religion homework, I told them, 'Do what your principal said for you to do. Go home and do three kind things and then report it back.' They said, 'You want us to do that?' I said, 'That's as important as reading and writing and learning our math sums. It's important to put your faith into action," says Hart.
Service is a hallmark of all Maine Catholic schools. In March, for instance, students at All Saints School in Bangor raised nearly $7,000 to support veterans. Students at St. Thomas School in Sanford regularly support the St. Thérèse Food Closet. A clothing collection was held at St. Brigid School in Portland to benefit Preble Street, an organization that assists those experiencing homelessness. At Cheverus High School in Portland, students spend the last month of their senior year doing service work. Each May, students at St. Michael School in Augusta participate in the Travis Mill Walk-a-thon to raise money to assist wounded veterans and their families. Veterans are also at the forefront of service work in Zinni's classroom.
"That is something that I am very conscientious about," she says. "We make cards for veterans and take them around to nursing homes. I've mailed them to VA hospitals."
Another service endeavor for which St. John's is known is its annual food collection drive, which in prepandemic years resulted in a food chain from the school to the nearby Mid Coast Hunger Prevention Program.
"I started, 15-plus years ago, our service project with our local food pantry, the Mid Coast Hunger Prevention Program in Brunswick. As a class, I always talk with them about the program, and we collect food schoolwide. We hold several different collections, and I just try to teach the kids that we have to think of others before ourselves," says Shorey.
These teachers say there is a real sense of community within a Catholic school. They say they love the atmosphere, pointing to the camaraderie and collaboration that exist there.
"There is a bond but also a trust in each other, in what we can do together, relying on each other," says Theriault. "The people that we work with aren't just colleagues but friends, too."
"I love that the teachers here are always creative in coming up with ideas and are willing to share them," says Zinni. "In the Catholic schools I've taught in, I've always felt welcomed, and the ideas have flowed throughout the school."
"I like the Catholicity of it. I like the faith aspect of it. The faculty, I can't think of anyone who is not wonderful," says Fitzpatrick. "It is just such a loving and accepting atmosphere. I have always found it that way."
Fitzpatrick says that goes back to the days when she first learned about Mount Merici from some fellow parents and decided to enroll her son there.
"It was just the overall picture of it from the moms I met. I went to coffee with them a couple of times and hearing that they taught religion and that it was a small school and that everybody knew everyone else," she says.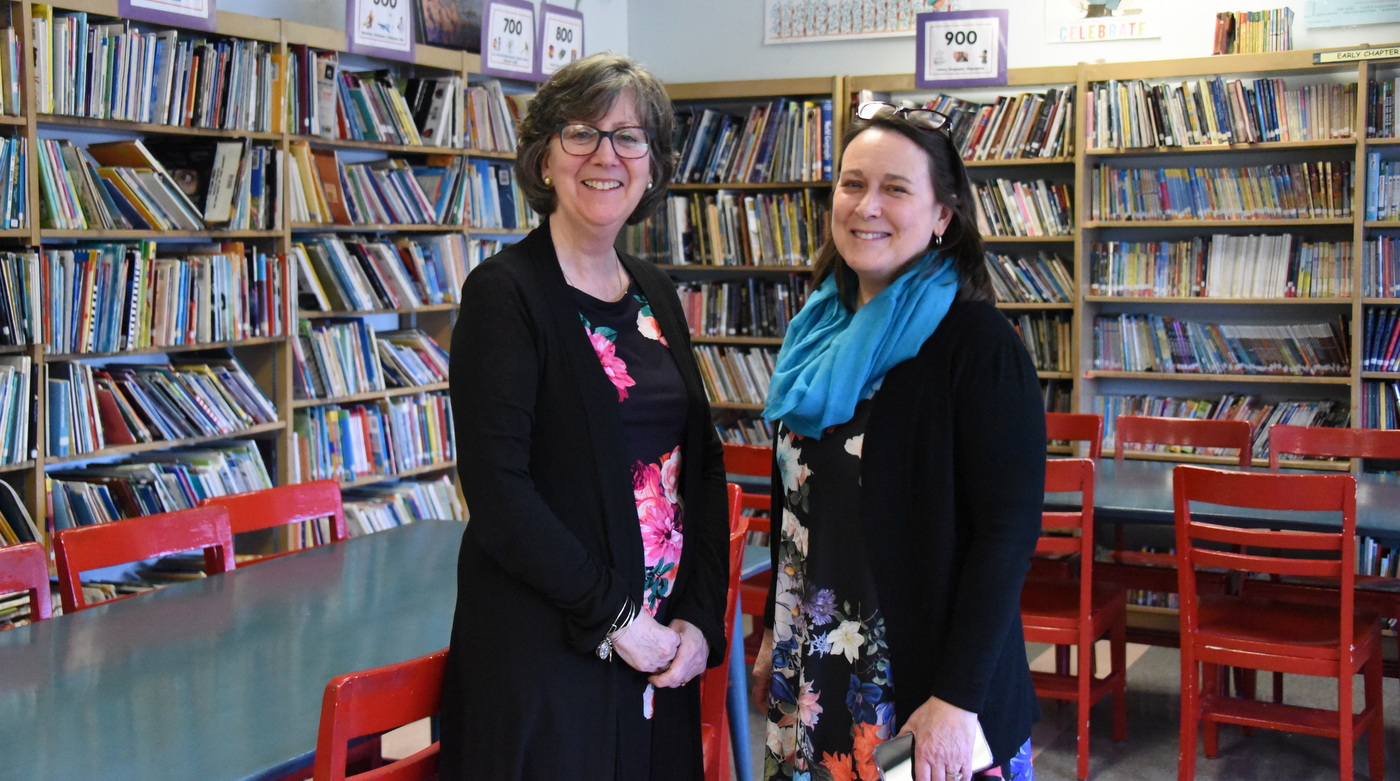 Fitzpatrick sat in on a few classes and says that she was immediately impressed.
"The minute I walked in the door, I just felt so comfortable. Maybe it's because I had attended Catholic school right through Catholic college," she says. "It felt like home to me. I just felt like this is what I had and what I wanted my kids to have."
Fitzpatrick started volunteering in the library, which led to her becoming the school librarian, the perfect fit for an avid reader. Thirty-one years later, she is still the librarian but now also teaches religion to first and third graders and theology to sixth, seventh, and eighth graders.
"I've never been happier with what I am doing," she says. "I've had tough days, obviously everyone has, but I am always grateful. I come in the side door, and I walk down the hall, and I usually say a little prayer as I come down the hall thanking God for another day here."
Hart began working at Mount Merici around the same time as Fitzpatrick, and like her colleague, the job came after she enrolled her children there.
Hart says her children had a wonderful experience at a Catholic school in Michigan, and she was hoping to find something similar when they moved to Maine.
"When we checked it out, we fell in love with it," she says of Mount Merici. "It was very welcoming, and the kids were very happy. You could see that they were walking down the halls, skipping and smiling, and I think that's what attracted me to Mount Merici. The staff was happy and welcoming also."
Hart first worked as an ed tech in the early education program. She then earned her teacher certification, and for the past 25 years, she has taught second grade.
Hart says among the things she enjoys about being a faculty member at Mount Merici is the opportunity for involvement beyond the classroom.
"As a small school, we have more opportunities in my eyes to help out and be on different committees and do different jobs. I have been the faculty rep on the board for I don't even know how many years," she says. "I was on the Certification Committee. That was for six years. I think that's helpful that you get to have a little bit of administrative experience without leaving the classroom, because I like the classroom."
That experience is something that Zinni says she also found at St. John's Catholic School.
"I love that every day we have teacher prayer together, and we have meaningful committees that we are encouraged to participate in. I'm on the Spiritual Committee, and we have a Classics Committee and a Community Committee," she says.
Zinni, whose husband recently retired from the U.S. Navy, has taught both in the United States and abroad, including at Catholic schools in Mississippi and Maryland before coming to Maine.
"I have always found that, in Catholic schools, the teachers are very accepting of new teachers. Since we're a military family, I'm always from away, but I have always felt accepted," she says.
Zinni began teaching at St. John's in 2010, left after four years to live in Italy, and then returned in 2017, where she now teaches third grade and is the school's sacrament preparation coordinator.
"That is very fulfilling for me to be able to work with Amy Ford in our parish and bring children into the Church," she says. "I love that we bring children to Jesus."
While Zinni taught at several schools before St. John's, the Brunswick school is Shorey's first and only teaching job. A Bath native, Shorey says she knew people who had attended the school, and she liked that it was a small, tight-knit community. She says, from the start, other teachers took her under their wing.
"They were willing to share materials, share their thoughts. I could bounce things off of them. I learned so much from them in the first few years," she says, adding, "Now, the tables have turned."
Shorey spent most of her years teaching first grade but currently teaches physical education and fifth- and sixth-grade language arts and social studies.
She says what makes her job fun is seeing children grasp something that she's been teaching.
"You go through all this work, all this preparation, all this teaching, and when kids, no matter what age, make that connection and you see the light bulb go on, and then you see them actually carry it over and do it in another avenue, it just touches your heart," she says.
Through her 37 years, Theriault has seen many children make those connections. She has taught at St. James School since it was established in 1992 by the merger of Biddeford's three Catholic schools, and before that, she taught at two of the schools that merged — St. Joseph and St. André. Theriault has taught kindergarten, first, and second grade, and for the past 15 years, has been an art teacher.
"It combines my two loves — my faith and art," she says.
Theriault says she was fortunate to be raised by faith-filled parents, who sent her to St. Mary School in Biddeford. There, her fifth-grade teacher, Joan Beaudry, became her inspiration.
"She was so kind, and she got a lot of good work out of us," Theriault says. "I loved her, and I wanted to be just like her. That fifth-grade year, I knew in my heart that I wanted to be a teacher and that I wanted to be a teacher in a Catholic school."
Theriault says she remains grateful to this day that she got her wish.
"Being able to share your love of God with kids from pre-K through grade eight, at least here at St. James that is the grade level, is so precious," she says. "Watching a child learn about God and see that love for God grow, it's just beautiful."