A community of caring celebrates 50 years
Image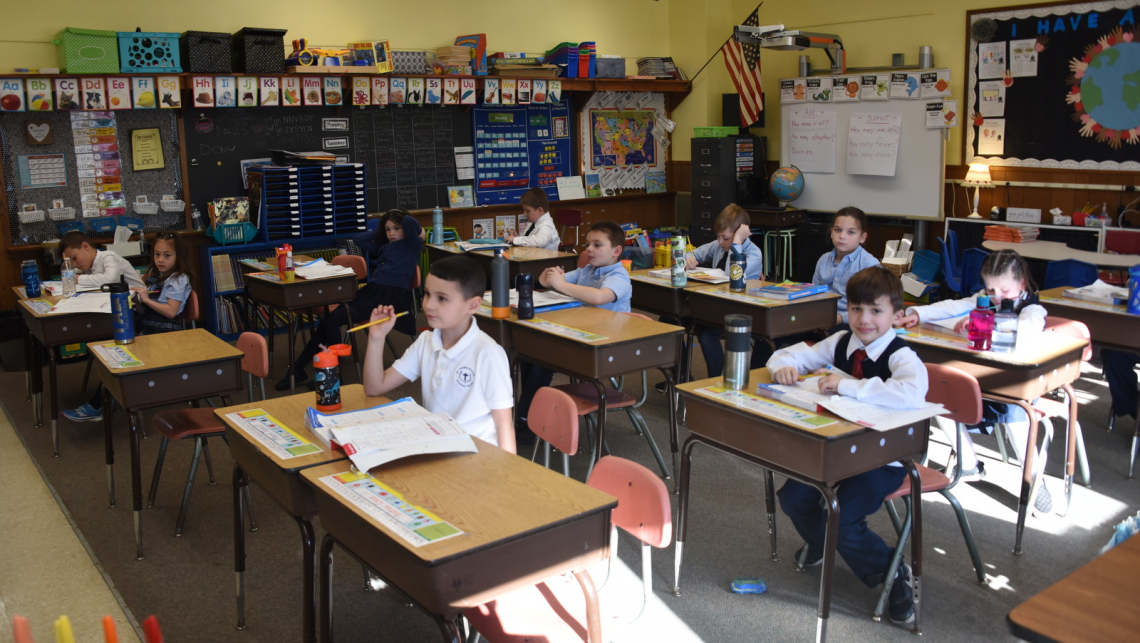 "St. Thomas is like home to me."
Margaret Sanborn, a sixth grader, shares what she likes about attending St. Thomas School in Sanford.
"When I think of St. Thomas, I think of a great education, friendships that will last a lifetime, and God being by my side," she says.
Margaret is not alone. Whether students are sitting in classrooms today or did so 30 or even 50 years ago, they view St. Thomas as a foundational part of their lives.
"St. Thomas is a loving community, a family that inspires and pushes me to be the best I can be. I am forever grateful for the faculty and staff who have recognized my gifts and talents and have provided opportunities for me to shine," says Adrianna Gauthier, an eighth grader.
"St. Thomas is where my confidence grew, where I found my voice. It was and is a school that developed all parts of me, not only my academic side but my spiritual side," says Ericka Sanborn, Margaret's mother, who is an alumnus and currently serves as interim principal. "The school reinforced the values that we still hold very dear today: kindness and compassion and integrity."
"It just made such a difference in our lives," says Richard Cote, who was a member of the school's first first-grade class.
St. Thomas School is celebrating its 50th anniversary this school year. It opened in September 1972 when three parish schools — Holy Family, Notre Dame de Lourdes, and St. Ignatius Martyr — consolidated to become one.
"St. Thomas School was the first elementary school in the Diocese of Portland to consolidate. Since then, several parishes have used the model," says Claire Auger, an alumnus of Holy Family School, who helped plan the anniversary celebration.
The move to merge came after the closure of St. Ignatius High School in 1969 and at a time when the three remaining schools were facing economic and staffing issues resulting from a reduction in the number of priests and religious available to serve. 
While not everyone was on board with the consolidation plan, a group of six laymen, two from each parish, were determined to make it happen.
"There were a number of people who were a little less than enthusiastic about the program. They thought it was time to cut and run, but we said, 'No, we want a Catholic education for the children,'" recalls Patrick Demers, one of those six founding fathers. "The biggest driving force I think was not to abandon these children in their religion by just handing them off to public school."
Demers says there were many challenges including determining how to divide up the financial responsibility for the school among the three parishes. It was decided they would evenly split costs associated with the school building, such as heat and maintenance, but other costs would be based on the number of students from each parish. At the time, parents did not pay tuition, only a book fee.
When $30,000 was needed for new equipment and supplies, particularly for the cafeteria, the six men, all area businessmen, each signed promissory notes of $5,000.
The new school, named for St. Thomas Aquinas, the patron saint of students and scholars, was located in the former Holy Family School building, where it remains today.
"As I was walking by some of the cubbies and the coat hooks, I had memories of hanging up winter coats and taking off snow boots," says Cote. "I remember Valentine's Day. We used to make valentines for our classmates."
 When it opened, there were six lay teachers and six women religious, including Sister Therese Berube, OSU, who served as principal until her death in 1990. St. Thomas originally welcomed students in grades one through six, but 18 years later, kindergarten was added, followed by pre-kindergarten, and more recently, in 2016-17, it expanded to include seventh and eighth grade.
Today, the school is affiliated with St. Thérèse of Lisieux Parish, which was formed by the merger of Notre Dame  de Lourdes, St. Ignatius Martyr, and Holy Family parishes in 2007. 
While much has changed through the years, the school's faith-based values and commitment to providing an excellent academic education have remained strong. In 2007, St. Thomas became the first Catholic School in Maine to receive accreditation from the New England Association of Schools and Colleges (NEASC), and it was accredited again in 2018.
"I think we just offer something special here. I think we offer that feeling of community, that feeling of God's love, that feeling of getting a great education," says Karen Jack, a St. Thomas teacher for the past 34 years. "Nowhere else can you talk about the wonder of God's love. Nowhere else can you talk about what makes each of them so special."
"I still see the traditional values of the school, but I've also watched it become progressive to keep up with educational trends and best practices. I think that, generally, at Catholic schools, that is our thing. We're that perfect blend of traditional and progressive, and I think that's why we've been here for 50 years, along with Christ being at the center of everything we do," says Ericka Sanborn.
Sanborn says that perfect blend is why she knew it was the school she wanted her daughter to attend.
"I believe in this school so deeply. It was so foundational to me personally that when my daughter became school-aged, it was the natural choice. There was no other option. I'm watching her really start to find her voice in the sixth grade and to take on those leadership roles. That is what this school does for young people. There are so many young people who need this school because of what it represents and what it offers," Sanborn says.
"I have so many opportunities to become a better me. I love this school, and I always will," says Margaret.
Even though it's been 45 years since he attended St. Thomas School, Cote says he hasn't forgotten the lessons or the friendships.
"To this day, many of us look at one another through the lens of our shared schooling at St. Thomas. It's a bond that time doesn't seem to diminish. We look upon those times as just really special," he says.
Those connected with St. Thomas say they are committed to seeing the school thrive because it has meant so much to so many and because it continues to play an important role in the community.
"We're hoping we're making those lifelong memories. We hope we're sending them off with just a great feeling in their soul," says Jack.
"It's really a community of caring and just being there for each other. It's just showing children the values that our Catholic faith promotes: respect, sharing, forgiveness," says Auger. "We certainly look to the future and certainly want this jewel that we have in our community to keep on."
"God is with us every moment of every day and to be able to say that out loud, to be able to put my faith in front of me every day, what a gift, what a gift," says Sanborn. "God has really walked behind us, in front of us, and beside us for 50 years, and I know that He will continue to do so for 50 more. This school is a blessing to the community and truly has been blessed. It's really how I feel."