Celebrating the centennial of a community built on faith
Image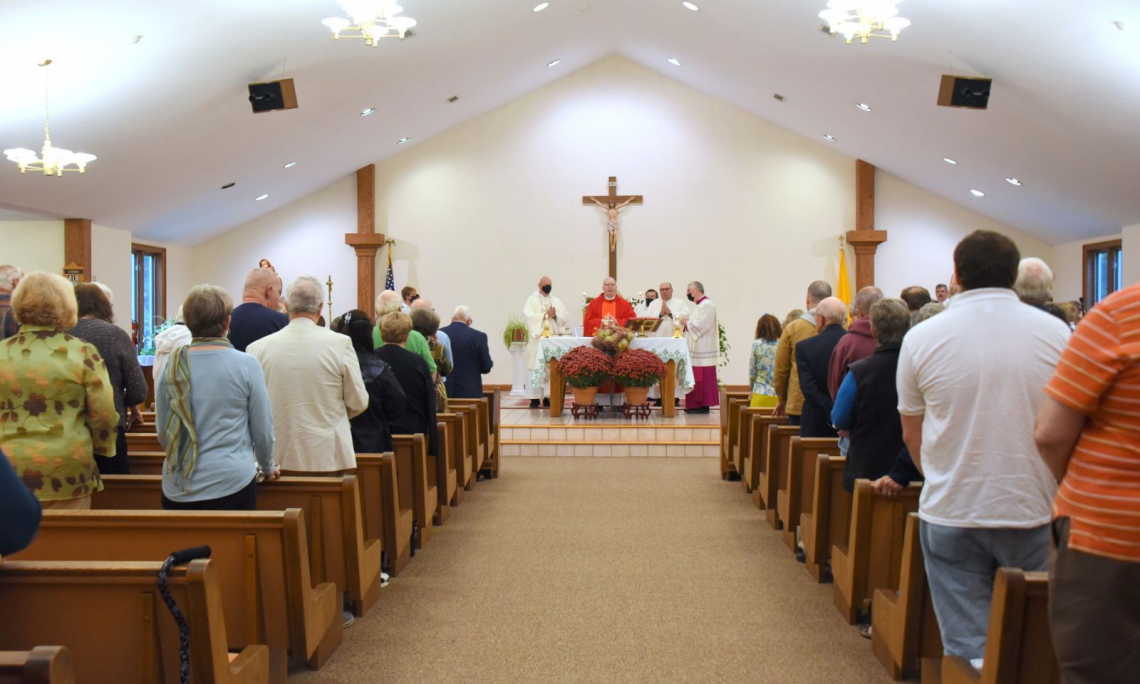 One hundred years after the dedication of the first St. Matthew Church in Limerick and the formation of the parish, parishioners gathered to recognize the determination of that first Catholic community, to recall the journey of faith that has taken place since, and to celebrate the gift they continue to have in their midst.
"We have a gem here right now," says Cecile LePage, from Limerick, a lifelong parishioner. "I don't think a lot of people realize what we have here. They don't realize what a wonderful church we have and how lucky we are to have a church right here in the middle of all these towns."
The parish's anniversary was commemorated with 100 days of events, all leading up to an October 16th centennial Mass celebrated by Bishop Robert Deeley, who, while offering his congratulations, reminded parishioners that the purpose of the church today is the same as it was 100 years ago.
"Here, we are formed for the world. Here, we are changed by the presence of Jesus. Here, we are sent forth to witness to his message," the bishop said.
The first St. Matthew Church was dedicated by Bishop Louis Walsh on October 21, 1921, to serve a growing number of Catholic families who had moved to the area to work in the Limerick Yarn Mill.
Before the church was built, Catholics wanting to attend Mass or receive the sacraments had to take a stagecoach to East Waterboro, then hop aboard a train to Sanford/Springvale, about 25 miles away.
"That was the whole day. Then, they would stay overnight, and the next day, they would go to morning Mass, have their dinner or whatever, then head back home," explains LePage.
With the size of the community increasing, a priest began traveling to the area, first celebrating Mass in private homes, and then, beginning on Christmas Day in 1912, in the shipping room of the mill. The mill's superintendent, a Catholic, even donated his own parlor organ so that there could be music. Despite the unconventional setting, there was both a French and an English choir.
"We were very amazed at the people. They would have to get things ready in the mill for the church service to take place on Sunday, and then, they would have to take everything down, so people could have the mill to work," says Suellen Doggett from Waterboro, a longtime parishioner.
Shipping crates were used to build an altar. A parishioner's sheets and lace curtains were used for altar linens, and a donated rug became the place where parishioners knelt to receive Communion. The office of the shipping room served as a confessional.
In 1915, the bishop purchased a house where Masses were celebrated in the summer. It wasn't heated, however, so the shipping room continued to be used once the weather turned colder. Land was then purchased for a new church, which was built by the parishioners themselves.
"They wanted a place to worship. They wanted God to be part of their lives," says Doggett.
Upon dedicating the church, Bishop Walsh wrote that it "will make a good centre for a new parish." When it opened, St. Matthew not only served people from Limerick but from 22 surrounding communities.
"To have a church in your town where you don't have to go very far to attend Mass and take your kids to catechism, it was wonderful," says LePage, who was born in 1935 and grew up attending the church. "There was something about the peacefulness of being in that church. I was a little child looking upon Jesus on the cross, above the table, and that was awesome."
Just two years after the parish was established, it was given a mission church, but in an unlikely location, York Beach, a coastal community 45 miles away. The move was intended to financially help the fledgling parish, which had a congregation primarily made up of millworkers who, according to the parish history, only earned about a $1 a day at the time. Star of the Sea Church would remain part of St. Matthew until 1961.
With the community continuing to grow, the church building was expanded in 1939, and a decade later, a convent was added for use by the Franciscan Sisters of the Atonement, who served at the parish until 1967. It's a period that longtime parishioners remember with great fondness.
"As teenagers, they provided the center of our social life," recalls Elaine Vermette Jedrychowski. "Our teenage choir was like a youth group, and we did all sorts of things with them. One of the highlights was Christmas caroling each year. One year, we went in the back of an old pickup truck with a little pump organ and a miner's hat with a light, so we could see. It was really fun."
"We were so blessed with the nuns. We were down there all the time," says Carmen LePage, a lifelong parishioner from Limerick.
A fire damaged the sanctuary of the church in 1980, but it continued to serve the community for another seven years, until it became evident that the congregation had outgrown the space. It was decided a new worship space was needed, and as with the first church, parishioners rolled up their sleeves to help build it.
"When the church was being built, I pounded nails, painted, things like that," says Bill Lanoue, a parishioner from Limerick.
The parish's history tells of people carrying statues from one church to the other on a March morning in 1987, with the new church dedicated in June. Unfortunately, it would stand for just two and a half years.
"December 7, I'll always remember what day it was because it was a holy day, and we were going to have a Mass at night, and that's when the church caught fire in the afternoon and burned down," says Carmen LePage. "It was terrible. It was one of the worst days of my life."
"To stand there and watch that building go down was difficult, but we found out how strong we were," says Vermette Jedrychowski. "We learned that the Church is not a building. The Church is the people, and the Spirit carried us through."
St. Matthew Church was rebuilt and dedicated by Bishop Joseph Gerry, OSB, on June 2, 1991.
"It's really a beautiful church," says Cecile LePage.
And just as it was 100 years ago, it is a church with a congregation made up of hard-working people of faith.
"These are faith-filled people. They want to worship, and they want to pray, and they want to be a part of a praying community," says Father Wilfred Labbe. "As a pastor, I can't ask for more: generosity, faithfulness, kindness."
"It's a very warm, involved parish. People are very close," says Deacon Paul Lissandrello. "There is a lot going on so that just encourages involvement."
Carmen LePage is among the many parishioners engaged in parish life. She starts every morning with a walk, followed by Mass, often helping to prepare the church by turning on the lights and lighting the candles.
"I just enjoy doing this," she says. "I feel close to God if I do this."
She has also served as an extraordinary minster of holy Communion and is currently an usher for the Saturday evening Mass.
"I love to see people walk into the church. We always greet them," she says.
"We're user friendly, so to speak. We welcome anyone who comes through that door," says Lanoue. "We're like one, big, happy family."
Through the years, the parish has been home to many enriching ministries and programs. Today, they include a Worship & Spirituality Commission, a Respect Life Committee, and a Pilgrimage Committee, which organizes trips on alternating years to Sainte-Anne-de-Beaupré in Quebec and the Franciscan Monastery in Kennebunk. There is also a parish food pantry, an active Knights of Columbus Council, a faith enrichment group for women, and the Armed Services Outreach Group, whose efforts include a Veterans Day Mass and breakfast.
"It's a way to connect people with the church and to hold those people in prayer. It's a bonding," says Deacon Lissandrello.
The parish has also long been known for its bean suppers and for its Funshine Fair, which dates back to 1983.
"Families are proud of their involvement with the fair," says Deacon Lissandrello. "People come from all over."
While the pandemic forced the cancellation of the fair the past two years, the parish incorporated some of the fair's elements into its centennial celebration, which was artfully organized by Heather Silva, the parish's administrative assistant. The events included bean suppers, crafts fairs, movie nights, Rosary gatherings, and more, all culminating in the centennial Mass.
"There is no gathering that we can have that is greater and more grace-filled than the Eucharist," Father Labbe says. "The Eucharist links us to those 100 years ago, and it will link us to those who come 100 years after us. It is what we do, have done, and will do for another 100 years. This is where we meet Jesus most intimately and most assuredly."