Celebrating 41 years of noteworthy service
Image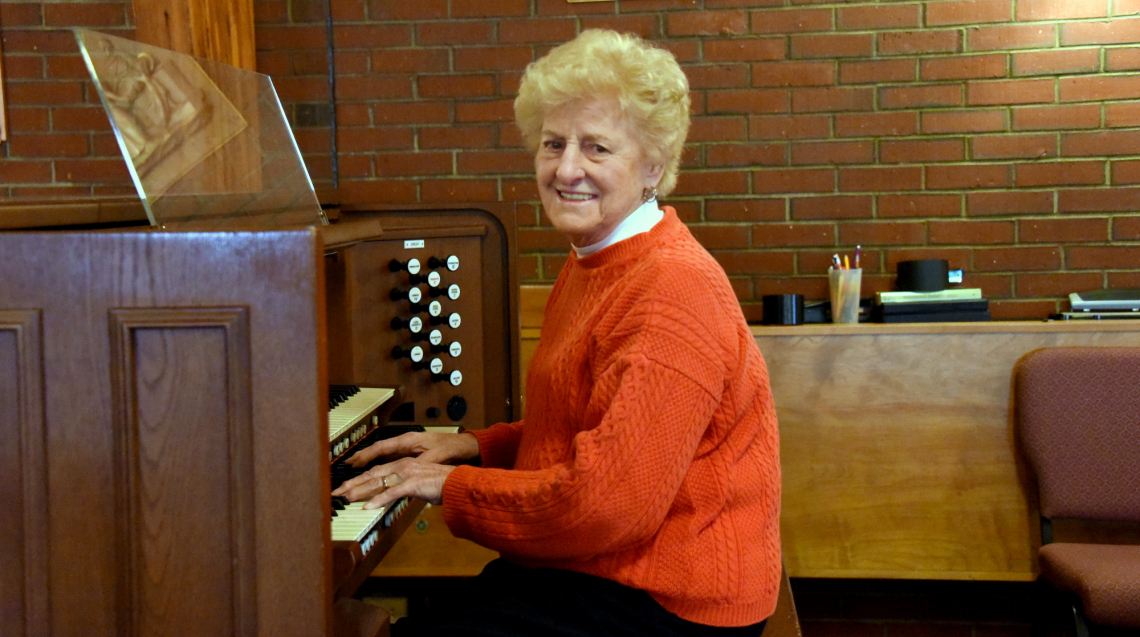 Dedicated, feisty, friendly, and fun. They are all words those in music ministry at All Saints Parish in Brunswick use to describe longtime church organist Jeannette Belanger.
"She is a determined, resourceful, and loyal parishioner to not only our church here at All Saints Parish but to our Catholic faith," says Geoff Bates, a cantor. "She has just a tremendous sense of dedication in everything she does and to the people who play with her. She is wonderful. I've really enjoyed working with her."
"She is fun and festive and so dedicated," says Patti Michaud, another cantor. "She loves what she does, she loves the people, and she loves music, the whole mix. She's indomitable. She's like the Energizer Bunny."
Since 1981, when she first sat down at the keyboard at St. Charles Borromeo Church in Brunswick, Jeannette has kept going and going, regularly playing at weekend Masses, funerals and, in the past, at weddings. Although she has been playing for 41 years and just celebrated her 90th birthday, she says she has no intention of stopping.
"I can't imagine being at Mass and not being part of a music ministry," she says. "I just enjoy it. That's why I don't want to quit."
That is welcome news to All Saints parishioners who gathered on Sunday, March 26, to celebrate both her birthday and her years of service.
"That's a long time for someone to stay in the same area and to play," says Gil Peterson, coordinator of All Saints Parish Music. "She's always there, ready to substitute when a substitute is needed, and I just think she is a great person."
"What makes her so special is her consistency of always showing up. She has been showing up for a long time," says Simeon Breault, a cantor who has worked with Jeannette for almost 20 years.
"She is a really good pianist for one thing, and she is helpful to people who are just starting out. Like when I first started cantoring here, I had never cantored before," says Anne Olivo, who has sung alongside Jeannette for 39 years. "She is very supportive."
During the March celebration, Jeannette was presented with the gift of a pair of earrings on behalf of the cantors and choir members, and Father Joseph Ford gave her a glass plaque expressing appreciation on behalf of the parish. Father Ford also shared remarks from Father Phil Tracy, the pastor, who couldn't be present due to a scheduling conflict.
"The Church today, and especially our parish, has great need for the witness of your ministry. At a time when so many are concerned about comfort and convenience and how they will benefit from a particular scenario, you are selflessly sharing your talents to lead us in sung prayer. Your faithfulness, dedication, and joy radiate for all to see and benefit from each week," Father Tracy wrote. "You are an inspiration to disciples of all ages, as they have the privilege of hearing you play in our parish, leading us to praise God in song."
Currently, Jeannette plays the organ primarily for the Saturday 4 p.m. Mass at St. Charles Borromeo and for the weekend Masses at St. Katharine Drexel Church in Harpswell when it opens for the summer. She says, however, that, through the years, she has played at pretty much all seven churches that make up All Saints Parish. Even during the pandemic, Jeannette says she continued to play.
"I played right through," she says.
Jeannette's love for her faith and for music go back to her years growing up in Waterville. She remembers kneeling with family members to pray the Rosary and sitting at the piano keyboard, trying to play. She says her mother taught her the notes, and she then took formal lessons while in grammar school. She says, however, it was when she attended Mount Merici Academy in Waterville, which was then an all-girls high school run by the Ursuline Sisters, that her love for the piano really took hold.
"I took lessons from one of the sisters there, and that really got me into it. She was excellent," recalls Jeannette. "She would not push you, but she would certainly encourage you and tell you, 'You can do this!' 'I can?' She would give you a difficult piece, but you ended up doing it."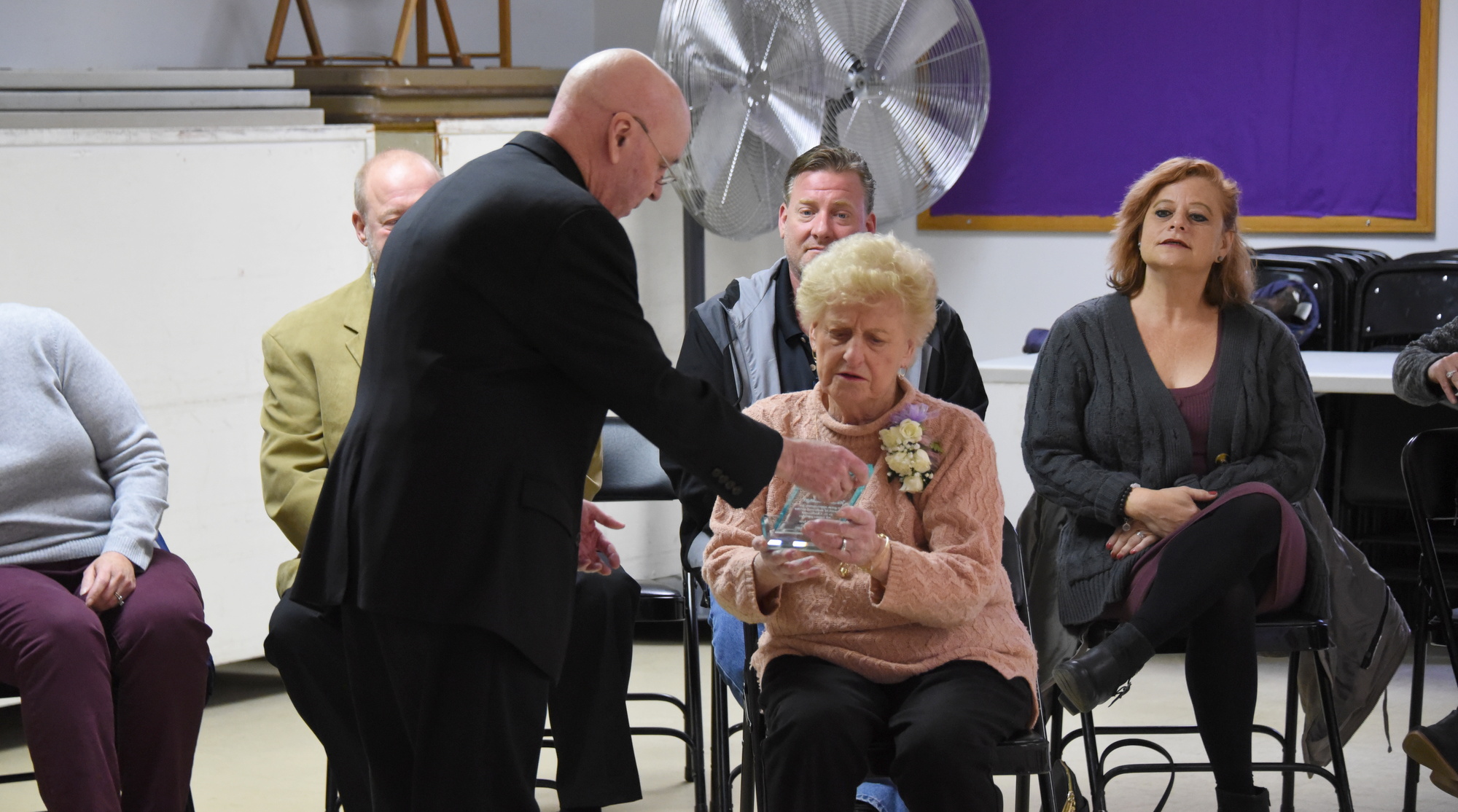 Jeannette's love for music also led her to join the choir at her home church of St. Francis de Sales, which is where the organ caught her attention.
"I said, 'I wish I could do this someday.' That's where the organ came in because I had not had organ lessons before," she says.
The organ lessons wouldn't come until after she married and eventually moved to Brunswick. She says she actually studied pop, not classical, music on the organ. She also purchased an organ to go along with the piano she had at home.
Jeannette began giving piano and organ lessons to both children and adults, something she did for 16 years.
 "I loved teaching. The kids were so good. They liked it, and that's what I tried to emphasize. You have to enjoy what you're doing," she says.
In October 1981, when an organist position opened up at St. Charles Borromeo Church, Jeannette applied and got the job.
Jeannette says she has always felt that music greatly enhances the liturgy.
"It just feels good, doesn't it? I think it does," she says. "Depending on what hymns are picked, if you listen to the lyrics, it really adds to the Mass."
Gil is the one who picks the music for the Masses and provides it to Jeannette who makes sure that, even after all these years, she is properly prepared to play it.
"I do prepare, but it depends on what the hymns are. Some of them are familiar, but even some of the new ones are kind of nice," she says.
As for her favorite hymns, she says, "I like them all – really!"
When asked to do so, she did, however, choose "The Day God Gives Me," "Joyful, Joyful," and "Beyond the Days" to be sung by the choir at her birthday celebration.
Jeannette says throughout her 41 years, playing the organ has never felt like a task.
"Preparation yes but not work," she says. "I love it. I just enjoy it. I've always liked it. It has never felt like a job, never."
As for slowing down now that she has turned 90, it's not something Jeannette has given a lot of thought.
"I don't know what 90 is. It's just a number. That doesn't bother me at all," she says. "I mention it to my kids. They say, 'Don't quit mom. Keep going.' It keeps your mind a little sharper, also, instead of doing nothing I suppose."
She says she plans to keep playing as long as the parish lets her.
"I just like to play," she says. "I don't have any plans for retirement until they send me home."