Carrying on a brother's mission
Image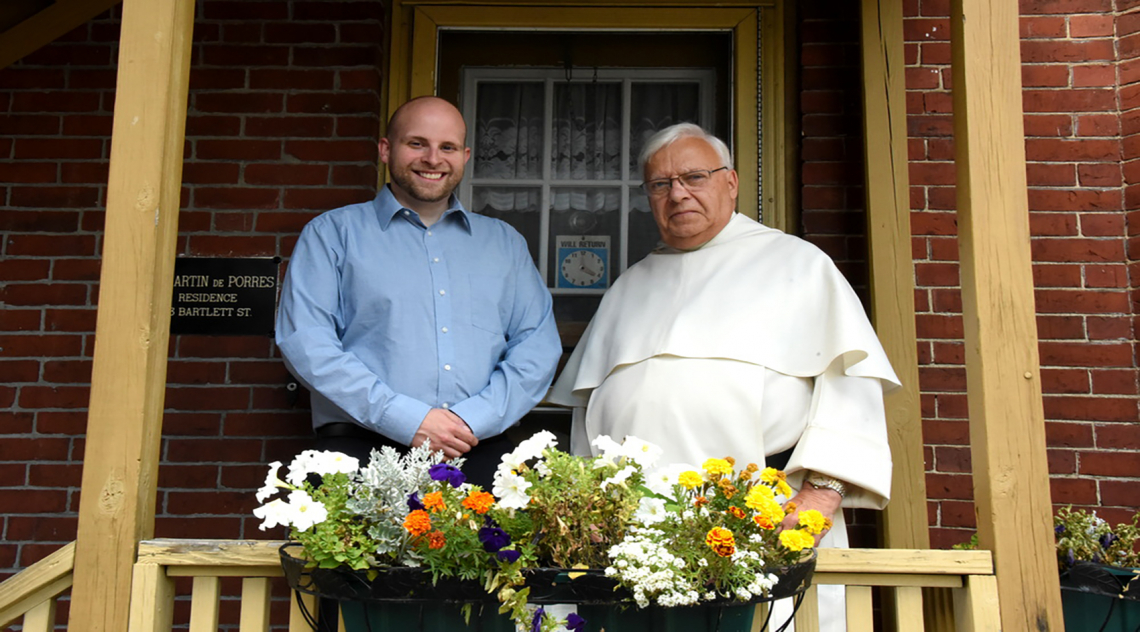 ---
When Brother Irénée Richard, OP, stepped down as executive director of the Lewiston-based St. Martin de Porres Residence and St. Catherine of Siena Residence, he worried that 30 years of work serving those who are homeless might come to an end.
"I said, 'What is going to happen?'" he says.
Then, he was introduced to Andrew Phinney, a Monmouth resident and member of St. Michael Parish in Augusta.
"I just said, 'That's the guy. That's the guy,'" he says. "The ministry continues in the same spirit."
Phinney, who was hired as executive director of the residences in July, acknowledges that it's not easy to take over for a man who has touched so many lives since he opened the door to his first guest, a man named Paul, in September 1991. Phinney says, however, with the help of dedicated staff, volunteers, and the Board of Directors, he is committed to continuing Brother Irenée's mission.
"My intention is not to fill his shoes. It's just to continue making footprints toward the goal. It was daunting, and it is daunting. Brother Richard has been a big, prayerful support," says Phinney. "It's been certainly a very nice and rewarding challenge, and I think it's a challenge that I'm gaining comfort in every single day."
At the time Phinney applied for the job, he was working as a therapist but says he was praying to the Lord for guidance in his career.
"I felt like something was going to happen or some change needed to be made, so I had been praying, 'Lord, your will be done,'" he says.
Then a family member told him that the St. Martin de Porres Residence, which serves men who are homeless, and the St. Catherine of Siena Residence, which serves women, were looking for a new executive director. Not familiar with the ministry, Phinney did some research and began to believe it was where he was being called.
"It's the corporal works of mercy, the big Matthew 25 call," he says. "There is Jesus in every one of us, and I wanted to encounter that."
He admits, however, it was a big step to take.
"I'm going to quote Mother Angelica. She said, 'Faith is one foot on the ground, one foot in the air, and a queasy feeling in the stomach.' So, I definitely had that queasy feeling because it was new to me, but I felt confident," he says.
It's not surprising that Phinney would quote Mother Angelica because he says she played a big role in his journey to the Catholic faith. With a Protestant background but never active in any faith tradition, Phinney says when he was 19 or 20 years old, he began searching for deeper spiritual fulfillment. He says while channel surfing, he would sometimes come across Mother Angelica on EWTN, and crediting it to the movement of the Holy Spirit, he would stop to watch.
"I thought, 'Wow, she is really witty and entertaining but also a devout person," he says.
Also impactful for Phinney was EWTN's coverage of Pope Benedict XVI's procession into World Youth Day 2008.
"Something kind of clicked in my head. That's kind of like how the apostles would enter a city is what I thought to myself," he says. "I think maybe I was drawn to the ceremony, drawn to something that felt traditional and deep and rich and something that can be traced back."
Sometime later, he ran into two Catholic friends in the grocery store, and they invited him to Mass at St. Mary of Lourdes Church in Lincoln, where he was living at the time. He accepted the invitation, putting him on the path to the Catholic Church.
"It was a culmination of various things. A big one for me was when Jesus says, 'As often as you come together, do this in memory of me,' and in the Catholic Church, they do that at every Mass," he says.
Phinney says Mass resonated with him because he felt like he was being called to be a participant, not just an observer.
"I wasn't just being spoken to. I wasn't just being entertained. I was actually part of it. I prayed. I was able to the listen to the readings and respond," he says.
While attending college in Bangor, Phinney moved to Old Town, where he says Father Wilfred Labbe, then-pastor of the Parish of the Resurrection of the Lord and chaplain at the University of Maine in Orono, helped him work through the questions he had.
"He once told me, 'Just ask God if God wants you to do this,'" recalls Phinney. "I felt a lot of peace after that."
Phinney entered the Catholic Church at the Easter Vigil in 2010.
Originally planning to major in criminal justice, Phinney says he switched to social work, believing it better matched his personality. He recalls, for instance, feeling a deep desire to help when he was visiting his grandmother in assisted living and saw her roommate begin to cry.
"She started crying and called up a relative and asked a relative to come over and visit, and that just really hit me: seeing the loneliness of someone," he says. "I thought — there are a lot of people who have pain, emotional pain, sadness, loneliness, and I want to help."
Phinney, a licensed clinical social worker, served as a school social worker, a clinical therapist at a residential treatment facility for youth, and an outpatient therapist before taking the position at the St. Martin de Porres and St. Catherine of Siena residences.
While St. Martin closed for a while during the pandemic, it is now open, with eight out of 10 beds filled. St. Catherine, with a capacity for eight residents, is currently serving six.
Phinney says the residences provide a safe place for those facing homelessness to stay while they are taking steps to improve their lives, such as participating in treatment programs. All their guests are referred to them.
"We really focus on being a homelike environment where guests can feel comfortable and have a good, warm meal, and enjoy some camaraderie while also remaining safe," he says. "We certainly want to prevent people from not having a place to stay at night, but we want to empower them to do so much more."
Phinney says his goal is to raise awareness and support so the residences can continue the valuable work they are doing.
"I would really like to let people know that this is here. and we're always looking for help, whether it's financial, or skilled labor, or volunteer work, or food," says Phinney. "Jesus called us and continues to call us to provide this."
To learn more about the residences, contact Andrew Phinney at 207.786.4690. Donations may be mailed to: St. Martin de Porres Residence, Inc., P.O. Box 7227, Lewiston, ME 04243-7227.