Cardinal brings a homeland connection to Maine's Rwandan community
Image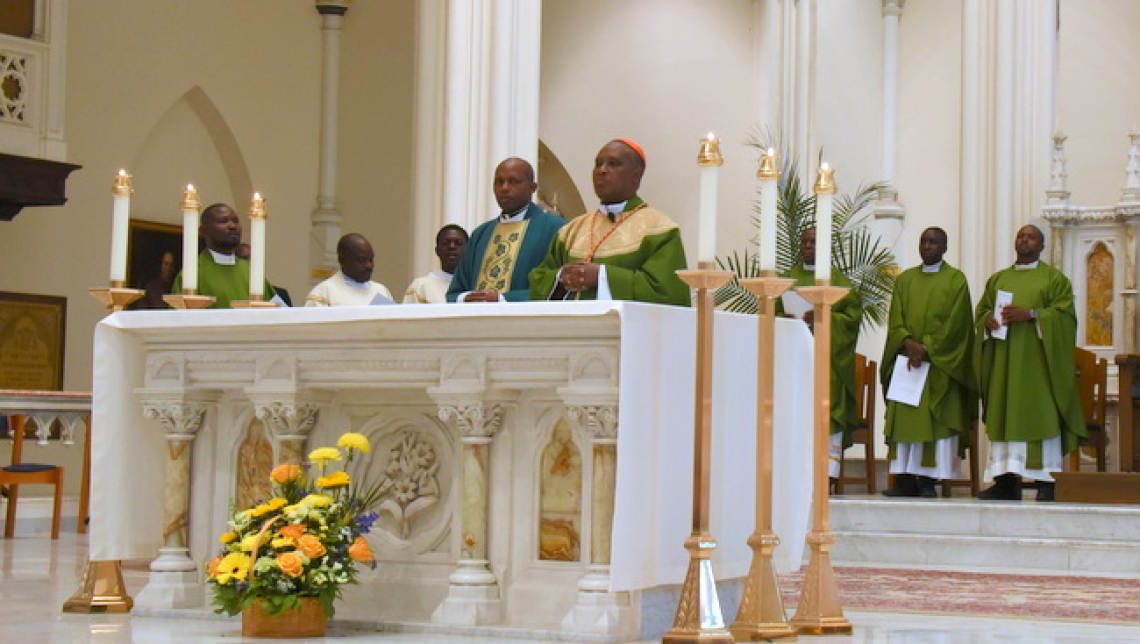 Members of Maine's Catholic Rwandan community received a special gift this June: a visit from the head of the Catholic Church in their homeland, His Eminence Antoine Cardinal Kambanda, the Archbishop of Kigali.
"We were so happy, very happy. Anytime we get someone from our country is special and the cardinal especially," says Synforose Rugema.
"It was a blessing. It's a very good blessing," says Francine Kayitesi. "I think it is a very, very important thing for us."
"It is very, very significant. We are very excited to see the cardinal, and talk to him, and hear from him, and also have him hear from the people," says Apollinaire Munyaneza, president of the Rwandese Community Association of Maine. "It's really important for this community to connect with the leader of the Church back home."
Cardinal Kambanda traveled to Portland on June 17 to meet with members of the Rwandan community and to celebrate a Mass of Thanksgiving at the Cathedral of the Immaculate Conception.
"We all have different things that we've been enjoying here, so that is a special Mass to thank God for that," says Munyaneza.
Maine's Rwandan community, which Munyaneza estimates includes about 500 families, invited the cardinal to visit after learning he was going to be in the Archdiocese of Boston for a celebration of the Feast of the Ugandan Martyrs, a national holiday in Rwanda's neighboring country. It was an invitation the cardinal said he was pleased to accept.
"A visit from a bishop is an encouragement in faith, so far from home, far from the cultural, traditional practice of their faith," Cardinal Kambanda says.|
The cardinal's visit provided an opportunity for members of the community to hear the Mass celebrated in their native language, Kinyarwanda, with which many are most comfortable.
"Most of the people who have been here a while, they haven't had a Mass celebrated in their mother tongue, and that is something most of them miss," says Munyaneza. "For young people, it's not a big deal because they can adapt to English and learn the new culture and everything, but we have a good number of elderly people who really miss that part of the celebration. They will attend Mass, but they are limited from understanding the readings or the preaching. Most of them, they rarely go to confession because they don't have someone who can understand them. So, it's a big barrier."
Munyaneza and Kayitesi say those who don't speak English are sometimes drawn to other Christian churches, which have people who can lead services in their native language. They say it is one of the concerns they brought to the cardinal.
"We gave him our challenges, our problems, and asked if it was possible to maybe have a priest who speaks Kinyarwanda to come help the older people who came here — our mothers, our fathers — just to stay with the faith we believe in," says Kayitesi.
Munyaneza says a four-person delegation that met privately with Cardinal Kambanda talked with him about establishing a bond between the Catholic Church in Rwanda and the Catholic Church in Maine.
"We want to build that relationship and that network…and see how best we can grow our faith and how we can help each other in this journey," Munyaneza says.
Cardinal Kambanda says the message he wanted to bring to the Rwandan community in Maine is one of hope and gratitude.
"There is a lot that God does for us, and many times, we are distracted, and we are not aware of the good," Cardinal Kambanda says. "When you sit down and read your history of life, what you went through, and you look at it with eyes of faith, you will see the hand of God accompanying you, the blessing of God accompanying you, and for that matter, you will be very grateful. It gives yourself hope and confidence in the future because you are not alone."
In his homily, the cardinal said having faith and trust in God is like having a life jacket that will help to keep you safe as you cross the sea of life. He said true happiness is not found in materialism and individualism but, rather, in loving God and in sharing your gifts with others.
"There is a greater joy when we live in harmony with God and with our brothers and sisters, sharing our life. Even if it requires some sacrifices to live and share with the others, it gives more joy. It gives more joy. This is what we should especially educate and the values we should pass on to the young ones," he said. "Faith gives values upon which you can build and work and live with people of all different cultures, of all different origins. The differences will not be a problem when you are guided by faith and love of God."
Despite cultural differences, some members of the Rwandan community say they have found a sense of community here, most especially among people from different African nations.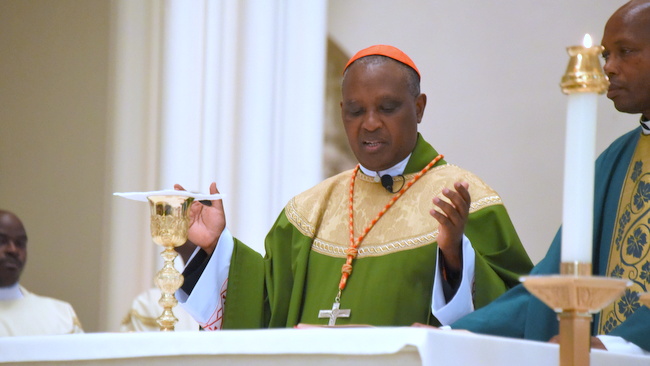 "It is almost an African community. They are friendly. Like, when you're missing something, you can go to your neighbor and ask, and your neighbor will give it to you. And when you have a wedding or a funeral, everyone shows up. They don't need an invitation. Everyone who hears the news can come," says Rugema.
The Mass celebrated by the cardinal and the reception held afterwards brought together hundreds of people, some who understood Kinyarwanda, others who did not.
With hymns and hospitality, Munyaneza says they tried their best to make the cardinal feel welcome. He says Cardinal Kambanda is someone many of them knew when they were still living in Rwanda.
"I met him back home before he became the cardinal, when he was still a priest," says Munyaneza. "He is a good man. We love him and wish him well."
Cardinal Kambanda is a native of Nyamata, Rwanda. He was ordained to the priesthood by Pope Saint John Paul II on the occasion of the pope's pastoral visit to Rwanda in September 1990. Cardinal Kambanda was a priest studying in Rome at the time of the 1994 Rwandan genocide and lost all members of his family except for one brother. He was ordained a bishop in 2013, became Archbishop of Kigali in 2018, and was elevated to the rank of cardinal by Pope Francis in 2020, becoming the first cardinal from Rwanda.