From the Bishop - September 2014
During these last months, we have had the privilege of celebrating some special anniversaries and jubilees.  It was a great joy to gather in the spring with those of our priests who have special anniversaries this year. What a grace it is to reflect on the gift of long and dedicated service these men have provided for the Church.  We also had a wonderful turnout for our Silver and Gold Mass celebrating wedding anniversaries in June where we pray in a special way for those who mark their 25th and 50th and other milestone anniversaries of marriage.  As well, we have marked the jubilee anniversaries of some of our religious sisters who have served our people so generously for many years.  All of these occasions are moments in which we can thank God for the goodness of strengthening all those whose jubilee anniversaries we marked in their fidelity to the commitments they have made.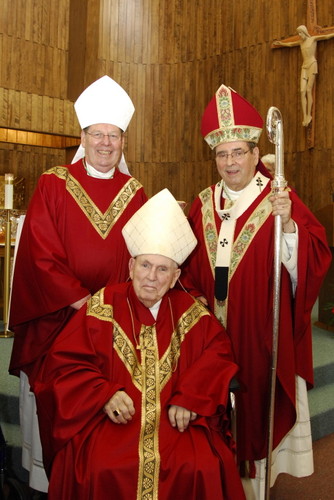 Two anniversaries, however, it seems to me, deserve our special mention and attention.  On June 29, I traveled to Newark, New Jersey, to concelebrate Mass and share in the anniversary luncheon for Archbishop Peter Gerety who was the eighth Bishop of Portland, serving from 1966 to 1975, the first three years of that time as coadjutor bishop to Bishop Daniel Feeney.  The Archbishop was celebrating 75 years of priestly service.  He had been ordained on June 29, 1939. It was a privilege to be able to honor in your name this man who was so important to the life of our diocese. 
He arrived in Portland as a new bishop, anxious and ready to implement the teachings of the Second Vatican Council and begin many new initiatives in Maine.  As a pastor in the Archdiocese of Hartford, he had been very involved in pastoral service to black Catholics.  He brought his strong commitment to social justice to Maine, opening initiatives around the state.  One of his great achievements was the reorganization of the social services of the diocese setting the foundation for the outreach which is the hallmark of our present Catholic Charities. In addition, of course, to the many pastoral initiatives, including the founding of new parishes, he expanded the chaplain ministry in the institutions of higher education in the diocese. 
The celebration of his anniversary was a delightful event.  It was held at the Little Sisters' home for the elderly in Totowa, New Jersey, where Archbishop Gerety now resides. The archbishop spoke fondly to me of his years in Maine.  At 102 years of age this summer, the archbishop connects us to our past.  He was, in fact, ordained before the beginning of World War II.  I should note as well that he was happy with the strawberries and ice cream that were provided for his dessert.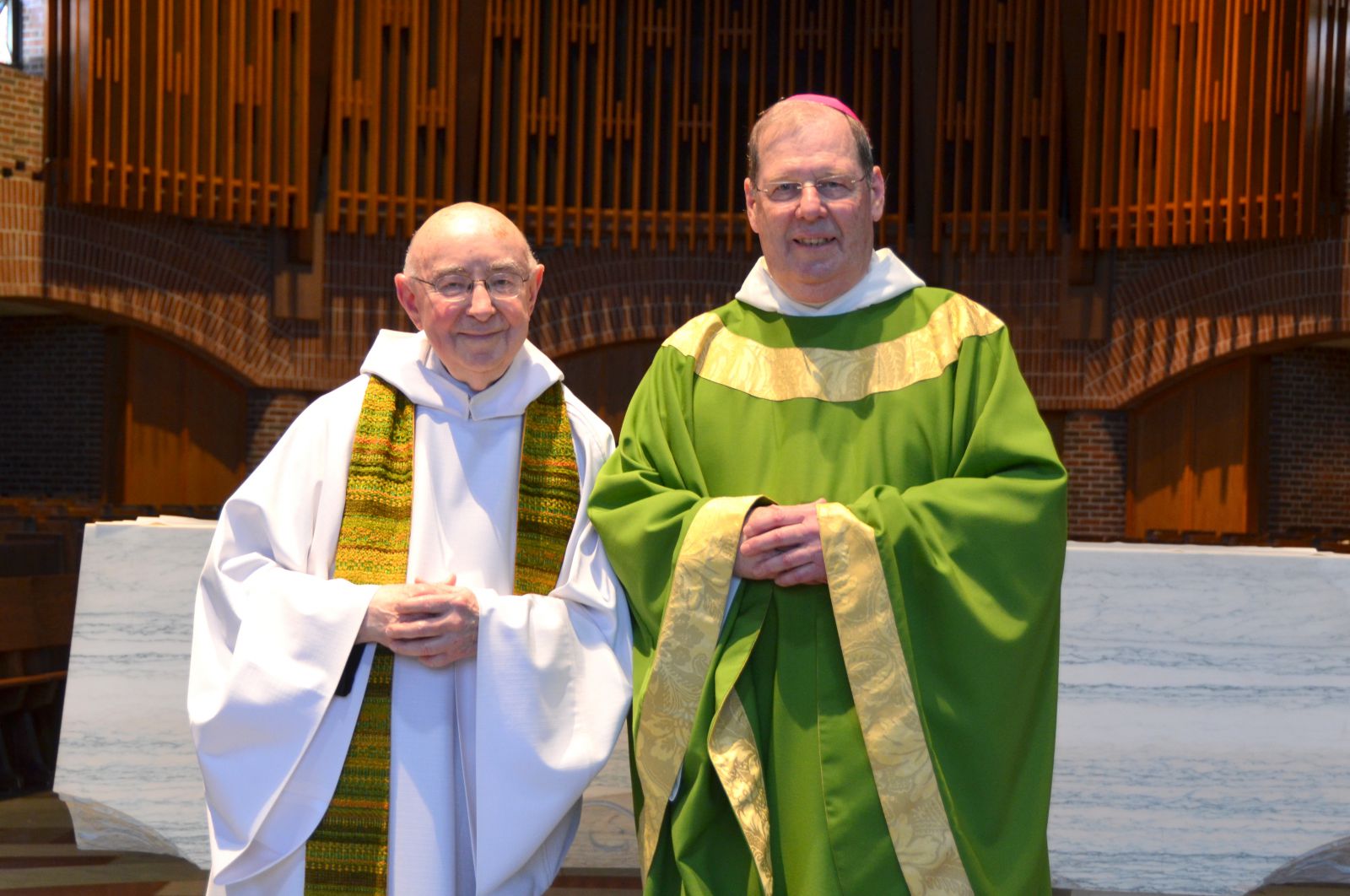 The other significant anniversary we marked this summer was the 60th anniversary of priestly ordination of our tenth ordinary, Bishop Joseph Gerry, O.S.B.  A native of Maine, he was called from New Hampshire, where he had been abbot at St. Anselm Monastery and Auxiliary Bishop of Manchester, to succeed Bishop Edward O'Leary.   Bishop Joseph served as ordinary of the diocese of Portland from 1988 until his retirement in 2004. 
In speaking of the bishop's time in Maine, Father Vincent Lapomarda, S.J., author of an important history of the diocese, says that Bishop Joseph's "motto that it was greater to serve than to rule reflected a style that became more evident over his fifteen years in Portland through his broad consultation and his careful listening to others."  The historian speaks of the bishop's presence in the schools, with the teachers, with religious, with civil leaders and with the many parishioners he would meet in his pastoral visits.  All that is very true, but I am struck as well by the great affection the priests of Portland continue to have for Bishop Joseph.  He listened to them. He consoled them.  He led them as a shepherd.  The priests know that Bishop Joseph cared for them, and they maintain their fondness for him.  Of course, we can be particularly grateful to Bishop Joseph for his willingness, in the absence of a bishop after Bishop Malone was moved to Buffalo, to come to Maine for those important events in the life of the diocese which are enhanced by the presence of the bishop as shepherd.
Bishop Joseph finds it more difficult now as he gets older to make the trip to Maine.  Thus, accepting the kind hospitality of Abbot Mark Cooper, O.S.B., a small group of the staff who had worked with Bishop Joseph, joined me at a concelebrated Mass at the Abbey Church in Manchester, New Hampshire, in July where we were able to express our congratulations to Bishop Joseph on this special anniversary, and assure him, on your behalf, that we continue to pray for his good health.  We also had a nice lunch with him to honor the occasion.
We celebrate all the anniversaries we have marked this year.  These two great leaders of our Church, however, deserve our grateful prayers.  They remind us of the gift the priesthood is to us, and encourage us to work and pray that God will continue to call young men in our midst to hear his invitation to serve His people. 
Most Rev. Robert P. Deeley, J.C.D.
12th Bishop of Portland