From the Bishop - May 2022
Finding a welcoming gift in the Catholic Church
Image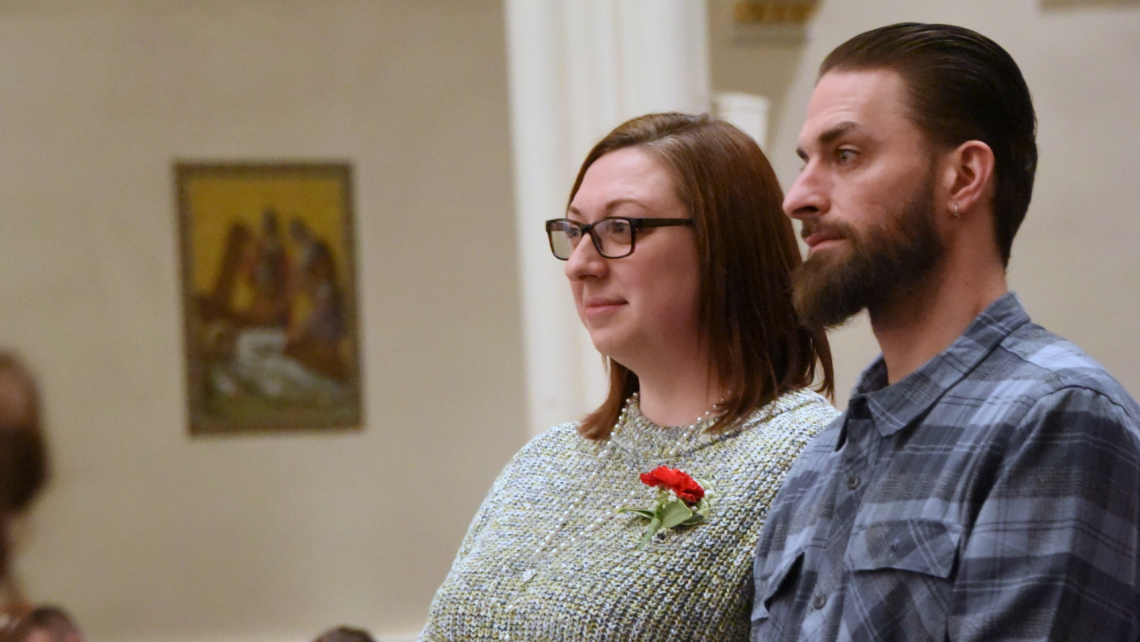 Greetings in the joy of Easter! We proclaim that Jesus is the light. And, as the Light of the World, His resurrection scatters the darkness and shows us the reason for our joy. He is risen! In His new life is our hope.
Easter brings an end to Lent with its penance, its prayer, and its fasting. Lent has prepared us for the renewal of our baptismal promises. We do not stop praying or caring for each other once Lent has ended. When we renew our promises of baptism, we remind ourselves that we are committed by that sacrament of belonging to follow Jesus and His way of life.
Lent is also, however, the time of preparation for the sacrament of baptism for those who will become members of the Church through that sacrament. We also welcome folks into the full communion of the Church through the sacrament of confirmation.
It is always interesting to hear the stories of those who prepare for these Easter sacraments. They speak to us of the power of example and the grace of welcome. It is often the invitation of a Catholic friend that starts the process for someone to think about becoming a Catholic: "Someone close to me at the time had invited me to first start going to church with them, and once I started, I have not stopped," said Shelby Hagan of Sanford. She was received into the Church at Easter.
There are many ways the invitation of welcome can happen. Emily Morris spoke of being invited to Midnight Mass at Christmas. That started her on a journey which, after many years, has brought her to the Church. Carolyn Rix joined the choir when she and her Catholic husband moved to Maine. "I was nervous at first because I wasn't Catholic, but everyone embraced me," she said. "One day during Mass, while singing with the choir, I was moved to tears unexpectedly during Communion and realized that this was something that I needed in my life."
We have been encouraging all of you to think of the good that we find in our worship at Mass and our coming together and the importance of being willing to invite others to join you at Mass. These stories tell us that others appreciate the welcome we do give.
The stories of our new Catholics also remind us of what we have in our faith. They speak to us of the gift they have found in coming to believe in the Eucharist as the very presence of Jesus in their lives. Hearing these testimonies of faith helps us to deepen our own appreciation of what we receive when we receive holy Communion, the body and blood of Jesus Christ.
David Wininger, baptized a Catholic a few years ago, told us that it was basically the Eucharist and the enduring traditions of the Church that drew him in to the Church. It is remarkable, he offered, to think that we are receiving the body of Christ. Timothy Clark, a former Protestant minister, also received into the communion of the Church a few years ago, expressed his coming to the faith beautifully.  He spoke of the fact that he grew up believing that "the Lord's Supper was a symbol."
"It's nothing more than that, but as I began to really study about the Eucharist, and read Scripture with Catholic eyes, rather than with Protestant eyes, I began to see, wait a minute, Jesus actually was talking about his Real Presence. He was not saying it's a symbol. He was really saying, this is my body, and this is my blood, and it took a little time for that to really sink into my heart, but once it did, it was like, OK, I believe that this is true. To be able to say, in Mass, Jesus is really, physically present. That is just a transforming thought. If I'm really in the presence of Jesus, that is going to affect how I behave. That is going to affect everything if I'm really in the presence of Jesus."
Two young girls from Africa, still not yet teenagers, refugees who traveled, with great hardship, through the forests of Central America to get to the United States, can share with us what the presence of Jesus in Communion means to them as they looked forward to receiving the sacraments at Easter. Samira and Suzanne found a warm welcome in their parish. Suzanne shared that people "have been really kind and helpful to us along the way…The Church has made us feel welcome with the interesting and fun people we've met…To be in full communion at Easter will feel great."
Our new Catholics remind us of the gift we have in our faith. God is with us in Jesus Christ. He lives with us. He strengthens us. He brings us joy as He gives meaning to our lives. Being with Him at Mass is grace for us. Sharing that grace with others is our mission. It will bring joy and hope to our world. It is good to remind ourselves that our faith can make a difference not only to ourselves but to everyone we meet. Look for the opportunity to share that faith with those who have yet to discover the person of Jesus and His love for us.
Have a blessed Easter season!