From the Bishop - May 2020
Image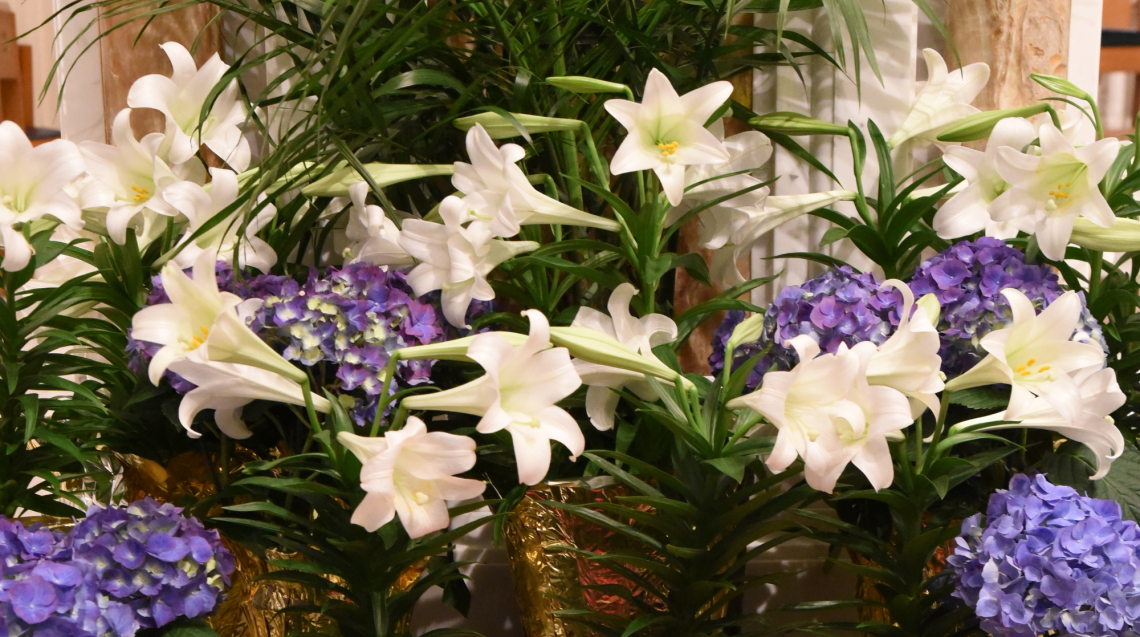 Horror movies are not my favorite. The world is scary enough without paying to be frightened. This COVID-19  pandemic seems, at times, like a horror movie. We hope to get to the end, but the movie keeps on running. I think we all realize we are living in a unique time with a historically challenging crisis in this pandemic. We wonder where this will go and how it will come to an end. Our anxieties are real. Our concerns are genuine. Our questions are many. But the human spirit is strong, and with the help of God, we will move through this crisis. Signs of the hope that brightens our days are around us. They help us to move forward. They provide for us hope in a fearful time. They are the Easter story in our midst.
The stories are of the people who show us that the way forward is always going to involve care for each other. In his beautiful prayer a few weeks ago while blessing the world, Pope Francis reminded us that care is found in the most fundamental relationships, particularly in the family: "How many people every day are exercising patience and offering hope, taking care to sow not panic but a shared responsibility. How many fathers, mothers, grandparents and teachers are showing our children, in small everyday gestures, how to face up to and navigate a crisis by adjusting their routines, lifting their gaze, and fostering prayer. How many are praying, offering, and interceding for the good of all? Prayer and quiet service: these are our victorious weapons."
That care is found in families, but it is also found in the goodness of those who help families in this difficult moment. The Holy Father highlights one group of people in a special way – teachers. A bright light in this crisis has been the swiftness with which our Catholic schools in Maine have adapted to classrooms without students. Observing the pandemic overseas and the cost it was taking there on daily life, our dedicated professionals started planning for the possibility that it would arrive here, understanding they would have to teach differently. When the alert came, they were prepared. Most of our schools were connected to social media and ready for students from the moment the school doors closed. Principals and teachers adopted technology as the new method of teaching. Distance learning became the norm. Through ingenuity and dedication, they have moved forward continuing the daily instruction of our students which always begins with prayer. Our Catholic schools form the whole person, spirit and intellect. Starting with prayer each day reminds the students of God's love and care for them. And time is given so that the young people can socialize and visit with each other. What would school be like if there were no recess? The school is a community of learners. The children need to be with each other. Now, it is done through social media.
Our faith formation leaders in parishes have also seen themselves facilitating a community of learners in their parishes. They, too, have adapted their assistance to parents and parishioners to the possibilities of social media. Instruction, conversation, support, and prayer are all taking place through social media.
Adaptation and ingenuity, inventiveness and creativity, these are the things I have seen in the dedication of our priests, deacons, teachers, and professionals over this time of crisis. These are the bright lights in our diocese in a time of crisis. Priests and parish staffs have been working daily to care for their people and to gather them without bringing them together in one place. Taking care of the hungry and the needy has continued but has been adapted to the situation. Sandwiches may be served rather than a meal. Social media has been a way to gather the parish for prayer, conversation, learning, and worship. In the absence of a public Eucharist, our priests pray for us daily as they approach the altar alone. Where possible, many have livestreamed their Masses. Our priests have been dedicated to nurturing the faith of those they serve in the new ways that technology has provided them. Meetings are held online. Telephone calls are connecting people.
Behind so much of the good that has been able to be accomplished is technology. Social media has often been seen as problematic in our society. And, in truth, we know it is capable of creating grave problems. And yet, in this crisis, it is the tools that technology gives us that have made it possible to be together while we remain safely distant from each other. It has connected us when safety calls us to be apart. It has been a blessing and a bright light for us. We pray that soon we will be able to be together again, but as we care for each other now in distancing ourselves, we give thanks for the ability it gives us to be virtually together.
On Easter Sunday evening, when Jesus appears to His disciples, His first gift to them is His greeting, "Peace." The peace He gives us is the assurance that God is with us.  And the care that so many people have shown to each other in this crisis truly shows us that Christ's peace is alive in those who follow Him in our diocese.
A Blessed Easter Season!