Bishop of Kumbo makes a pastoral visit to Maine
Image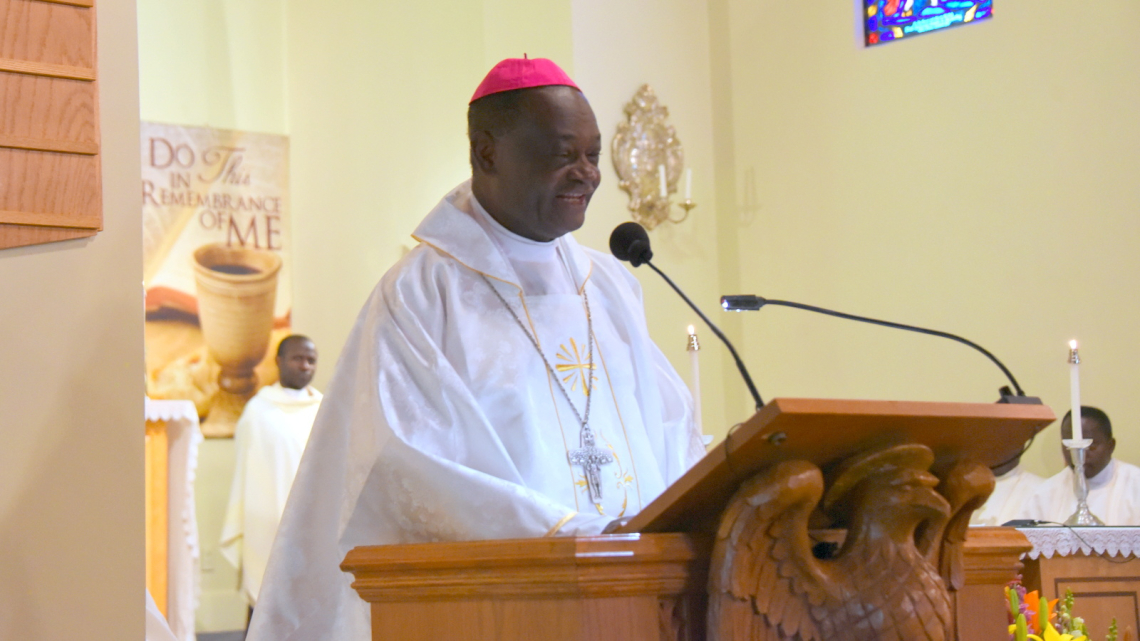 With nine priests from Cameroon now serving in the Diocese of Portland, along with a tenth who was here for the summer months, Bishop George Nkuo from the Diocese of Kumbo traveled to Maine in July to visit with them and to check on their well-being.
"I came to visit them and to pray with them and to encourage them in their ministry here," he says. "I want to get in touch with them, to accompany them, to let them share how they are settling in."
"It's a big encouragement for us to see him here in the Portland Diocese, a missionary land for us now, coming to see how we are doing," says Father Roland Berngeh, administrator of St. Kateri Tekakwitha Parish in Calais.
Bishop Nkuo celebrated Mass with all 10 of the priests on Thursday, July 27, at St. Joseph Church in Ellsworth, where two of them serve as parochial vicars. During the Mass, Bishop Nkuo expressed gratitude to Bishop Robert Deeley and the people of Maine for welcoming the priests.
"I come to say thank you. Thank you for giving them the opportunity to minister to you, to be missionaries," he said. "I want to thank God and thank Bishop Robert for making it possible for me to share with the people of this diocese, particularly of this area, the blessings and the gifts that the Diocese of Kumbo has."
Bishop Nkuo says the Diocese of Kumbo has long been blessed with many vocations to the priesthood. However, he says his reason for sending priests out as missionaries isn't because he has an abundance of them but, rather, because of his own vocation story.
"My life was transformed and changed by a missionary, so if I have priests who go out on mission like they do, they will surely touch and transform other people's lives and do something in people's lives that will be even better than what happened to me," he says.
Bishop Nkuo explains that when he was 11 years old, his father died, leaving his mother to raise five children on her own. He says a couple years later, he passed the exam to enter minor seminary, but not being able to afford the tuition, his mother, instead, sent him to live with a distant uncle and to work on a rubber plantation. He says that would have likely been his fate if it weren't for the intervention of a missionary who found a woman in Europe willing to sponsor him.
"The long and short of my story is that if that missionary man and this lady had not fished me out from my poverty and misery, I could never have become a priest, no less a bishop. Once a priest, now a bishop, my passion has been to give someone a future who otherwise would not have an opportunity," he says. "This happened to me because a missionary saw my need, and as Bishop of Kumbo, I have taught my priests to reach out to the needs of the people wherever they are."
He says he believes missionary service not only benefits those who are served but the priests as well, providing them an opportunity to experience the Church outside of Kumbo.
"It's a new experience for some of them, and they are learning a lot, and that is exactly what I wanted," he says. "I think it will help them and enrich them when they go back to ministry in Cameroon."
The priests from the Diocese of Kumbo serving in Maine say they have found their ministry here to be beneficial and uplifting.
"It has been a very beautiful experience for me," says Father Hyacinth Fornkwa, administrator of Holy Spirit Parish in Wells. "I have not come just as a worker and to do work, but I take it as my personal journey of faith, and that has been a good experience for me. I am happy since I came to Maine. It's a beautiful state. I've met beautiful people and especially good collaborators in the parishes, so work has been much easier here than I have ever experienced."
"I have met very wonderful people, very encouraging. I have seen people of faith, and actually, my faith is growing thanks to the people with whom I am working," says Father Anthanasius Wirsiy, administrator of St. Brendan the Navigator Parish in Camden."I am so happy to be with them."
Parishioners say they, too, are happy to have the priests here in Maine. Those who attended the Thursday morning Mass came not just from Ellsworth but from parish communities as far away as Greenville to show their support.
"They are all so full of love and are so kind. Every one of them is so jubilant," says Bette DiAngelo, from Holy Family Parish in Greenville. "It is such a blessing because we need more priests in our state."
"We're so grateful for the priests and all the blessings that they bring us. I think there is a special light. We all feel it," says Tammy Proctor, from St. Joseph Parish in Ellsworth.
"These are truly men of God, and they are such bright lights, and we're so happy to be able to celebrate with them," says Gina Volkwein, who attends Mass at St. Francis of Assisi Church in Belfast and at St. Vincent de Paul Church in Bucksport.
"We love them, and we're so grateful to have them here. Also, we wanted to thank the bishop for sending them because he really did send the finest," says Boo Upton, who also attends Mass in Bucksport. "We're just so appreciative."