From the Bishop - July 2018
The Opioid Crisis: "What can we do?"
It is finally summer.  We looked forward to the beautiful weather through the winter and the opportunity it affords to enjoy the outdoors. It is a time to take it easy. And yet, as we do, the world continues to move forward. The problems in our community remain. It is one of those problems that I want to discuss: the crisis of opioid and drug abuse. It is a most serious challenge. Each day, whether in the quiet and rest of summer or the middle of a raging snowstorm, a person in our state dies of a drug overdose. The drug and opioid crisis is very real and very present.  Obviously, I have no simple words in this column that will resolve the problem. What I do have is a desire to share some ideas with you for making a response. When confronted with a crisis like this, we ask ourselves, "What can we do?" A few experiences I have had in these last months helps me to offer you some suggestions.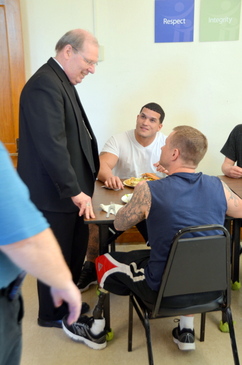 Not long ago, I visited the St. Francis Recovery Center in Auburn.  The center, a mission of Catholic Charities Maine, offers residential services for men 18 and older who are struggling with chemical dependencies and substance abuse issues, including drug and alcohol addiction. It also offers outpatient services to both men and women. It is a concrete example of the support that we can give to those who are striving daily to overcome their addiction.  Visiting with the men who reside there reminded me that they are no different from any other group of men in the state. They are our brothers, sons, and neighbors. They suffer, however, from an illness, and they are working, with the help of God, to overcome the destruction of that illness in their lives. As I talked with these men over lunch, I learned that they have the same worries as others; they are concerned for their families and how to support them. In the work of recovery, they are helped greatly by a caring staff who give the men respect and challenge them to care for themselves. Many of the staff are themselves in recovery. They know from personal experience what it takes to attain and maintain a healthy, clean life.  They are sharing their knowledge, but more importantly, they are sharing their hope.
The path to recovery at St. Francis includes access to spiritual assistance. It is an acknowledgement that prayer helps those in recovery to connect with God and, with His help, remain sober and clean. Many residents seek God's assistance in reading their Bibles. Prayer is also helpful to those who suffer the consequences of the crisis, the families and friends of those who suffer from addiction.
In this regard, I recently participated in a "Community Interfaith Healing Service" at St. John Church in Bangor. What gave rise to this service of prayer was the pain in the community over the loss of so many people from the drug crisis.  There was a recognition that it was not only the families of those who suffered addiction and even death but also first responders, medical personnel, and clergy, as well as the members of the community, who needed help in coping with a situation which seems, at times, hopeless.  A person saved by a medical intervention on one day can be lost the next to an overdose. Many people from the community shared stories or prayers about the suffering caused by addiction.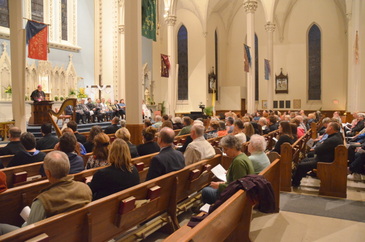 One of those stories was told by David and Shelly Yankowsky, both of them involved in law enforcement. They spoke of the death of their son, Adam, as a result of his addiction.  It was a poignant and sad story, but it brought home what another speaker said. Penobscot County Sheriff Troy Morton reminded us that those who are suffering from addiction are not strangers and people somewhere else.  They are our children and our neighbors.  The service was intended to convey that message. Addiction affects all of us: individuals, families and communities. And in this crisis, we are all suffering.
We all know that this crisis is causing great harm. What can we do?  As people of faith, we must not be afraid to offer what we can. We live in hope. At the heart of our faith is a conviction that prayer heals. We need to pray for healing. Our prayer together as a community of faith for healing will also convey our support for anyone suffering from a condition of addiction. It will encourage them to seek help. As Pope Francis has reminded us, those who suffer addiction are not "mere objects or broken machines; each person must be valued and appreciated in his or her dignity in order to enable them to be healed." Our prayer for them, and with them, will help them to know of their worth and our concern for them.
And as we pray and support those who are suffering, we need also to continue to learn from the experiences of those who suffer addiction. In that way, we can help others to avoid the trap of using addictive drugs.
Help us, Lord, to know that you are with us as we strive to bring dignity to the addicted, hope to families ravaged by addiction, and comfort and strength to our first responders and medical personnel who strive in challenging conditions to care for those afflicted with addiction. Bless us, Lord, in our resolve to overcome the devastation of drug and opioid abuse.